Refund policy
Contact the organiser to request a refund.
Eventbrite's fee is nonrefundable.
Join John Rwothomack for a workshop exploring the first steps of playwriting; character and story development
About this event
We are beyond excited to welcome actor, writer & director John Rwothomack to our Word by Word PRESENTS series for the month of February.
Workshop description:
From training as an actor, to then tackling theatre directing and finally grappling with playwriting, John Rwothomack, in this writing workshop will draw from his experiences not just as a playwright but also what he learned from the other disciplines of theatre and how best they can be used to help a writer formulate a story.
The workshop will mainly focus on character development in relation to themes and subject matter of the play. Time permitting, we will also look at the process of putting together a play from the initial ideas, to research, and then drafting it in readiness for the rehearsal room.
This workshop will take place on Zoom. Full details, including the Zoom link to join the workshop, will be sent nearer the time. Any queries, please contact wordbywordcollective [at] gmail [dot] com
This workshop is a camera on or off space - we recognise that not everyone feels comfortable to have their camera on during an online workshop.
+ We are prioritising black, people of colour for these tickets
+ We are especially welcoming people based outside of London to join this online workshop
+ This workshop is open to anyone who would like to have a go (you must be aged 18 or over).
+ Let us know your accessibility needs. Our email is wordbywordcollective@gmail.com, and we will do all we can to provide what you need!
Online meeting guidelines: https://docs.google.com/document/d/1BN3vdWVzxP_EwP1-v51msdtGGTjGn-leBttj58G6wpU/edit?usp=sharing
Timings:
Please join the Zoom at 11:45am.
The workshop will be 2 hours long from 12pm - 2pm. This includes a 5 minute break and a 25 min Q&A section at the end.
At the end of the workshop we will ask those who can, to stay on for another 5 minutes to fill in our feedback forms - these are really important for the continuation of our funding.
What to bring to the workshop (online):
+ Please bring a monologue with you (whether written by you or someone else's published work)
+ There will be a Q+A at the end so have a think about any questions you'd like to ask John (whether about playwright specifically or more broadly about the theatre industry)
+ A pen, paper or anything to write/type on
++++++
@wbywcollective
https://www.wordbywordcollective.co.uk
To keep up with everything we're up to, SIGN UP TO OUR NEWSLETTER HERE.
After workshop: End of project Zine
By joining this workshop you are also invited to share any work you have written, whether during the workshop or in your own time to us for our Zine: Issue 2.
The Zine will be a celebration and showcase of you and your works, and will launch mid-summer at the end of the project with an event at The Bush Theatre!
Submissions are open now. Please email them to wordbywordcollective.com or contact us for more details.
Privacy Notice
Following the workshop you will be sent a feedback form and equality survey, which we would be grateful if you could complete as it helps us understand our reach and to make sure that our workshops are as welcoming as possible and. Please click the following link to view our privacy policy:
https://docs.google.com/document/d/1swctdbGF8D4yBoJw5UFE7ECQKlxgiszZQTpd4vh6mjw/edit?usp=sharing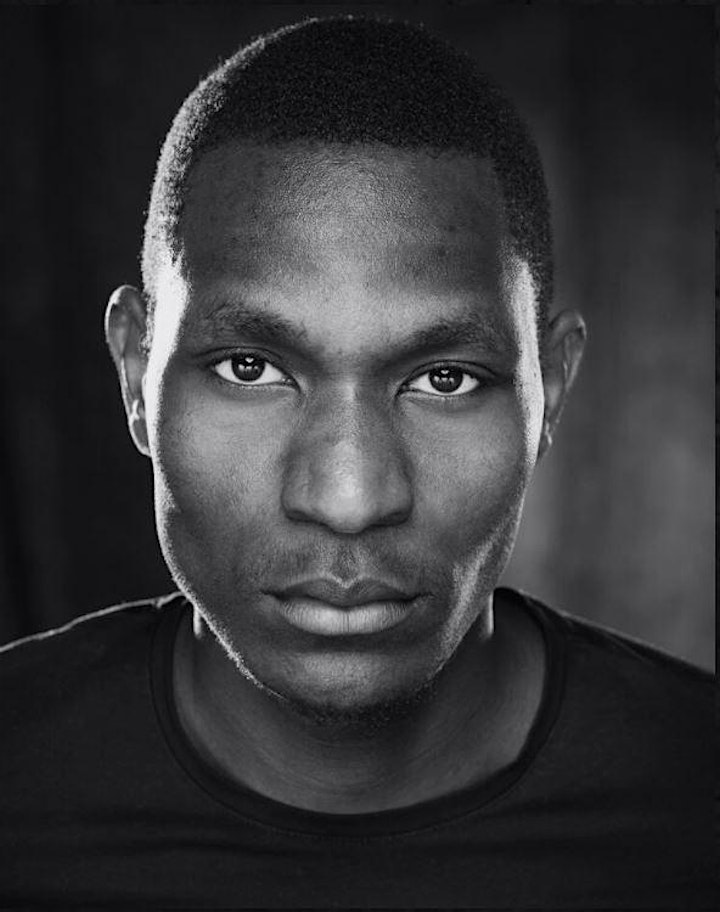 John Rwothomack is a Ugandan born, London trained, and Sheffield bred and based actor, director and writer.
"As an artist, I aim to bring African stories, culture, and history to the canvas of theatre. This might include creating new pieces about, and with artists from the continent, staging plays that already exist, or adapting classics to an African context. I truly believe the African (Subsaharan African) culture is not present enough in the UK's theatre scene. As a result, there's a lower rate of participation both in audience members and practitioners from this sector of the community.
I hope that the rich theatrical scene we have in most Subsaharan African countries can be emulated in my productions, and in turn - whilst representing - give families a reason to visit the theatre, and for those that might be interested in a career, give them the audacity to try.
For me, theatre has to be more than entertainment. There has to be a reason behind staging anything. It also has to educate, question the narrative and change attitudes. Challenging, I know, but we have to at the very least, try."
-------------------------------------------------------------------------------
https://www.wordbywordcollective.co.uk
To keep up with everything we're up to, SIGN UP TO OUR NEWSLETTER HERE.
This workshop is supported by Arts Council England and the National Lottery.