Location
Delina Kitchen
Shepherd's Bush Market
Arch 176
London
W12 8DF
United Kingdom
Word by Word Presents our November workshop with the amazing Liv Wynter, exploring and challenging the meaning of theatre and who it's for.
About this event
Limited tickets left! We are prioritising black, people of colour and LGBTQ+ for our final tickets. Please be mindful of this when looking to buy tickets for this workshop, there will be more events to come over the next months.
EVENT INFORMATION
Liv Wynter has some questions.. Questions like, when did the theatre become a space for rich people to go and have a good cry?
Join notorious loudmouth Liv Wynter as we discuss all the ways we can dismantle and disrupt what we traditionally consider to be theatre. Pulling in references from Brecht and Boal, we will discuss and explore the roles of the writer, performer, and audience as Liv talks through their various working manifestos. Expect rants, creative provocations, and general antagonistic discourse. Liv has 2 sold out pieces of gig theatre featuring untrained performers under the belt, one of which results in the burning down of a theatre, so why not come and join in the anarchy.
This workshop will be conversational, with some writing tasks.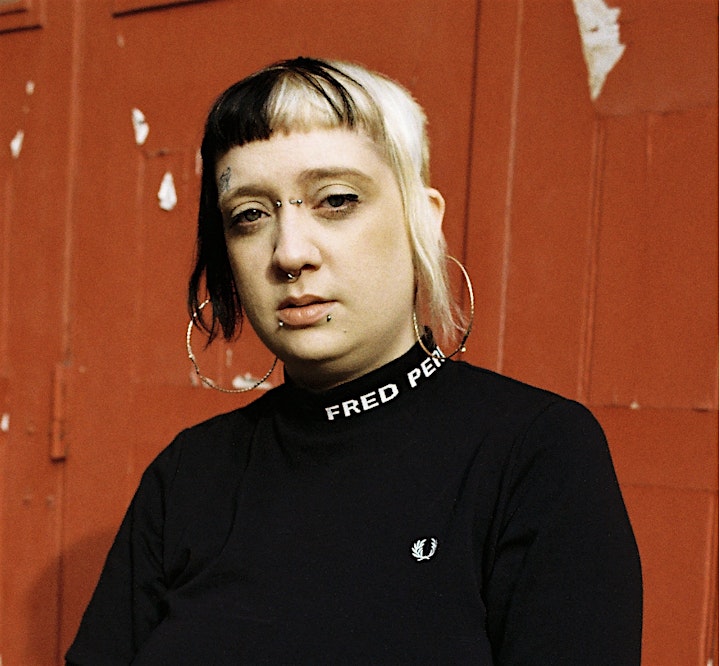 Liv Wynter is a live artist, writer, and activist from SEL. Liv has been performing internationally since 2015, making live art that centres around radical action, community, rage, and power, and is currently working on 'the rise//the refrain', an arts council funded live art performance based at Stanley Halls.
With successful residencies at Project Indigo, Wysing, FACT (and a less successful one at Tate), as well as working with Free Word, the Hayward Gallery, Art Night, Hackney Museum, and even supporting Kate Nash a couple of times, Liv has gone on to cause chaos through both their personal practice and their commitment to antifascist, antisexist, and anticapitalist organising.
Their work HOUSEFIRE, which told the story of how communities respond to domestic violence survivors, exhibited at WORM Rotterdam, Wysing Arts Centre and Centre Régional d'Art Contemporain Occitanie.
Liv is a peer support coordinator at Hearts & Minds, and spent COVID19 and the most of 2020 doing support work at The Outside Project, an LGBTIQ+ homeless shelter. Liv has been selected for the Royal Court Scriptwriting course 2020/21, and is the host for Queer House Party, an ongoing online queer dance party that has won a Time Out award and had over 10,000 people in attendance.
In Oct 2020, Liv released their debut poetry collection, ' Don't Let It Go To Your Head'. Liv stands in solidarity with all groups organising against oppression. Quit your job, join a band, start a gang.
Event details
Tickets are pay as you feel (suggested £5 donation)
If you're able, please bring a pen and notebook.
This workshop will include a 10-15 minute break.
AMAZING FOOD ON OFFER! - This workshop will take place at Delina Kitchen, a lovely Ethiopian restaurant/event space. A few sharing platters of food* will be offered at the workshop.
*If you have any food allergies that you would like us to be aware of, please let us know ASAP via wordbywordcollective@gmail.com
Full details to be sent nearer the time. Any queries, please contact wordbywordcollective [at] gmail [dot] com
Covid Health & Safety Measures
Please follow government covid-19 guidelines. Hand sanitizer will be available. Further details will be sent out following registration.
Privacy Notice
Following the workshop you will be sent a feedback form and equality survey, which we would be grateful if you could complete as it helps us understand our reach and to make sure that our workshops are as welcoming as possible and. Please click the following link to view our privacy policy: https://docs.google.com/document/d/1swctdbGF8D4yBoJw5UFE7ECQKlxgiszZQTpd4vh6mjw/edit?usp=sharing
In the event of Cancellation
Please note, should the workshop be unable to go ahead in person (e.g. due to a host or members of staff self-isolating), the workshop will be moved to Zoom and links will be sent out to all ticket holders to join.