Description
Our June installment of Word Search LIVE takes place on Wednesday 12th June. We look forward to seeing you there.
The evening is split into two parts.
First Half

The first half is you guys - the spoken word open mic'ers. This is your moment to FIND and SPEAK your WORDS.

Rules are:-

One poem per slot.
Can be on anything you like at all.
Make us laugh, cry or stun us into silence - your choice.
Have fun and enjoy the atmosphere.

So, at the end of the open mic segment of the evening the audience will decide which open mic act/poem was their favourite by level of noise and the winner gets a 10 minute feature slot at the next Word Search LIVE event.

Sign-up for the open mic by purchasing an Open Mic ticket up until 2pm on the day of the event, or sign-up on the day (space permitting).

We operate a first come first served process in regards to this. There are 12 spots up for grabs so don't miss out!

*********************************************************

Second Half

This half is the feature half where we have fab featured acts for you:

Lydia Towsey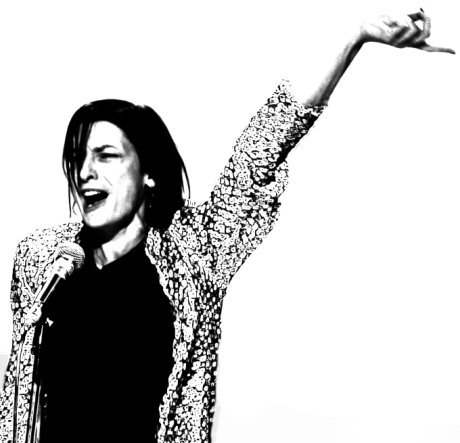 Lydia Towsey is a poet, performer, cat keeper, mother and ukulele strummer – with an MA in creative writing and a primary school certificate in 'tap dancing'. Previously shortlisted for the Bridport Poetry Prize, she's spoken and performed everywhere from London's 100 Club, Roundhouse and the House of Lords… to 'On the Buses', with Literary Leicester and Arriva (bus company).

Commissioned by the Guardian, Royal Albert Hall, Kew Gardens, Apples and Snakes, Poet in the City and more, Lydia has UK toured three shows, funded by Arts Council England. In 2018 she was one of the artists listed for the Outspoken London Prize for Poetry in Film and in the UK Saboteur Awards for Best Show (The Venus Papers) and for Best Spoken Word Performer.

In addition to her practice as a writer and performer, Lydia works for Leicestershire Partnership NHS Trust and is the Artistic Director of WORD! – a poetry organisation delivering one of the longest running poetry nights in the UK.

Widely published in journals and anthologies (with Bloodaxe Books, Candlestick Press, Five Leaves and others) her debut collection, The Venus Papers was published by Burning Eye Books in 2015. The English Disease is her second collection.

"Lydia Towsey skewers and celebrates Britishness by equal measure, with a collection full of wit, warmth and charm." ~ Paula Varjack
"Lydia Towsey's effervescent poetry bubbles with wry observations and quick-witted delights…that isn't to say her poems lack an edge; far from it, with their mix of sensual, serious and thoughtful subject matter; Towsey's playfulness also belies an attentiveness to the sound and shape and rhythm of her poems, making them immediate, aloud and alive." ~ Jane Commane, Nine Arches Press, Editor.
'Lydia Towsey's poetry beautifully captures moments of connection between the political and the personal, the microcosmic and macrocosmic. It stands with Jung, when he declares that The psychology of the individual is reflected in the psychology of the nation. In Lydia's poetry, family history, parenthood, eating disorders, even drinking tea, politeness and queuing, all reflect the psychology of contemporary England – a psychology built on broken bones / returning boats to burning homes. Still, these are broken reflections that can also distort, refract, resist, through twisted nursery rhymes, reconceived myths, and a new language, Zomblish. These are visionary
poems which can shatter reflections and then piece together new, better ones – of Donald Trump saying sorry. / Fiscal reform to favour the many. / My daughter sleeping through the night.' ~ Dr Jonathan Taylor
"Absolutely spectacular…the audience were in the palm of her hand." ~ Jo Ivie, Producer & Graham Henderson, CEO, Poet in the City.
* Picture Credit: Andrew Lee
Amy Deakin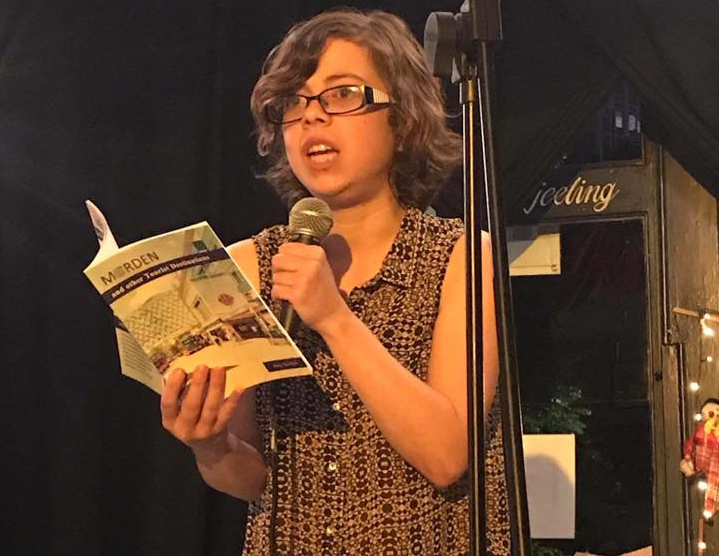 Amy Deakin is a writer and performance poet based in South West London. She regularly performs at open mic venues across London including Poetry Unplugged, Boomerang, Words Aloud (Sutton), Chocolate Poetry Club and Farrago Slam. For a flavour of her work, check out her videos.
Amy's first poetry collection Morden and other Tourist Destinations was published by William Cornelius Harris Publishing in 2017. Copies can be ordered on the London Poetry Books website. Amy's work has also appeared in several print and digital collections including Keystone Anthology and London Spoken Word Anthology 2015-2016.
******************************************************
The evening is hosted by poet and spoken word artist Sarah Hobbs.

And all of this for only £3 (£2 for Open Mic'ers) - bargain. Either book online or you can pay on the door (we take card and cash payments).

Look forward to seeing you on Wednesday the 12th June 2019.