Multiple Dates
WORK IT OUT! 2 - Earn more income / Grow your business / Build your future...
Description


---
WORK IT OUT! 2 (Extra date added!)
Earn more income - Grow your business - Build your career
Due to demand there will be TWO performances of the brand new 'Work it Out! 2' workshop in Tipperary on Wednesday 1st May at 10am and on Thursday 2nd May at 7pm.
Following on from sell-out dates in Clonmel, Carrick on Suir and Waterford, Des McCabe (author of the best-selling book "Work it Out! - HOW TO FIND THE WORK YOU ALWAYS WANTED IN A SHIFTING JOBS MARKET' and his colleagues bring the Work it Out! experience to Tipperary Town - and with 6 nerw Programmes!!
What's new about WORK IT OUT! 2?
It's still the Number One Business and Career Workshop

This is NUMBER ONE Business and Career Workshop in the UK and Ireland - now in its 8th year of touring and constantly updated with the latest ideas and information. Over 16,000 people have benfitted to date.


Who is this event for?
The Work it Out! 2 Workshop is an enjoyable and action packed event with practical ideas, money making tips, personal development training and amazing stories of how others locally have transformed their lives. The workshop is ideal for you
if you would like to

earn more income

or

create new income streams

if you are thinking of

a business idea

or looking for

new ways to grow your business

if your community group needs more income
if you would like to become a trained Mentor and help other businesses and individuals
if you are ready for a

fresh career move

,

a job change

or keen to

try something different

if you want to explore new options for what you might do in the

future

if you'd like to see how

licensing

could

dramatically grow your business
We always get a wide range of skills and experience - and there are no age limits! You'll have a chance to meet others who are in a similar position as you. Thie is a brilliant 'Business, Career and Money' session!!





Some quotes
... The best work and business workshop I've ever attended
... Boosted my confidence, motivated me and gave me lots of ideas - thank-you!
... Great thinking outside the box – really enjoyable!
... Inspiring and motivating!
... Excellent – friendly atmosphere, positive approach and packed with brilliant ideas for work and life.

... Great session! I learned so much, met some wonderful people and now know my next steps!
Just some of the Key Topics ...
Learn the rule for the new world of work and income.
How to earn from work and activities you really enjoy
SIX new ways to create opportunities from what YOU already know.
Building your future piece by piece with'Work it Out!'
We don't just have to be one thing
How to create a brilliant 'elevator pitch' that promotes you and your business.
How to set up your own website for free in one day.
Why work-life balance is at the heart of 'Work it Out!'
How to create workpieces from nothing.
Making money from ebay - let's get started.
Using Facebook, Linkedin and Fiverr to build your team of helpers

20 little known ways to get your CV to the top of the list.

What you should be doing now if you're ready for a fresh start.
How you can write and publish your first ebook on Amazon - in the next three days.
Top 20 Passive income ideas to earn money whilst you sleep.
Retailing in Tipperary - a sneak peek at the future
Everlasting Grants - how voluntary groups can make current grant income continue for as long as needed.
How to build a strong enterprise culture in your organiastion or location.
Personal priorities and action plans to take away.


Tickets
Tickets are FREE! (The Tipperary events are generously sponsored by the Department of Rural and Community Development) and Tipperary County Council). All previous workshops sold out fast! We are limited to 120 seats so booking is essential. Click the button on this page or contact Jimmy Ryan on 086 259 7275 or email jimmyryanwio@gmail.com
---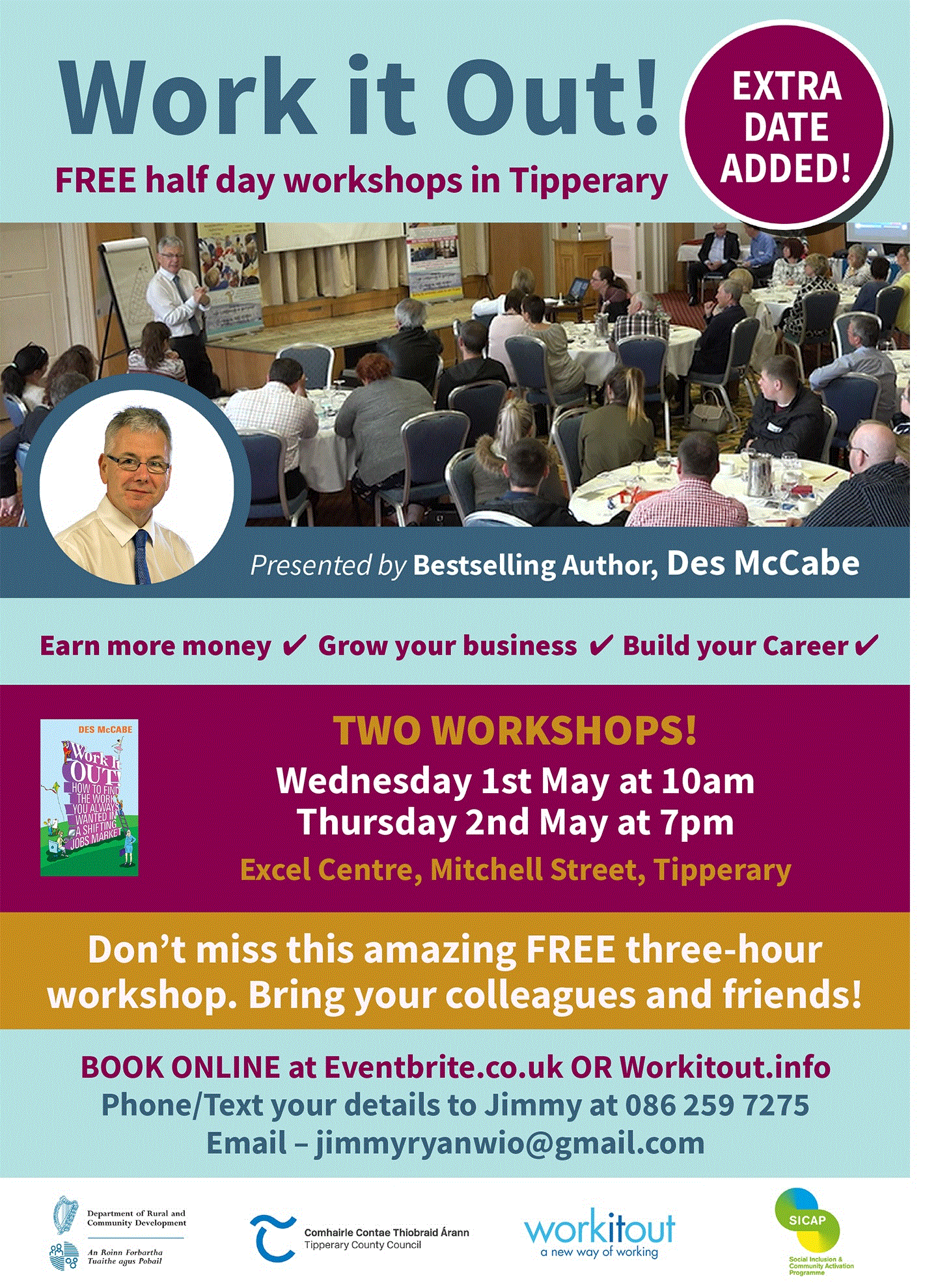 We are launching 6 NEW business and career programmes in Tipperary – don't miss out!!
Come along to the Work it Out! taster workshop and choose the programmes that suits you best
1. Work it Out! How to find the work you really want to do!
Join our 6- week training programme (one evening per week) dedicated to helping you find the work you really want to do. Test your business idea, bolt-on extra income or discover a whole new career! FREE!
2. Approved 'Work it Out!' Mentor Development programme (8 months p/t)
Opportunities for 10 new and established Mentors. Training support and real clients – FREE!
3. Everlasting Grants - Practical help for community groups (6-month development programme for 10 organisations)
We will be helping community groups to build a social enterprise culture and totally transform their finances. We have 10 free places available on our 'Everlasting Grants' development programme to help organisations to become financially sustainable. FREE!
4, Business Teams (4 months network support)
Join one of our new Tipperary local Small Business Teams! These are practical hands-on support groups for start-ups and small / family businesses (40 places only). FREE!
5. Professional support for your business
Individuals and teams will benefit from our Collaborative Coaching methodology providing free help and guidance with self-employment activities or their small business initiatives over the next three months. FREE!
6. License your Training Courses
Have you got a product or service that others could deliver in other parts of the country or internationally? Find out how to get your first licensees on board in 12 weeks. Just 6 places. FREE!
---


Sign-up at the workshops for ANY of the above programmes
---


Invite your Colleagues
The event is ideal for individuals, businesses and organisations. For example, Community groups often bring their staff and participants, Businesses use the event to motivate and inspire key staff. Individuals often encourage colleagues or family members to come along and see what might be useful for them. Just forward this invite to them now by clicking one of the 'share' buttons at the bottom of the page or copy this page link
https://www.eventbrite.co.uk/e/work-it-out-2-earn-more-income-grow-your-business-build-your-future-launch-of-6-programmes-tickets-59038374367

More Information
For more information please contact Jimmy Ryan at 086 259 7275 or email jimmyryanwio@gmail.com
Come along to the Work it Out! taster workshop, check out these amazing SIX new programmes and then choose the programme that suits you best! Remember, there is no cost to you but places are limited.
CHOOSE Wednesday morning OR Thursday evening - Reserve your places now!
---