Work Life Balance Workshop - Half Day CPD Event - Wednesday 17 June 10am
Event Information
Refund Policy
Contact the organiser to request a refund.
Eventbrite's fee is nonrefundable.
About this Event
A virtual CPD workshop to look at your current levels of stress and life satisfaction generally, while learning new skills you can use straight away in your personal and professional life to provide that sense of work life balance.
Join us on Wednesday 17 June from 10am for an interactive and thought provoking workshop designed to foster positive habits that will create more balance and happiness in your life.
You'll walk away with:
The simple neuroscience behind how your brain is wired, how this affects stress, anxiety, memory, concentration and effective decision making; and tools to improve your learning, memory and stress control functions.
A greater understanding of your own current stress levels and how to focus on what's important to you, reducing any sense of overwhelm.
Discover what's really important to you and what you're spending your time and energy on right now. How can you make changes to your life.
Step by step exercises and strategies to master positive habits that will improve your overall happiness levels and sense of balance.
A Workbook packed with exercises to help you after the workshop. The Workbook is often one of the most popular parts of the workshop!
This is a half day CPD workshop for those who are looking for proactive ways to manage the daily stresses of life and work and to find more balance and happiness.
This workshop is hosted by Hannah Beko, lawyer, coach and trainer and founder of Authentically Speaking.
Virtual workshop will be hosted on Zoom with a coffee break half way through the session. The content part of the session will last for 2.5 hours with time for Q&A at the end.
**SPECIAL OFFER BEFORE MIDNIGHT ON 10th JUNE** If you book your £45 workshop ticket before midnight on 10th June, you will be upgraded to the £145 option automatically and receive a free follow up coaching chat to answer any questions you have following the workshop on how you can more effectively use the tools in your life.
**HALF PRICE OFFER FOR STUDENTS OR ANYONE WHO IS FURLOUGHED AT THE MOMENT**
If you have any questions, please contact hannah@authenticallyspeaking.co.uk
The session was amazing. Nothing about this session could be improved!
I loved how actionable it was in general- lots to think about and then tools to put into practice rather than just abstract ideas and themes!
I loved all of it TBH. I would tell people it would get them thinking and could help start their journey onto a happier, more balanced future.
It was uplifting, empowering, engaging.
The group was fantastic and along with Hannah's science-backed tips, made for a brilliant learning environment.
Inspiring, achievable, good coaching and sharing of experiences.
The session was very helpful and enjoyable. As well as giving some interesting insights on the science behind happiness, Hannah gave practical tips on improving mental wellbeing. I would recommend this session without hesitation.
It's good to spend time on yourself to educate yourself on your own wellbeing. We tend to leave ourselves out so it was nice just to take that time to self reflect and learn key points. You feel great in the session and everything really makes sense. It really did help me to focus on the important things.
It really made me try to focus on my priorities and trying to manage things.
Hannah's Workshop was truly brilliant, it was informative, interactive and thoroughly enjoyed by all. With lots of useful tips and tools and an explanation on the science behind stress and happiness it was a fantastic workshop which I would encourage anyone to attend.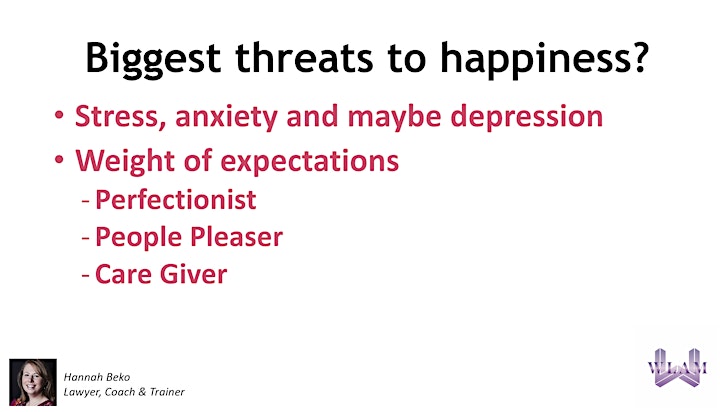 Date and Time
Location
Refund Policy
Contact the organiser to request a refund.
Eventbrite's fee is nonrefundable.