Work Well. Be Well.: A business & wellness masterclass in Manchester
About this Event
Only 1 in 3 UK entrepreneurs are women, which means a lot of the business advice out there simply isn't tailored for us. It doesn't take into account that when you're a female entrepreneur, you have to do things differently. Odds are, in addition to running your own biz, you also carry an unbalanced weight of the emotional labour at home, not to mention physical chores!
At Work Well. Be Well. we know that women are natural leaders, master of multitasking and have the gumption and strength needed to simultaneously run a business and a home. But we also know that women often struggle with self-care and prioritising themselves, not to mention the fact that overworking is a serious problem for entrepreneurs.
Work Well. Be Well. is a unique one-day retreat filled with specially designed masterclasses to stimulate growth and business development and to allow you to recharge with a bit of guided self-care.
If you're one of the many female entrepreneurs who struggle to find balance in the chaos of everyday life and business demands, then we invite you to join us at our next retreat. We'll take a holistic approach to the unique challenges female entrepreneurs face and look at the roles self-care, wellness, planning and organisation play in our daily lives. You'll leave our workshop pampered mentally and physically. Let us inspire you, empower you, motivate you and help you find balance.
You'll learn:
how to accept the fact that you won't have the best days all the time and learn how to balance that with practical strategies and tips you can use in your business and home
how to remove the confusion and frustration of not knowing what to say nor how to market your business on social media
how to harness the power of your menstrual cycle and schedule your week effectively and in sync with your body's natural rhythms and
how to plan your social media marketing for an entire month in under an hour plus much, much more!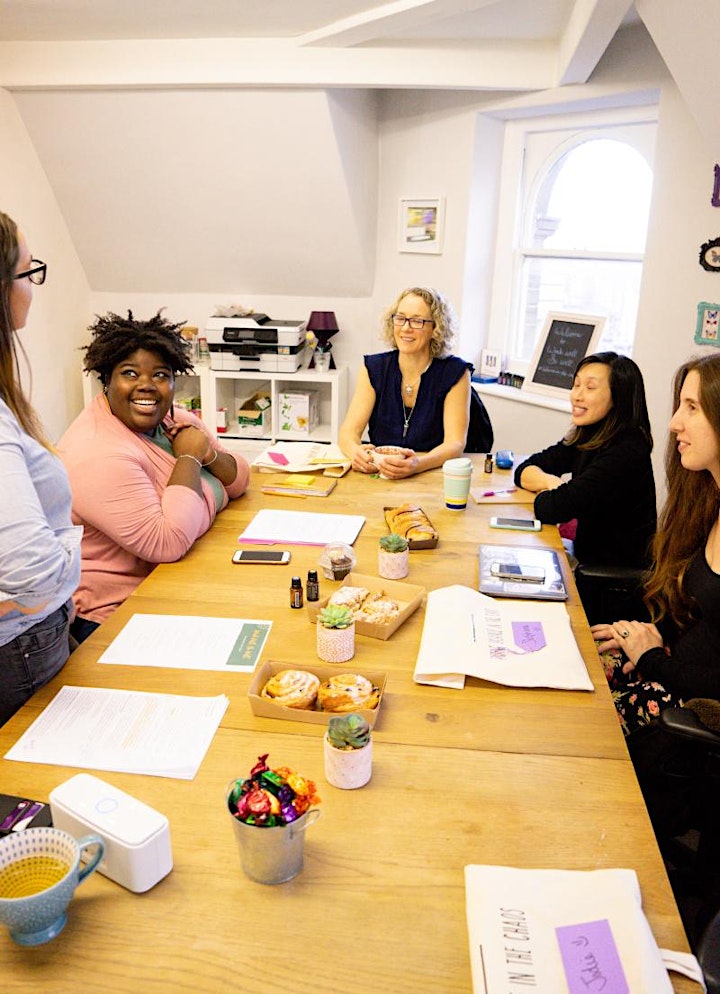 A deeper look at the day
Led by our wellness guru, Sarah, we'll start our intimate session with a demonstration and application of essential oils to focus our minds and set our intentions for the masterclasses. Then, through a series of workshops filled with hands-on opportunities for you to get involved, we'll take a holistic look at self-care and business development.
After lunch, we'll continue with workshops led by our marketing and social media expert, Anyo. You'll learn the latest tips and tricks on mastering social media and the type of content every business website needs. We'll round out the afternoon with more self-care sessions meant to help you get in tune with your body including a restorative yoga session.
Keep in mind that we intentionally cap our retreat to no more than 8 entrepreneurs. This way, we are sure everyone has a chance to be heard and we love the intimate setting this creates. We know that it can be intimidating speaking about your business in a crowded room, especially if you're just setting out. By keeping our numbers small, it is easier to open up about life and business and we've found that our attendees end the day having made new friends.
The cost of your ticket covers:
a full day of expert-led informative business workshops
a complete restorative yoga session
opportunity for networking with other female entrepreneurs
a delicious, catered working lunch
a FREE goody bag valued at over £75 and
practical marketing advice tailored specifically for small businesses.
The day's agenda
Is this event for me?
This event is for you if you want to:
Understand your cycle for insight into the intricacies of working with your body instead of against it to achieve more balance
Gain a clear understanding of how to best utilise social media to promote your business and
Network with like-minded women who are ready to find balance, make change and support one another.
Buy your ticket today and save your spot at this one-day conference!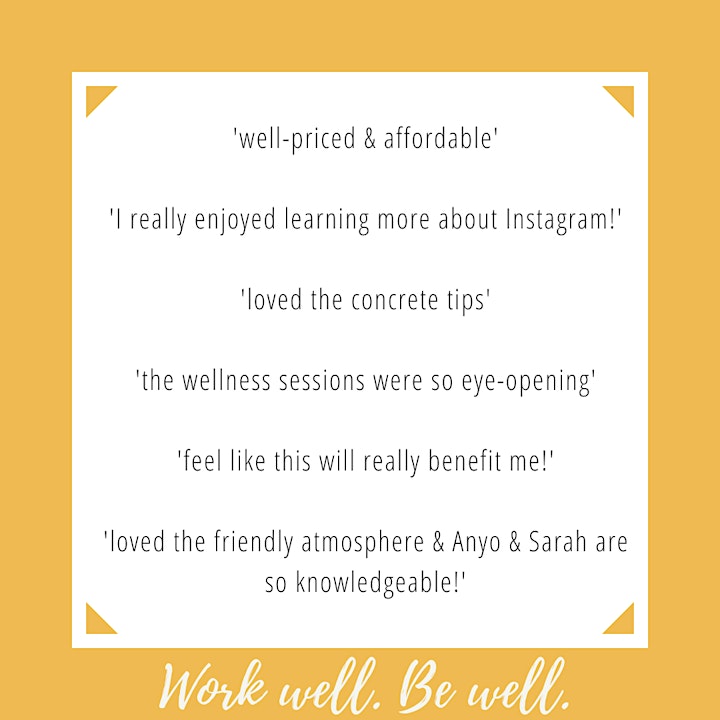 Meet the women behind Work Well. Be Well.
Anyo runs the digital marketing agency Northern Bee Marketing in rainy Manchester, where she empowers small business owners and entrepreneurs to take control of their digital marketing and social media presence.
Sarah of @sarahbyrnewellness works with mama entrepreneurs who want more energy and more balance in the chaos. She helps them to harness the superpower of their cycle by looking at the ways hormones play a massive role in their every day lives.