Work Well. Be Well.: A virtual business & wellness course
About this Event
Only 1 in 3 UK entrepreneurs are women, which means a lot of the business advice out there simply isn't tailored for us. It doesn't take into account that when you're a female entrepreneur, you have to do things differently. Odds are, in addition to running your own biz, you also carry an unbalanced weight of the emotional labour at home, not to mention physical chores! In the time of Covid-19, we are seeing the strain female entrepreneurs face even more clearly and we want to support and guide you best we can.
At Work Well. Be Well. we know that women are natural leaders, masters of multitasking and have the gumption and strength needed to simultaneously run a business and a home. But we also know that women often struggle with self-care and prioritising themselves, not to mention the fact that overworking is a serious problem for entrepreneurs.
Work Well. Be Well. is a unique interactive digital day-course with specially designed masterclasses to stimulate growth and business development and to allow you to recharge with a bit of guided self-care.
If you're one of the many female entrepreneurs who struggle to find balance in the chaos of everyday life and business demands, then we invite you to join our course.
We'll take a holistic approach to the unique challenges female entrepreneurs face and look at the roles self-care, wellness, planning and organisation play in our daily lives. You'll finish our course having been pampered mentally and physically. Let us inspire you, empower you, motivate you and help you find balance.
You'll learn:
how to accept the fact that you won't have the best days all the time and learn how to balance that with practical strategies and tips you can use in your business and home
how to remove the confusion and frustration of not knowing what to say nor how to market your business on social media
how to harness the power of your menstrual cycle and schedule your week effectively and in sync with your body's natural rhythms and
how to plan your marketing for an entire month in just one hour plus much, much more!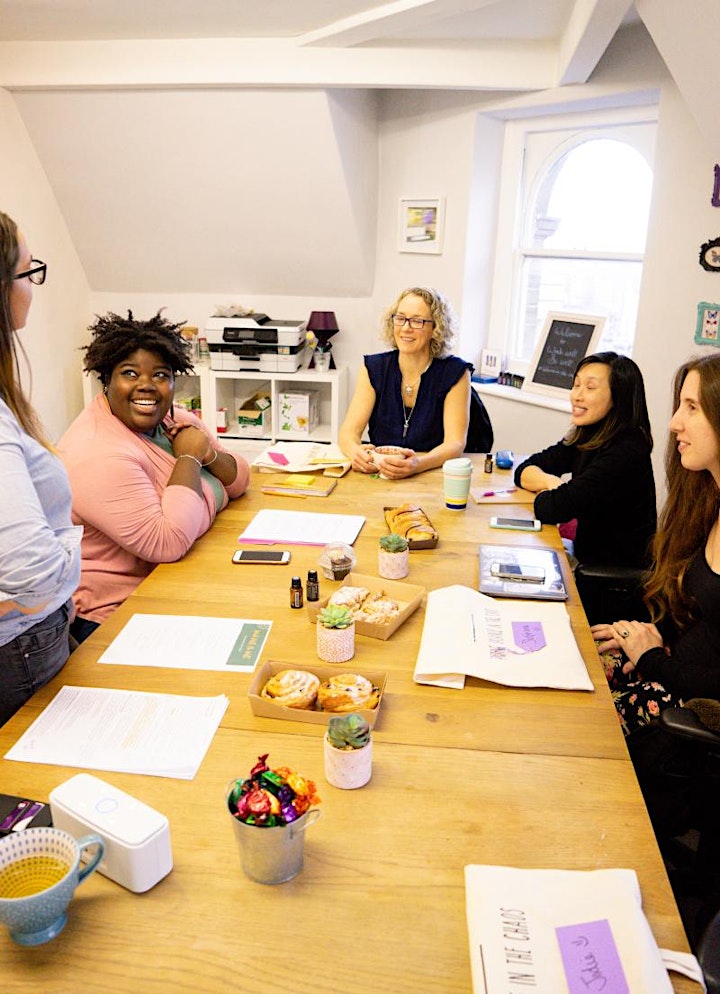 A deeper look at the course
Led by our wellness guru, Sarah, we'll start our course with a grounding and welcoming message. Then, through a series of video workshops, we'll take a holistic look at your life and your business strategies.
The business side of the course is led by our marketing and social media expert, Anyo. You'll learn the latest tips and tricks on mastering social media and fail-proof advice for taking the pain out of content creation.
We'll round out the course with recorded guided meditations, a relaxing 45-minute yin yoga session and a yoga nidra, all complete with accompanying Spotify playlists and Sarah's dulcet and gentle guidance, ensuring you can create a sanctuary of calm and a space to unwind and grow.
Pricing and fees:
Early-bird pricing is available until 31 July for a one-time payment of 147 GBP, 197 USD or 297 AUD.
Lifetime access to the course requires a one-time payment of 197 GBP, 257 USD or 357 AUD. We also accept spreading the cost of the course through monthly instalments. Please note that payment will not be taken through Eventbrite.
Benefits of the digital course:
lifelong access to a full day of expert-led informative business marketing workshops and restorative wellness sessions
grow at your own pace - do the course in one sitting or stretch it out over a few weeks; we believe in flexibility and know that other priorities may take precedence
access to our Balance Club - an invite-only Facebook group where all of our cohorts can come together to network, support one another and continue to grow
a digital goody bag with exclusive tools to keep you focused and thriving, plus discounts from other women-owned businesses
first dibs and Soul Sister rates on upcoming retreats but
most importantly, permission to focus on you and your business.
Is this course for me?
This course is for you if you want to:
Understand your cycle for insight into the intricacies of working with your body instead of against it to achieve more balance.
Gain a clear understanding of marketing your business on social media with intention and precision, not gimmicks .
Network with like-minded women who are ready to find balance, make change and support one another.
Ready to book on?
We know you are going to get so much out of our interactive digital day course and we are excited to share it with you! The next course opens on 5 August. Go here to register or to add yourself to a wait-list and to be notified of upcoming cohorts.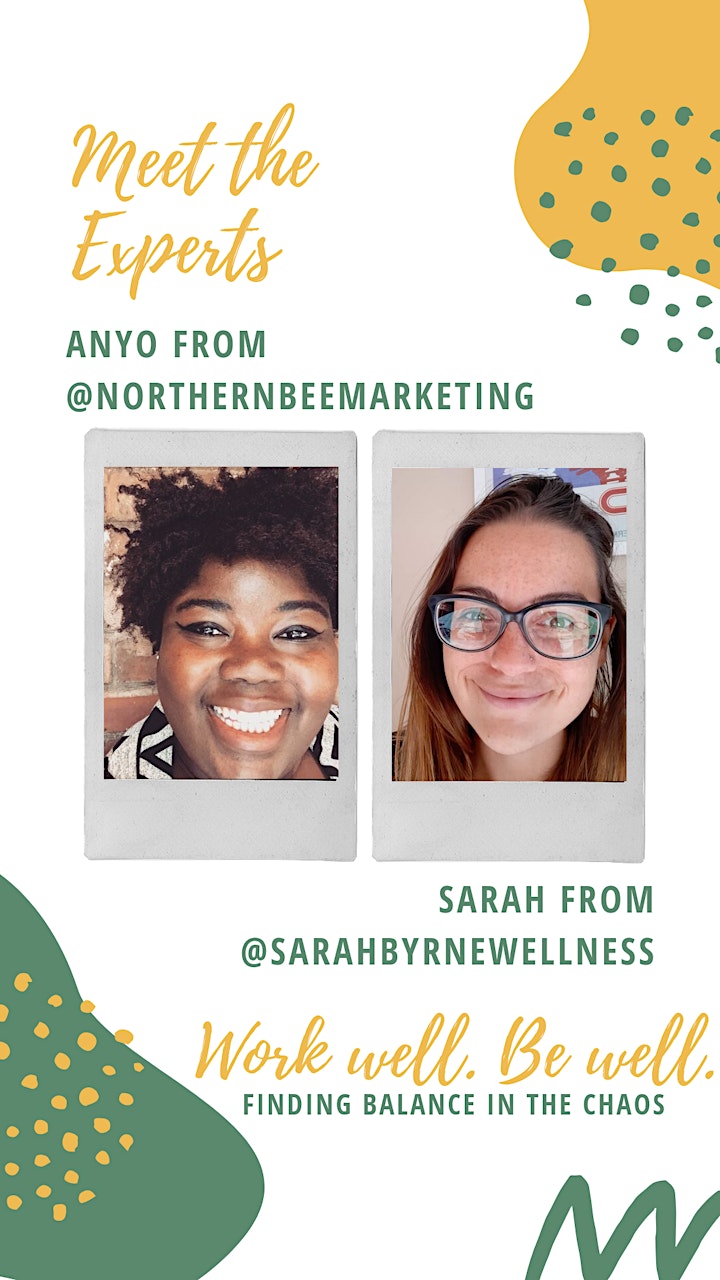 Meet the mamas behind Work Well. Be Well.
Anyo runs boutique social media company Northern Bee Marketing in rainy Manchester, where she empowers small business owners and entrepreneurs to take control of their digital marketing and social media presence.
Sarah of @sarahbyrnewellness works with mama entrepreneurs who want more energy and more balance in the chaos. She helps them to harness the superpower of their cycle by looking at the ways hormones play a massive role in their every day lives.