Description
Working Conversations: What would an effective mental health service look like?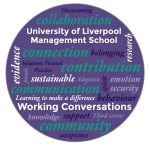 Seeking Funding: Advice and Opportunities
Join us for light refreshments, mulled wine and mince pies and gain:
- insights into funding opportunities for mental health and wellbeing projects
- advice on what makes a successful funding application
- an opportunity to network
Confirmed Speakers inlcude:
Gavin MacGregor, Grant Manager, Lloyds Bank Foundation
Cath Riseborough, Liverpool ONE Foundation
Ben Wittenberg, Directory of Social Change
Carolyn Edwards and Janine Davie, Genie in the Gutter
We'll be there - hope you will be too!
Pippa, Steve, Liz, Katie and Javi
Campus Map - the Management School is in Grid Ref F2, Building 427.