Description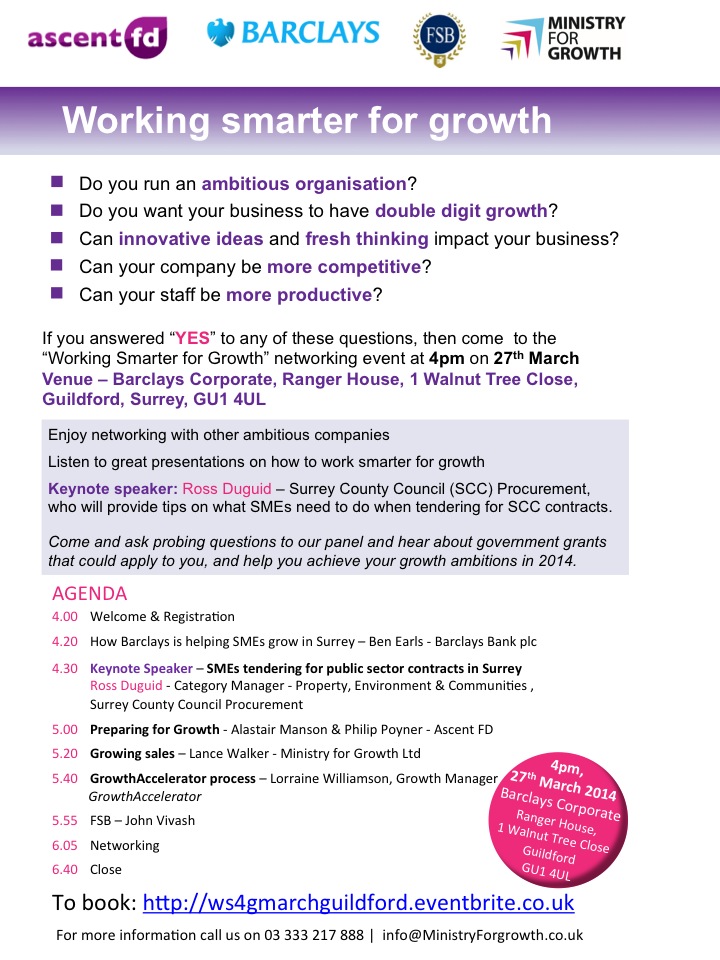 Organiser of Working Smarter for Growth
We are Business Growth Engineers. 

We assist ambitious business owners, like you, to achieve your Vision using practical, tried and tested sales and management techniques, with a systematic, logical approach. Actively involved in the sales process, we understand the critical success factors needed to improve your sales pipeline. We will take your business to the next level, by hand holding you and your employees along the way. 

The result you will experience is a doubling of your sales and increased overall profit. 

The possibilities are numerous, new customers, new markets and even new territories. Streamlining your processes alongside good business practices will improve the value of your business long term. 

Our team works alongside trusted experts who are experienced across a multitude of disciplines within the four pillars of business, namely Sales & Marketing, Finance, Operations and Human Resources. Between us we have over 100 years' experience of growing SME's and have ourselves set up, managed and exited companies in a wide variety of industries. 

We have significant links with India and Middle East as well as the UK and therefore can act as your representative to help you build relationships and develop long term partnerships in all of these countries. 
Are you an ambitious business owner looking to grow your business by 20% per annum?
Are you looking to move into new markets or territories? 
Are you keen on new ideas and prepared to invest in your business growth? 
If you answered 'yes' to any or all of the questions above, then we should have a coffee and discuss how Ministry for Growth can help you achieve your goals. Please give us a call on 03 333 217 888 or email info@ministryforgrowth.co.uk