Working Together: Businesses and Communities (Evolving Cities Series Part2)
Event Information
Refund Policy
Refunds up to 7 days before event
Eventbrite's fee is nonrefundable.
Join us for this online interactive power hour to discuss how businesses, communities & individuals can collectively build a better future.
About this Event
Welcome to our "Evolving Cities" series of power-hour online discussions, kindly sponsored by Network members TLT.
Part 2 - Working Together: Businesses and Communities
We need to create greener cities which are fit for the future and are places where people can live, work and play without negatively impacting their surroundings or the environment. In order to do this, there needs to be real collaboration between businesses, communities and individuals to change the conversation to one which is focused around sustainability. By collaborating with each other we can share best practice and look to create real change that will shape greener cities.
In this hour session we will look at how to open up those conversations, what role business and community leaders need to play in shaping the agenda, and how every individual plays an equally important role in creating a sustainable future.
In preparation for World Environment Day, we are excited to hold this Evolving Cities online series in partnership with Network members TLT.
We are welcoming Bristol & Bath Regional Capital/City Funds and Investing for Good, and Network members TLT, Resource Futures, Grassroot Communities and University of Bristol to take part in this panel discussion.
Evolving Cities Series:
• 6th May –Green Financing for Greener Cities
• 3rd June - Working Together: Businesses and Communities
• 7th October – Repurposing Our City Centres
• 4th November - Green Infrastructure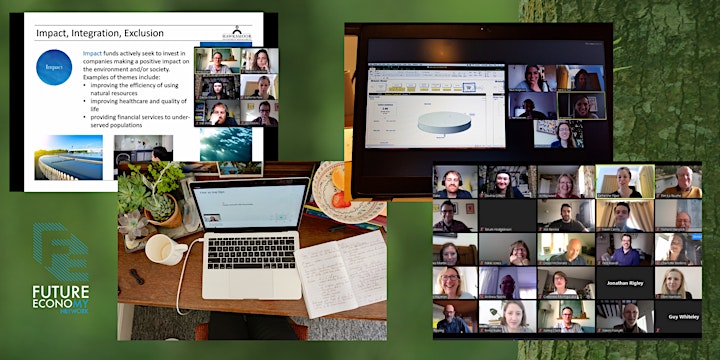 Agenda
10:00 – 10:05 - Registration
10:05 – 10:15 - Facilitated Networking
10:15 - 10:20 – Introduction
10:20 – 10:25 – Topic and Speaker Introduction (chaired by TLT)
10:25 - 10:55 - Panel Q&A (chaired by TLT)
10:55 – 11:00 – Panel's Closing Remarks
Meet The Speakers!
Sally Britton, Non Executive Director, Bristol & Bath Regional Capital/City Funds and Investing for Good
Sally Britton has more than 15 years non-executive experience in responsible finance and investment. She is a board member of City Funds which brings together the public and private sectors, mixing investment and grant-funding to make Bristol a fair, healthy and sustainable city. She also co-ordinates Finance Bristol and Bath, a coalition of responsible finance institutions based locally including Triodos, Rathbones Greenbank Resonance, Bristol and Bath Regional Capital, B£ and Bristol Credit Union.
Ben Carpenter, Founder, Grassroot Communities
Ben is an experienced and skilled Youth and Community worker, Educator, Environmentalist, founder of Grassroot Communities and City Fellow at University of Bristol. Grassroot Communities operates primarily but not exclusively in South Bristol and is guided by the professional principles and practices of youth and community work and influenced by the positive impact of nature, to deliver a wide variety of innovative school, youth and community led projects in marginalised communities. We support people to be the changes they want to see and to create real social and environmental change.
Simon Courie, Partner, TLT
Simon is a leading infrastructure and renewable energy lawyer with 20+ years in private practice having worked at leading international law firms. Alongside his partner role at TLT, Simon is General Counsel at The EV Network, a developer and investor of high-powered EV charging infrastructure. Simon specialises in clean energy, having worked extensively across a range of technologies including solar (C&I and ground mounted), wind (on-shore and off-shore), waste (AD, merchant and PPP waste treatment), battery storage and electric vehicle charging.
Jack Nicholls is a Research Associate at the University of Bristol and Co-director of Praxis-research Ltd. He has worked on climate change policy and research for over 10 years with a particular focus on socio-economic analysis of renewable energy deployment. His current University of Bristol research centres on the democratisation of the low carbon transition, with a particular focus on operationalising deliberative democracy and exploring alternative business and organisational structures. He also runs several student research initiatives that fall under the 'civic university' banner. His current work for Praxis involves the democratisation of City Leap and tracing public opinion of climate change within Bristol.
----------------------------
Want to Know More?
If you would like to join our sustainable business community please get in touch via info@futureleap.co.uk or sign up easily here.
Follow us on Facebook, Twitter, Instagram & Linkedin
Never miss what's next in sustainability by signing up to our monthly newsletter HERE
Opportunities, Suggestions and Conditions
You can get 20% off your next online event with us by choosing the add on option during booking.
Most of our events are available on demand here, however this does not include opportunities to network, take part in the discussions or do a 60 second pitch!
We will share your name, job title & company with the other event attendees for this event only. If you don't want this information to be shared please let us know when you have purchased your ticket.
We take photos at our events for marketing purposes, if you don't want your picture taken please let us know in advance.
We record some of our events for marketing purposes, if you don't want to be in the recording please let us know in advance.
We have included a £1 carbon offsetting fee to all event tickets in our commitment to being carbon neutral in our operations. You can find out about our chosen charity here.
Please let us know at least one week in advance if you require closed captions or have any other accessibility needs.
If you require a complimentary carers/assistant ticket, please email events@futureleap.co.uk at least one week in advance and we will be happy to support you!
#wegrowthhub #business #seminar #sustainable #sme #bristol #businesswithpurpose #climateemergency #betterbusiness #climatechange #businessresilience #sustainablefuture #resilientcities #evolvingcities #communities #collaboration #bottomup #workingtogether
Date and Time
Location
Refund Policy
Refunds up to 7 days before event
Eventbrite's fee is nonrefundable.