Description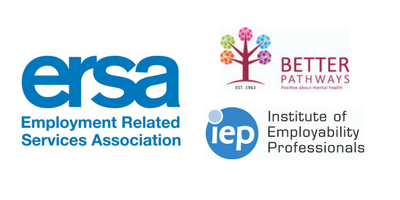 ****New date announced****
In the light of the announcement of a General Election, we have taken the decision to postpone our conference (from the previous date of 16 May) until after the election has taken place. This is in order to allow officials, affected by purdah, to attend and to ensure we reflect the very latest in policy developments.
ERSA is delighted to announce a one day conference, sponsored by mental health charity, Better Pathways, on mental health and employment support.
With the national landscape for employment support services changing and a far greater emphasis on helping those with health and disabilities into work, this event will help charities, health bodies, local authorities, housing associations and other employment support providers understand the challenges and opportunities ahead.
Organised in partnership with the Institute of Employability Professionals, the event will offer an excellent opportunity to engage and network with senior professionals from across the private, public and voluntary sectors and to learn from others about new approaches and what already works.
Latest updates including speaker line up can be found at ersa.org.uk/events/mentalhealth.
Terms and conditions
VAT will be applied at the current rate. Only cancellations received by Monday 29 May 2017 will be considered for a refund and subject to an admin fee of £25. Cancellations after this date can not be accepted. A substitute attendee is allowed at any time at no extra cost, please email events@ersa.org.uk with details. Bookings are managed by Eventbrite and payment can be made via credit/debit card, invoice or cheque. All payment queries including purchase orders to be included on the invoice should be directed to accounts@ersa.org.uk. All payments should be settled in advance of the seminar.