Sales Have Ended
Registrations are closed
Registration has now closed for this event.
Sales Have Ended
Registrations are closed
Registration has now closed for this event.
A free online event over 2 days, celebrating achievements of the projects funded by Scottish Government's Workplace Equality Fund 2019/20
About this Event
What is the Workplace Equality Fund?
The Workplace Equality Fund supports private businesses to address long standing barriers, inequalities and discrimination faced by particular groups in entering and progressing in the workplace.
25 projects across Scotland have been working with businesses to address inequality in the workplace.
The Learning Festival Aims:
to promote workplace equality
to share learning and good practice from the funded projects
to celebrate the achievements from this funding
to encourage private businesses to consider the benefits of diversity and inclusion
The festival will take place over two days on Zoom with a range of sessions delivered by the funded projects. These will include presentations, panel discussions, workshops and animations giving a flavour of the work across the priority groups. Each session will be stand alone and pre-bookable*. Attendees can attend as many or as few sessions as they choose.
*Some sessions will have a maximum capacity.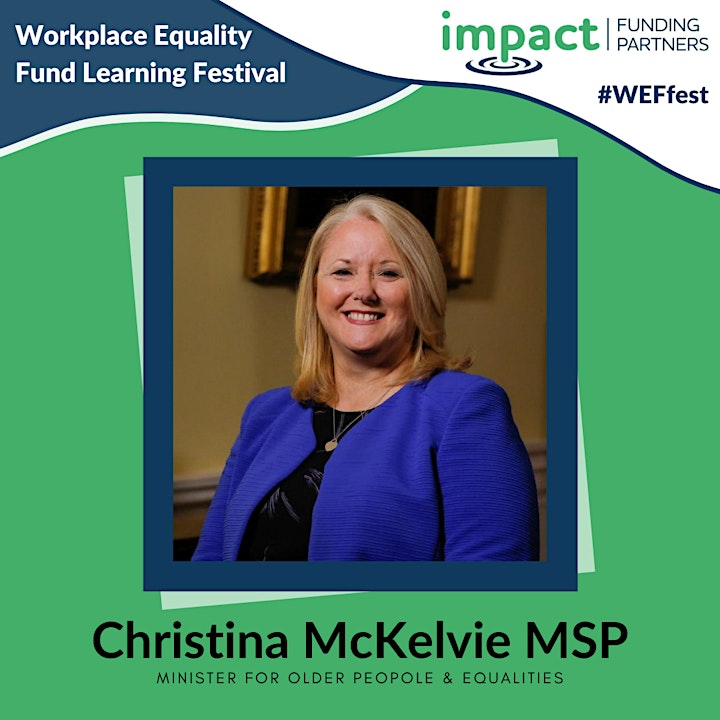 We are delighted that Ms Christina McKelvie MSP, Minister for Older People and Equalities will join us live to open and close the festival.

At registration, you can choose which sessions you would like to attend.
All individual sessions will be live captioned
Day 1 - Tues 22nd September
9:45 Zoom Room opens
10:00 Opening speech from Christina McKelvie MSP
10:30 Panel discussion with AAI EmployAbility, Scottish Engineering and Burness Paull . Hear from 3 projects with expertise in the fields of BME women and employment, women and engineering, and menopause at work
11:30 Outside the Box – Mums Returning To Work: Listen and ask questions as this project talks about their Mums Returning to Work Training Support Pack, which guides employers in how to achieve 'Mum Friendly' status
12:15 Hear perspectives on addressing inequality in two different commercial sectors
Port of Leith Housing will present on Equality and the construction industry
Fife Centre for Equalities will talk about their work with SKY to increase opportunities for minority ethnic people in the workplace
13:30 Age Scotland - Age Inclusive Matrix: From WEF Seedling to National Lottery Orchard. Follow the journey taken to grow a startup project into a successful Scotland-Wide Age@Work Programme
14:30 Edinburgh Women's Aid* - Domestic Abuse Awareness Raising for Employers: learn about the impact of domestic abuse, the indicators of abuse and how to support survivors in the workplace
15:45 PiPA: Parents and Carers in Performing Arts in Scotland - A presentation with Q&A, summarising PiPA's pilot project in Scotland with performing arts organisations and freelancers, sharing learning pre and post Covid. Hear first hand, how the pandemic has impacted on performing arts professionals.
*Denotes that a maximum capacity applies at this session
Day 2 - Weds 23rd September
9:45 Zoom Room opens
10:00 LGOWIT* - An insight into self management in the workplace for those living with a long term health condition
11:00 ENABLE - Learn about their partnership work to promote Disability Awareness within Diageo
11:45 Bridges Programme - Hear about how this project worked with Oakminster Health Care to bring together members of the migrant and refugee communities with job opportunities in the Social Care sector. This will include talks from Bridges Programme on why they approached Oakminster Health Care for this project. It will also include a presentation from Lissa di Giacomo, the CEO of Oakminster on why they agreed to work with Bridges Programme and the next steps. Live Q&A at the end.
13:15 Values into Action Scotland - Building Organisations to Succeed and Shine (BOSS). Hear how VIAS partnered with Scotrail to improve how they attract, recruit, train and support people with learning disabilities, and people on the autistic spectrum into employment
14:30 Flexibility Works* - Future Proof with Flexible Working: This is an informal, facilitated discussion, designed to help your organisation on the journey in relation to a truly flexible working culture
15:40 Christina McKelvie MSP to close event
*Denotes that a maximum capacity applies at this session