Workplace Health and Wellbeing – 'Good work and good health is good busines...
Description
Come along to this free event that has been jointly organised by all four South Yorkshire authorities and find out how you can make workplace health improvements that will boost your staff and business performance.
The increasing importance of the benefits of a healthy workforce are recognised as a key element to successful business. Over the last 10 years there has been a growing body of evidence showing the financial benefits enjoyed by businesses that implement wellbeing programmes including reduced sickness, improved productivity, reduced staff turnover and generally a happier place to work - ultimately leading to business growth. In addition being a good employer and caring for your staff enhances your businesses reputation and image making your business attractive to work for.
This event will show case the good workplace health practice that has been taking place in South Yorkshire and will include some case studies from a number of local businesses. You will hear about the successes of introducing a health and wellbeing programme and the business benefits that have been achieved. It will give you ideas on workplace interventions and initiatives that you could introduce into your business.
This event will also include presentations on how employers can be pro-active in preventing musculoskeletal injuries and mental health issues -the two most common reasons for long term sickness absence in the workplace.
Please click here to view the conference programme
You will also have an opportunity to:
browse the information stands that will be on offer from local provider services that can support your business to make workplace health improvements.

information workshops (you will select two on arrival ) from the following :-Workplace Health Champions, Successfully introducing a workplace health programme into a small business, Sheffield Occupational Health and Advisory Service workshop.
The event is suitable for businesses of any size and for anyone in business responsible for introducing measures to improve health and reducing sickness absence such as Directors, Human Resource Managers, Health and Safety Managers and Occupational Health Nurses.
Deatails of the day: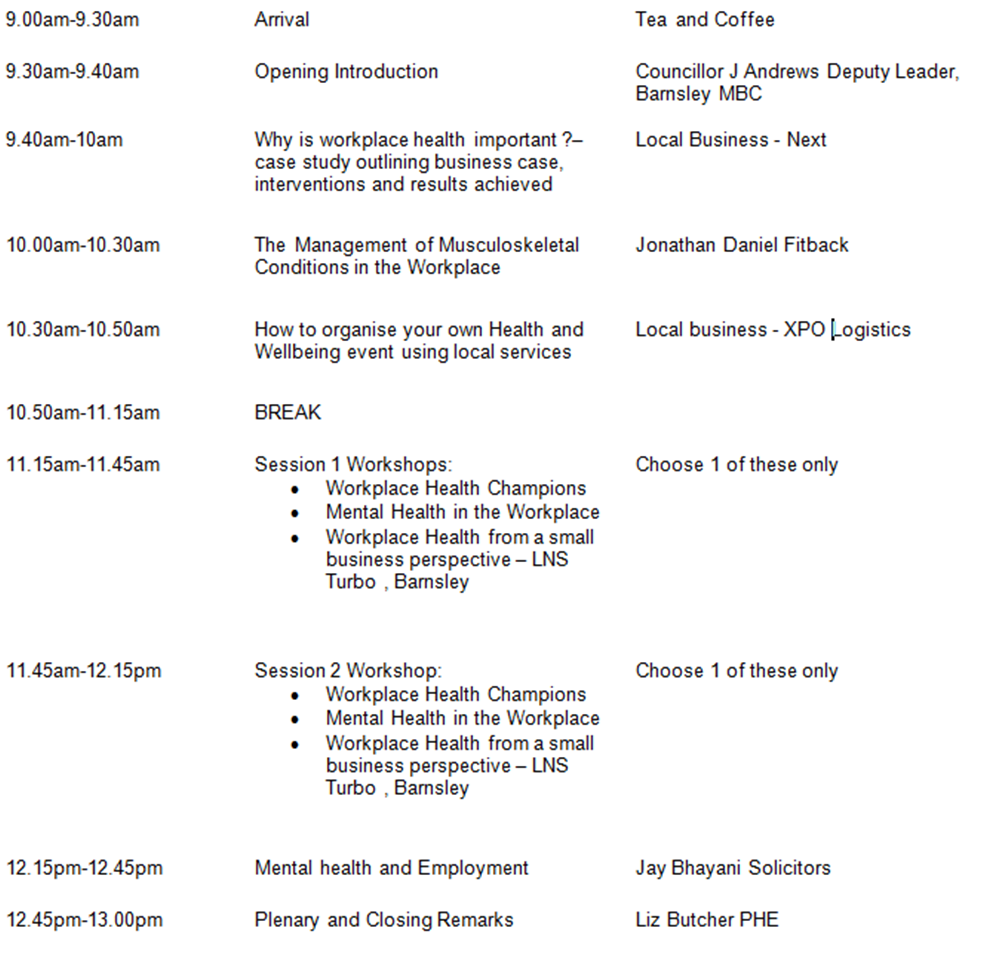 On the day delegates will choose to attend 2 workshops out of the 3 available as follows. The workshops will run twice:
Workplace Health Champions

Mental Health in the Workplace

Workplace Health from a small business perspective – LNS Turbo , Barnsley
Please ensure you arrive early to secure your preferred workshop.
Although this event is free to attend for those that cancel at the last minute and their place cannot be filled or do not turn up on the day a cancellation fee will be charged.