Workshop 2 Creating a Community Fire Safety Action Plan - Thames Ward
Let's Develop a Community Fire Safety Action Plan for Thames Ward Residents
About this event
Creating a Fire Safety Action for your community
Join British Red Cross, London Fire Brigade, Thames Ward Community Project, Barking Reach Residents Association and your fellow neighbours to tell us what you want fire safety to look like in your community.
What is involved: A guided workshop where you are invited to give your testimony and ideas to help us create a fire safety action plan for your community. We will review findings from the previous workshop on October 4th, please see the workshop report attached. This session will be led by the British Red Cross, the London Fire Brigade, and Thames Ward Community Project. We also have stalls set up to showcase other local community groups and activities happening in your area.
Entertainment and food: We will also have free food, music and activities for people of all ages, including children.
Some activities will include:
Showcasing of local artists' work by Emmanuel Oreyeni @oreyeni_arts
Experimental art workshop by University College London for all ages.
A showcasing of local music by resident Josiah Oyekunle DJ The Kings Decree.
Live spoken word by local poet Romeo Murisa @spokenwithvision
Date and Time: Monday, November 29th 6:00 – 7:30 PM (*not a hard ending with fun activities, food and networking to follow until 8pm)
Location: *In person* Participatory City Warehouse, 47 Thames Rd, Barking IG11 0HQ, UK
Register: You can either turn up on day of the event or register. This workshop is open to EVERYONE so invite as many people as you can to take part.
Background: On June 13th, 2019 the Barking Riverside community in Thames Ward experienced a terrible fire that spread rapidly, and in the end more than 30 families of the 79 dwellings were displaced. Many in the community including the British Red Cross (BRC) and Thames Ward Community Project (TWCP) responded to this incident and supported the people impacted. The BRC, TWCP and the London Fire Brigade will be work with the Barking Riverside community to help them develop a community fire safety action plan.
The community fire safety action plan workshop series encourages people, groups and organisations in Thames Ward to come together over three evenings in the coming months to take action on fire preparedness and to develop a community fire safety action plan.
We look forward to seeing you there.
British Red Cross Community Resilience and Thames Ward Community Project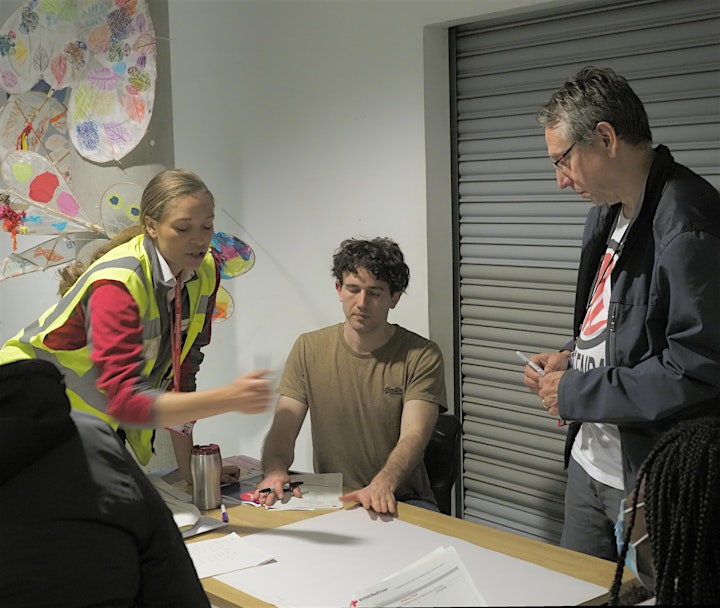 British Red Cross and Thames Ward Community Project leading a focus group session with residents looking at vision for a 'community fire safety action plan'. - Image by Victor Ho
Organiser of Workshop 2 Creating a Community Fire Safety Action Plan - Thames Ward
About the British Red Cross and the Community Resilience Programme
British Red Cross
The British Red Cross is a volunteer-led humanitarian organisation that helps people in crisis, whoever and wherever they are. We enable vulnerable people at home and overseas to prepare for and respond to emergencies in their own communities. And when the crisis is over, we help people recover and move on with their lives.
Aviva partnership
Working together to help build stronger, safer communities – equipping people to prepare and be ready for whatever lies ahead.
Learn more about how we are working together with Aviva here.
London Community Resilience Programme
We look forward to welcoming you. For more information please email the Community Resilience Team at CommunityResilienceLondon@redcross.org.uk.
The Community Resilience Programme aims to create community-led approaches to reduce the risk of emergencies, and better prepare, respond and recover from crisis. It aims to create a space and structure in which local communities including the faith, charity and community sector can strengthen their co-operation concerning emergencies and co-produce emergency planning and response with local authorities.
More information about the programme can be found here.