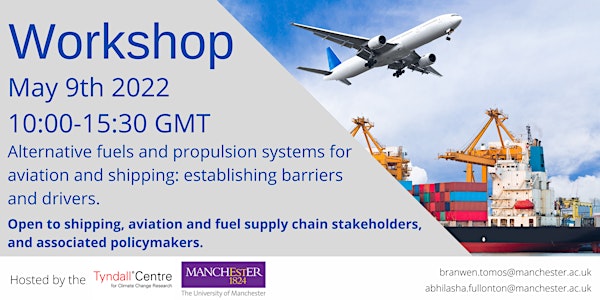 Workshop: Alternative fuels and propulsion for shipping and aviation
Sales Have Ended
Registrations are closed
Registration for this event has now closed.
Workshop by The Tyndall Centre: Barriers and drivers for the uptake of alternative fuels and propulsion systems for shipping and aviation.
About this event
This workshop will include two sessions both focusing on alternative fuels and propulsion systems for shipping and aviation.
Opening remarks by Prof. Alice Larkin
Session 1: 10:00-12:00 GMT
Session 2: 13:00-15:30 GMT
Note: Session 1 will focus only on shipping, and session 2 will cover issues of relevance to all stakeholders. Participants are invited to attend those of most relevance, which can be both or just one.
Workshop details:
Session 1: Establishing the criteria for successful uptake of alternative fuels and propulsion systems for shipping.
This session will include facilitated discussions between participants on the criteria that they consider alternative shipping propulsion will need to meet in order to be successful. This workshop session will include interactive elements and will be followed up by a short, remote questionnaire.
The main research output related to this session will be an evaluation framework for alternative ship propulsion, that combines detailed life cycle results with stakeholder views. The findings of the research at both the final and early stages will be made available to contributors, including use of the evaluation framework.
Time: 10:00 - 11:45 GMT
Session 2: Examining the viability of green ammonia as a fuel or a hydrogen carrier for shipping and aviation.
The aim of this session is to gather expert sentiment from stakeholders from across the sectors and fuel supply chain, to shed light on existing drivers and barriers for green ammonia as a potential sustainable fuel, or as a hydrogen carrier for aviation, shipping, or both. In breakout rooms, participants will get the opportunity to discuss this under various themes such as economic, environmental, technological, etc. to ascertain comprehensive views on this topic. The final outcome of the research will be made available to all workshop participants.
Time: 13:00 - 15:30 GMT
About the hosts
The Tyndall centre is an interdisciplinary research community that brings together natural scientists, engineers, social scientists, and economists to produce socially impactful and policy-relevant research on understanding and responding to the challenge of climate change. Tyndall Manchester is based within the University of Manchester.
Prof. Alice Larkin is Head of the School of Engineering and a Professor in Climate Science & Energy Policy as part of the Tyndall Centre for Climate Change Research. Her current role within the University of Manchester is providing an opportunity to further expand her research interests into the decarbonisation challenges within Universities.
Abhilasha Fullonton is a Research Associate at Tyndall Manchester and is currently working on the UKERC project on exploring the barriers and opportunities of sustainable fuels in the freight and aviation sector. Prior to joining the Tyndall team, Abhilasha held a senior analyst role at a sustainability consulting firm working in both Asian and North American regions.
Branwen Tomos is a PhD researcher at Tyndall Manchester, focusing on the decarbonisation of the Shipping sector. She is currently developing an evaluation framework for alternative ship propulsion, that combines Life Cycle assessment techniques with stakeholder engagement.
Attending the event
The event will be held virtually via Zoom. To join please follow the link below:
Any questions, please direct them to:
branwen.tomos@manchester.ac.uk
abhilasha.fullonton@manchester.ac.uk
We look forward to meeting you at the workshop.