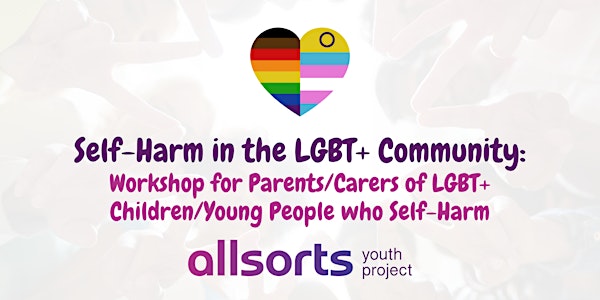 Workshop for Parents/Carers of LGBT+ Children/Young People who Self-Harm
A workshop for parents and carers of LGBT+ children and young people who self-harm (or at risk of self-harm)
About this event
About this event
Previous research has shown that LGBT+ children and young people (under 25) are at much higher risk of suicide and self-harm compared to heterosexual and cisgender young people.
As part of the Self-Harm Learning Network programme, Allsorts Youth Project are running a series of online workshops for parents and carers of LGBT+ children and young people to provide advice on supporting your child's sexual orientation, gender identity or exploration, and to discuss experiences of supporting your child in relation to self-harm.
The aim of this workshop is to provide a safe space for parents and carers of LGBT+ children and young people to:
explore some of the critical issues and challenges experienced by children and young people who are LGBT+ (Lesbian, Gay, Bisexual and/or Trans or exploring their sexual orientation and/or gender identity) and how these may increase risk of self-harm
talk about your own experiences with your child/children (to include those relating to self-harm).
discuss some of the ways you can support your LGBT+ child/children
meet with other parents and carers to reflect, share, and learn from each other
find out more about the Self-harm Learning Network programme and national and local resources available, including access to the E-Wellbeing portal
Background
The Pan-Sussex Self-Harm Learning Network Programme is designed to assist parents, carers and staff working in educational settings to support children and young people who are self-harming or at risk of self-harm.
Facilitated by West Sussex Mind, YMCA Downslink Group and supported by Allsorts Youth Project, the programme includes a series of learning networks, where participants can hear from guest speakers, receive updates on latest initiatives and resources, and network with others to discuss what is working for them and their support needs.