Event Information
Refund policy
Contact the organiser to request a refund.
Eventbrite's fee is nonrefundable.
Join motivational experts and best-selling authors Dr Andy Cope and Prof Paul McGee on their mission to revolutionise happiness
About this event
Dr Andy Cope and Prof. Paul McGee are two of the biggest powerhouses in positive psychology and personal development and with their new book, The Happiness Revolution: A Manifesto for Living Your Best Life, they are inviting you to join this revolution and raise the bar from mental health to mental wealth.
In this simple and practical (digital) workshop they will be sharing their vision, one grounded in 'the science of human flourishing and and the reality of life', and guiding you through a series of illuminating and inspiring exercises designed to have an immediate positive effect on your life and the lives of those around you.
OUTCOMES
Learn how to regain your sanity, clarity, and wellbeing, even when your smartphone, kids, spouse, job, and possessions seem to be conspiring to keep you from doing just that.
Understand why it can be so hard to maintain a happy outlook when the outside world has never been so fast, complex, and unpredictable.
Get insight on how to be at your best in a world that is doing its worst.
_____________________________________________________________________________________
ABOUT THE BOOK
Happiness. We chase it, we crave it…it's so in demand… yet so scarce and fleeting
But here's the good news. In The Happiness Revolution: A Manifesto For Living Your Best Life, bestselling authors Dr Andy Cope and Professor Paul McGee deliver a page-turning self-help book of the times, for the times. As the world wakes up to a new kind of normal, The Happiness Revolution challenges readers to sign up to an uprising of wellbeing and to making the most of the privilege of being on this planet.
Rise Up and Be Happy! Vive la revolution!
-
INFO ON DR ANDY COPE
Dr Andy Cope is a qualified teacher, best-selling author, happiness expert and recovering academic.
Andy's Loughborough University PhD was 12 years in the making and while he appreciates that his 'Dr of Happiness' label is terribly cheesy it does afford him an important media platform. In times of rising depression and an epidemic of anxiety, Andy believes there has never been a more appropriate time to raise the wellbeing agenda.
You can find out more about Andy on his #beingbrilliant social medias; Twitter and Instagram.
INFO ON PROF PAUL MCGEE
Paul McGee is currently a visiting Professor of University of Chester, a Sunday Times bestselling author, and a motivational speaker. He is also the founder of the SUMO movement.
SUMO has been used extensively around the world. It is at hought-process that equips people with the insights, inspiration and practical tools to achieve better results in life, whilst having more fun in the process.
It's an acronym that depending on the context can stand for 'Shut Up, Move On' or 'Stop, Understand, Move On'.
You can find out more about Paul on his social medias; Twitter and Instagram.
INFO ON HOST TONI JONES
Toni Jones is a British journalist and the founder of shelf help., regularly hosting online (and - when we're allowed! - offline) events with self-development authors and experts.
Founded in 2017, shelf help. is a club and platform with a reach of over 20k readers and seekers. It is the world's first self-help book club, creating content and community dedicated to celebrating, inspiring and supporting your personal development.
Find out more about shelf help. at www.shelfhelp.club // @shelfhelp.club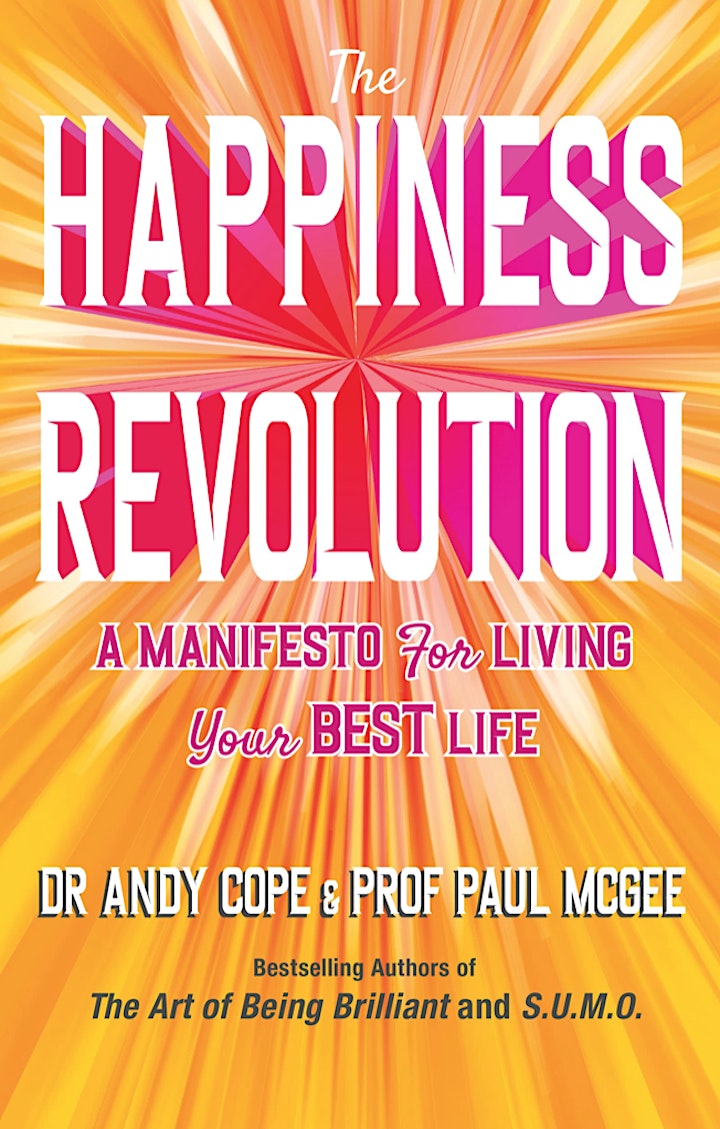 The Happiness Revolution is the new book from bestselling authors of The Art of Being Brilliant and S.U.M.O.
You don't need to be reading this book to enjoy the workshop but we absolutely recommend it.
Date and time
Location
Refund policy
Contact the organiser to request a refund.
Eventbrite's fee is nonrefundable.
Organiser of [workshop] Get Happy! An Introduction to the Science of Human Flourishing
Shelf Help is a global platform and community empowering people to improve their mental wellbeing through self-help and self-development.
We are the world's first self-help book club and it is our mission to improve mental health and happiness levels by making self-help ACCESSIBLE, COLLABORATIVE and COOL.
We want to connect as many people as possible with books, ideas and experts that will inspire positive change in their lives.
And then to connect these people with each other because, whilst we believe that a better relationship with ourselves is the first step in improving our lives, we also know that 'self-help' is actually most powerful when we come together to share the adventure.
Everyone is welcome in our club, whether you're an enlightened meditator who reads A Course In Miracles for fun, or you think the Dalai Lama lives in London Zoo. The only criteria to join is an open heart and an inquisitive mind…