Workshop: Islamitische Geometrische Kunst

Sunday, 5 June 2016 from 10:00 to 17:00 (CEST)
Event Details
In samenwerking met Het Weeshuis van De Kunst, bieden wij voor het eerst in Nederland deze workshop aan. Een buitenkans om van alles te leren over deze unieke kunstvorm, van expert Eric Broug.  
Leer hoe je zelf de geometrische patronen kunt maken die je kan aantreffen in het Midden Oosten, Noord Afrika, Iran, Turkije en Centraal Azie. Al eeuwenlang worden deze patronen gemaakt door handwerklieden die met alleen een passer, liniaal en potlood zelfs de meeste complexe patronen kunnen maken.
Eric Broug laat je in deze workshop zien hoe het werkt. Niet alleen leer je hoe je een aantal patronen kunt maken, bovendien zal je beter begrijpen waar je naar kijkt: hoe zijn patronen hetzelfde? Hoe zijn ze verschillend? door te leren herkennen, open je een wereld voor jezelf waar je jarenlang kan blijven ontdekken! 
 Ter afsluiting van de dag, geeft Eric een presentatie over hedendaagse Islamtische geometrische kunst. Het kan inspirerend en mortiverend zijn om te weten dat er andere mensen zijn overal ter wereld die ook bezig zijn met deze kunstvorm en vaak opmerkelijke nieuwe dingen creëren. 
Ervaring is niet nodig. Geschikt voor leeftijden 10 jaar en ouder. Lunch wordt verzorgd!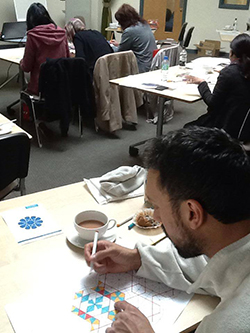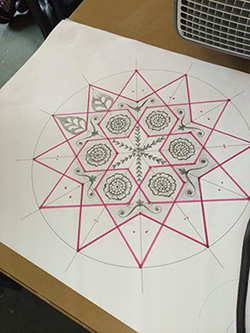 Programma:
1. Presentatie: Een Visuele Introductie in Islamitische Geometrische Kunst  
2. Teken Sessie: Een Viervoudig Patroon
Lunch (verzorgd door de organisatoren)
3. Teken Sessie: Een Zesvoudig Patroon
4. Presentatie: Hedendaagse Islamitische Geometrische Kunst
---
FAQ
Hoe kom ik op het Weeshuis van de Kunst?
Vanaf Utrecht CS, kan je bus 51, 52, 53 of 74 nemen. Uitstappen bij halte 'Tunneltje De Bilt'. Vanaf daar is het een paar minuutjes lopen
Met wie kan ik kontakt opnemen met een vraag?
Je kan Eric emailen op eric.broug@gmail.com
of
Je kan Pauline Wijnen, van het Weeshuis van de Kunst, emailen op info@hetweeshuisvandekunst.nl 
of bellen op 06-26160350 
Kan ik mijn kaartje aan iemand anders geven?
Ja, dat kan
Is de Workshop in het Nederlands?
Ja
When & Where

Weeshuis van de Kunst
Jasmijnstraat 6
De Bilt
Netherlands


Sunday, 5 June 2016 from 10:00 to 17:00 (CEST)
Add to my calendar
Organiser
Eric Broug
I'm an author/educator/artist, specialised in Islamic geometric design. I have an MA degree in the History of Islamic art and architecture from the School of Oriental and African Studies (SOAS) in London. My first book 
Islamic Geometric Patterns 
has taught thousands of readers around the world how to draw patterns in the same way craftsmen have done for centuries. It has been published in several languages, including Farsi en Turkish and is one of the most popular Islamic art books on the market. I have written two other popular books on the same subject.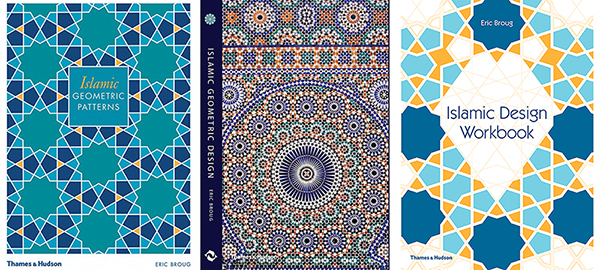 I have been active in Islamic geometric design for over 25 years and
 give workshops and lectures around the world. 
I run a design and education consultancy business in the UK and am the founder of the School of Islamic Geometric design (
www.sigd.org
), which offers online educational resources and courses, one of which enables anyone, anywhere to become and 
education entrepreneur, teaching Islamic geometric design workshops in their part of the world.
www.broug.com | info@broug.com | +44 (0)7534 037081.  
Workshop: Islamitische Geometrische Kunst