Description
Everybody is talking about "the Internet of Things" or IoT, but how to connect these "Things" to the Internet ?

New Cellular Network Technologies NB-IoT and LTE-M have entered the market as counterparts for unlicensed spectrum technologies as LoRa and Sigfox and successors for GSM/GPRS Networks.
SODAQ has been among the first to pioneer these new networks using the SARA modules from the well known Swiss manufacturer u-blox and distributed in the Benelux by Adelco Electronics. A lot of experience has been acquired that we would like to share with you in this event.
The Netherlands are the first country in the world to have both a nationwide NB-IoT networks (operated by T-Mobile and Vodafone) and LTE-M networks (operated by KPN and Vodafone). SODAQ has been one of the first to develop and supply hardware for both of these networks.
In this workshop we will present to you our experiences, give you a good insight of where these technologies will take you. We also will give you the opportunity to get hands on experience with our SODAQ SARA boards that come equiped with a u-blox NB-IoT/LTE-M module that is combined with a u-blox GPS for positioning.
At the end of the workshop you will be able to go home with a fully functional IoT / GPS tracking device.
We have also invited the various telecom operators and SIM card providers for you to meet and who will share free test SIM cards with you.
Below is the program for the day: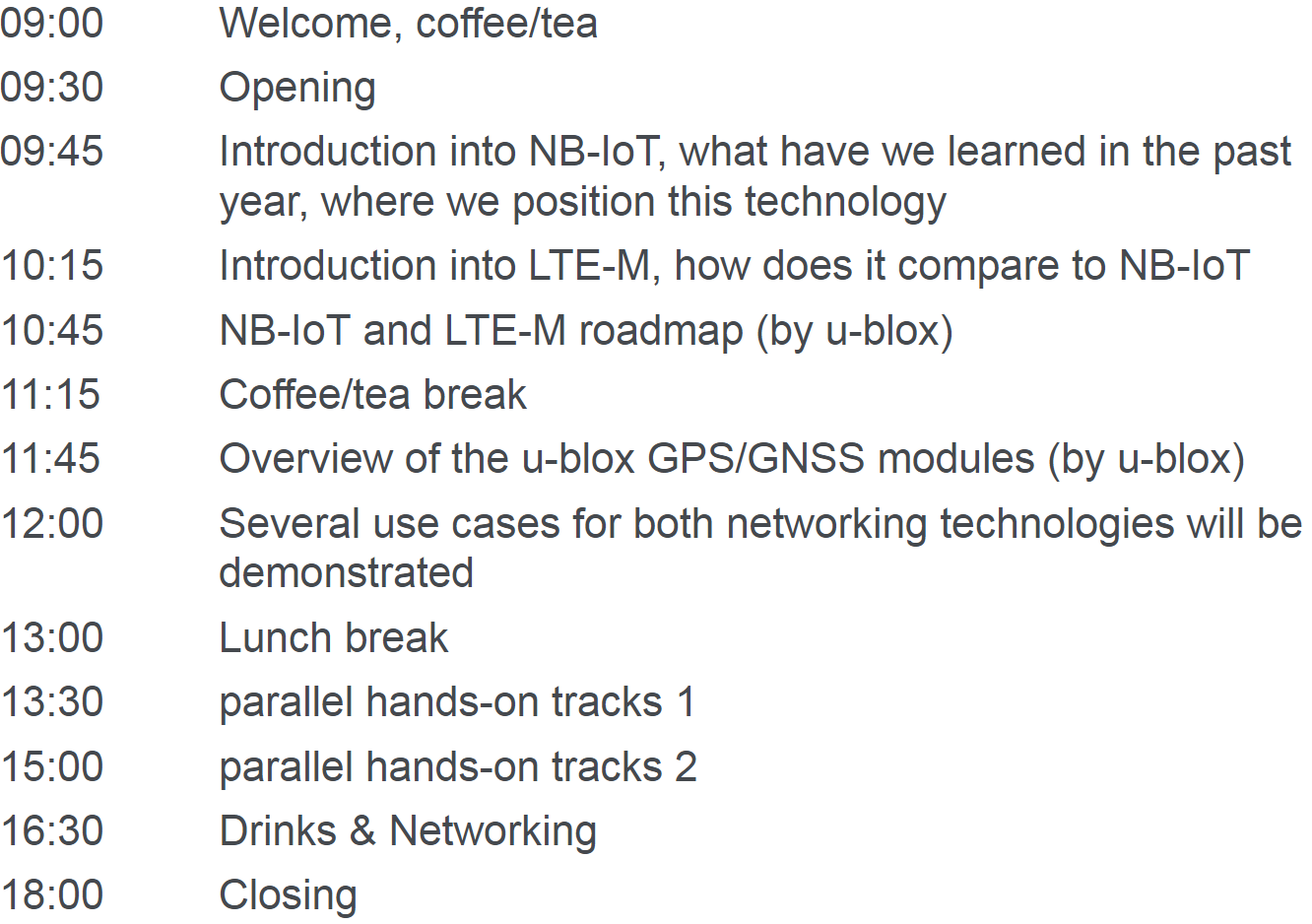 For the afternoon hands-on sessions you can choose from:
Experimenting with NB-IoT, uploading sensor data and GPS positions to an online dashboard.
Experimenting with LTE-M, uploading sensor data and GPS positions to an online dashboard.
How to get the most out of the u-blox GNSS module. Experimenting with the u-blox u-center control software to play around with the various GNSS, like choosing different constellations (GPS, Galileo, Glonas and Beidou) and the effects on accuracy and time-to-fix.