WorkshopIES – "Aspetos jurídicos da Inovação Social"

Tuesday, 11 April 2017 from 19:00 to 21:00 (WEST)
Event Details
WorkshopIES – "Aspetos jurídicos da Inovação Social" | com Goméz-Acebo & Pombo
O IES-Social Business School promove dia 11 de abril, em Lisboa, um workshop direcionado a iniciativas e empreendedores sociais que procuram informar-se acerca de questões relacionadas com Recursos Humanos e Formas Jurídicas adequadas aos diferentes modelos de negócio de cada organização.
AGENDA:
– Breve apresentação pela Goméz-Acebo & Pombo – suporte à economia social e empreendedores por Filipe Santos Barata
– Recursos Humanos, por David Carvalho Martins
– Estrutura legal, Modelos de Negócio e Incentivos às Organizações, por Filipe Santos Barata, Mafalda Barreto e Ana Paula Basílio
A Empresa Social – tendências e perspetivas a nível nacional e europeu

A Economia Social e suas formas jurídicas – adequação aos objetivos do projeto

Questões fiscais
– Wrap up final e Q&A
Esta será uma oportunidade preciosa de contactar com advogados especializados no terceiro setor, de absorver informação e de esclarecer todas as dúvidas que vão surgindo com a gestão de iniciativas e organizações sociais.

Juntem-se ao IES-SBS e à Goméz-Acebo & Pombo entre as 19h00 às 21h00, na Sala de Esgrima da Universidade Nova de Lisboa – Nova SBE. A inscrição é gratuita e os lugares são limitados!
Até breve,
IES-Social Business School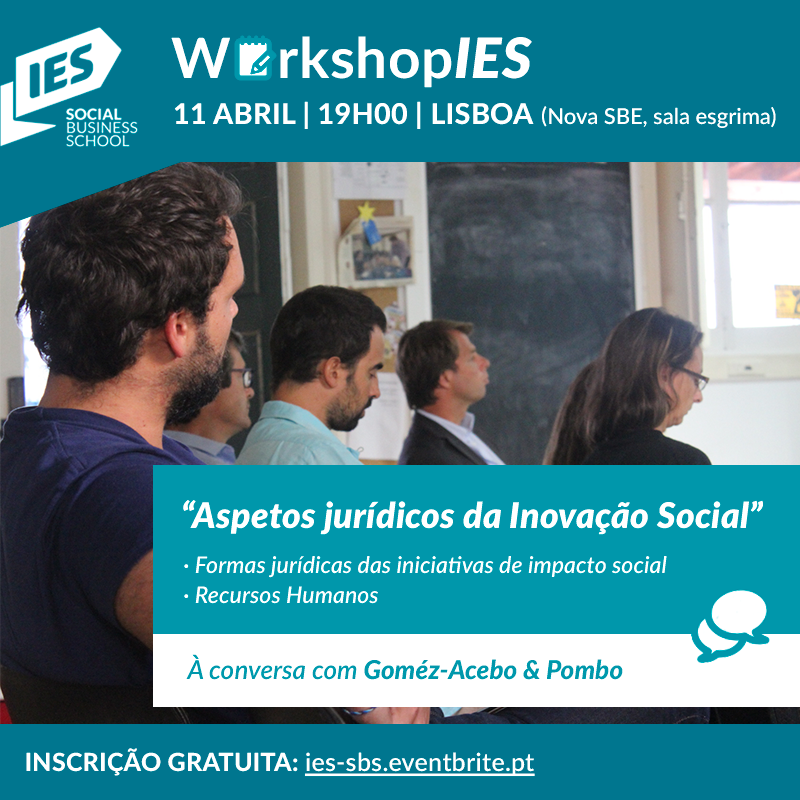 When & Where

Nova School of Business and Economics
Sala Esgrima
Lisboa, Distrito de Lisboa 1099-032


Tuesday, 11 April 2017 from 19:00 to 21:00 (WEST)
Add to my calendar
Organiser
O IES-Social Business School é a primeira escola de negócios focada na Inovação e Empreendedorismo Social.
Como ponto de partida para um caminho dedicado à inovação social na criação de soluções de negócio sustentáveis, oferecemos um portefólio de formação, investigação e consultoria que dá resposta a empreendedores sociais, organizações sociais, setor público, empresas, fundações e universidades, apostando na excelência e numa forte rede de parceiros para inspirar, formar, apoiar e ligar organizações e pessoas, de todos os setores de uma economia convergente.
Missão: Inspirar e Capacitar para um mundo melhor, através do Empreendedorismo Social
Visão: Ser a referência do Empreendedorismo Social para o mundo lusófono, promovendo a inovação, o conhecimento, a aprendizagem e o impacto social