Description
LEARN DATA VISUALIZATION

How do you create effective, interesting and, above all, useful data-visualizations and infographics? In the age of info overload, visualization of data, information and knowledge has incredible potential to help us quickly understand, navigate and find meaning.
In this rare intimate workshop for just 30 guests, held in the heart of San Francisco city, David McCandless, founder of Information is Beautiful, shares his concept-driven process and method for creating successful visualizations, giving you a chance to ask questions and get feedback on your work.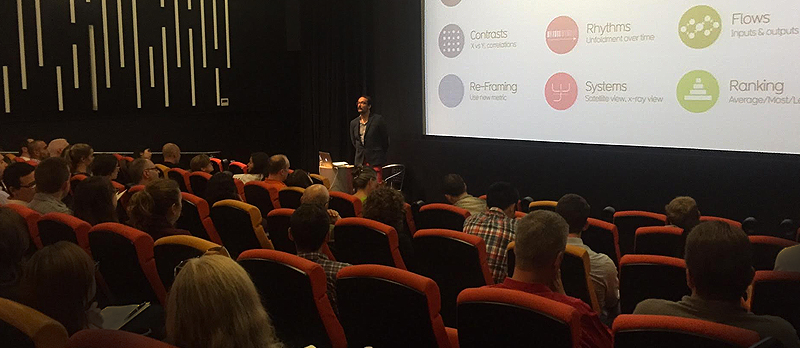 What will you learn?
In a one-day (6.5 hour) workshop, attendees will specifically learn:
» concepting and the generation of good, interesting ideas ripe for visualization
» creating, selecting and executing appropriate and effective charts and visualisations
» designing and beautifying charts and diagrams
Be broadly introduced to:
» how to use dataviz as a new lens for communication of ideas and stories
» the many methods and approaches for visualising data
» a playful creative approach to data, based on exploration and discovery, for better results
» how to combine design-thinking and statistical rigour without compromising either
What's the style of the workshop?
Expect a fun, informative experience that is interactive and hands-on: pens, paper, sketching, sharing etc. All with a solid underpinning of theory and best practice.
This workshop would be useful if you're:
» wishing to translate written reports, research and messaging into impactful visual form
» wanting to better understand the practice of data journalism and storytelling with data
» needing to succinctly communicate issues or data points to specific audiences
» a "words and ideas" person looking to translate your concepts into design language
» a "visual / design thinker" wanting to expand your approach to include data
» a "data / code" person looking to improve aesthetics and conceptual prowess
What will I come away with?
Everyone leaves with their own datavizzes created on the day, a unique limited-edition handout pamphlet, and a slide deck. David will also sign copies of his books and pose awkwardly on the end of selfie-sticks.
» Some testimonials from past attendees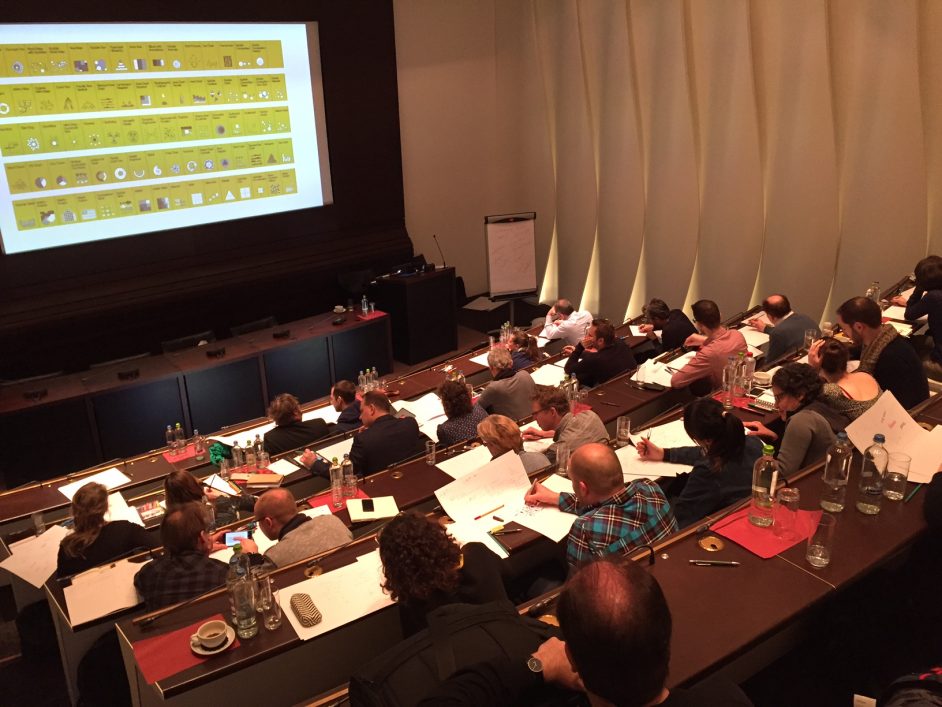 Terms and conditions
About the workshop
Workshops are hosted in a theatre-style venue with a capacity of up to 30 guests. There will be a large cinema-style screen to show Information is Beautiful's work and processes. There will be many opportunities to ask questions.
Format
The workshop is given in a theatre-style format with plenty of interaction, questions and breakout exercises. Information is Beautiful also provides a more intimate "boardroom" style Advanced Dataviz Class for up to 24 people, for those with proven experience in dataviz or those who have attended this introduction. Join this notify list for announcements.
Equipment
You won't need a laptop, but feel free to bring one if that's your preferred mode of expression. Please do bring paper / pens though and expect some fun collaboration with those around you. You may also want to bring data or problems you are currently working with, so you can see if applying the Information Is Beautiful lens can help you find a solution or expression of your data.
Timings and refreshments
Tea, coffee, water and pastries will be served as participants arrive from 09.45am; the workshop will start at 10.10am; there will be three breaks of approximately 15 minutes and a one-hour lunchbreak. The event will end at 17.30pm. Tea, coffee and water and light snacks are served during the breaks, but lunch is not provided. There are numerous restaurants in the area.
Payment
Up to a maximum of six tickets may be purchased per transaction. For purchases above that number please contact us. You will be supplied with an automatic receipt. Payment can be made with all major credit cards through the Eventbrite system. If you need to pay via bank transfer; by credit card over the phone; or if you wish for us to raise an invoice please email us; we charge an additional US $65 to cover our time in these aspects of manual payment.
Discounts
At each event we offer a limited number of discount places. Students, educators, people who work for NGOs / charities / educational orgs, journalists, disabled, and military veterans may pay this discounted rate, while supplies last. You will need for your email address to match your employer and to show associated ID on the door, (eg business card/student card). Note: people who work for commercial organisations of any size above one employee will pay full price. Book early as stocks are limited. Depending on availability and size of the workshop we sometimes can offer small discounts for group bookings of 8 and above - contact us for details.
Refunds and transfers
If you need to cancel your place we can offer a 100% refund up to seven days before the event start date. You can log into Eventbrite and claim your refund - it gets processed automatically by Eventbrite 30 days after request, sometimes earlier. Cancellation seven or fewer days before the workshop results in 0% refund. Please allow up to 30 days for a refund to reach your account (usually sooner). If you wish to transfer your place to another name or to a future workshop please contact us up to 24 hours before the event start date. Less than 24 hours before the event we cannot transfer your place.
Cancellations
In the event that we have to cancel the event we will give you as much notice as possible and offer you the choice of either a full refund or an alternative event date in another city or the same city. Our liability is limited to the participant registration fee; we cannot reimburse you for any expenses incurred such as travel or accommodation.