Description
scroll down for english intro
Impara a creare grafici, diagrammi e visualizzazioni di dati che siano efficaci, interessanti, ma soprattutto utili con David McCandless, fondatore di Information Is Beautiful e autore dell'omonimo best-seller.
Per la prima volta in Italia dopo il successo ottenuto in numerose edizioni tra cui Londra, New York e Parigi, il workshop sarà riservato ad un pubblico più ristretto rispetto alla norma, permettendo un'interazione diretta con tutti i partecipanti.
Il workshop si terrà in lingua Inglese.
about
In the age of info overload, visualized data, information and knowledge has incredible potential to help us quickly understand, navigate & find meaning.
But how do you create effective, interesting and, above all, useful data-visualizations and infographics?
David McCandless, founder of Information is Beautiful, will be sharing his process and method for creating successful visualizations in this rare exclusive workshop which is smaller in capacity than usual, giving you a chance to ask questions and get feedback on your work.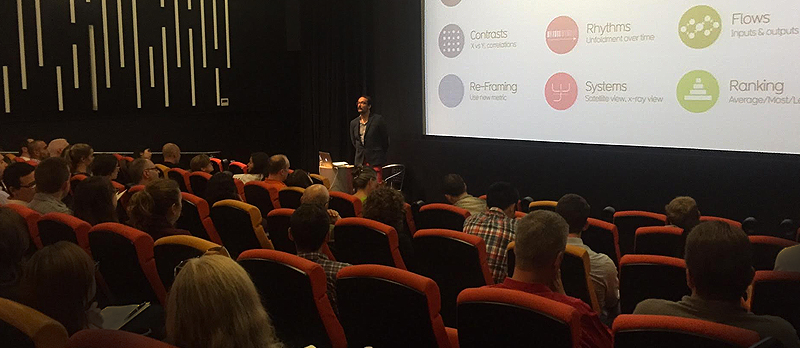 what will you learn?
In a half-day (4 hour) smaller capacity workshop, attendees will specifically learn:
» concepting and the generation of good, interesting ideas ripe for visualization
» creating, selecting and executing appropriate & effective visualisations
» designing and beautifying charts & diagrams
and be broadly introduced to:
» how to use dataviz as a new lens for communication of ideas and stories
» researching, finding and curating juicy data
» the many new methods and approaches for visualising data
» a playful creative approach to data, based on exploration and discovery, for better results
» how to combine design-thinking and statistical rigour without compromising either
what's the style of the workshop?
As a creative director, David's approach combines principles with play, beauty and structure, theory and open experimentation. So expect a fun, informative experience that is interactive and hands-on: pens, paper, sketching, sharing etc. All with a solid underpinning of best practice.
this workshop would be useful if you're:
» wishing to translate written reports, research and messaging into impactful visual form
» wanting to better understand the practice of data journalism and story-telling with data
» needing to succinctly communicate issues or data points to specific audiences
» a "word and ideas" person looking to translate your concepts into design language
» a "visual / design thinker" wanting to expand your approach to include data
» a "data / code" person looking to improve aesthetics and conceptual prowess
what will I come away with?
Everyone leaves with their own dataviz, a unique limited-edition handout pamphlet, and a slide deck. David will also sign copies of his books and pose awkwardly on the end of selfie-sticks.
discount on all ddd events plus 20% off for purchasers of this workshop
Upon confirmation of ticket purchase for Workshops are Beautiful you will receive a 20% off code for DDD. Meanwhile you can take advantage of our 10% discount code.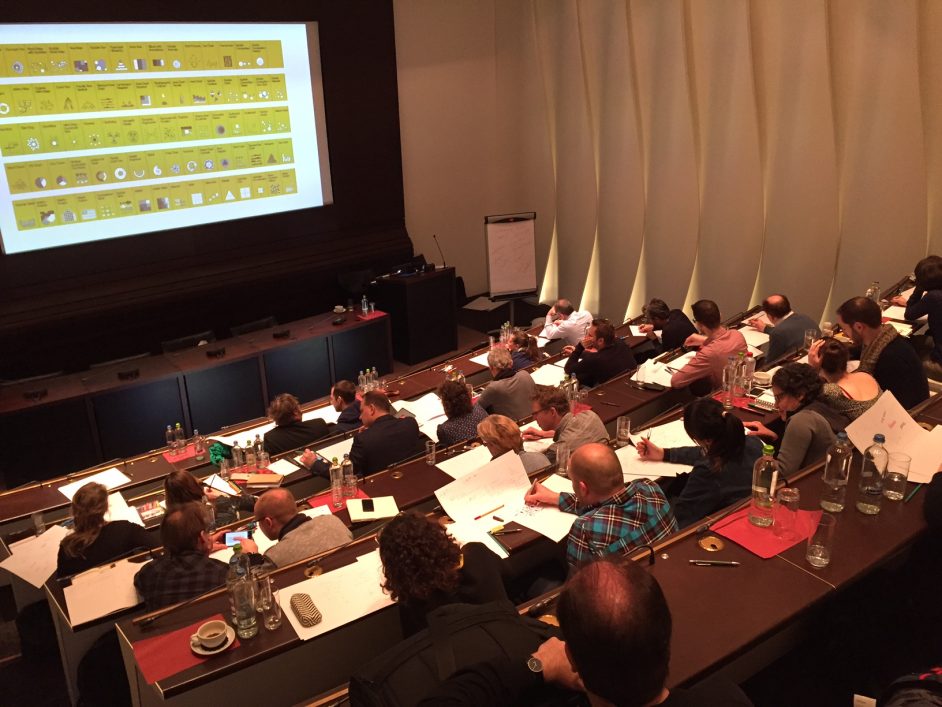 Terms and conditions
About the Workshop
Workshops are hosted in a theatre-style venue with a capacity of 25 min, 50 max guests. There will be a large high definition screen to show Information is Beautiful's work and processes. There will be opportunities to ask questions.
Format
The workshop is given in a theatre-style format with plenty of interaction, questions and breakout exercises. Information is Beautiful also provides a more intimate "boardroom" style Advanced Dataviz Class for up to 24 people, for those with proven experience in dataviz or those who have attended this introduction. Join this notify list for announcements.
Equipment
You won't need a laptop, but feel free to bring one if that's your preferred mode of expression. Please do bring paper / pens though and expect some fun collaboration with those around you - although we will also supply paper and pens. You may also want to bring data or problems you are currently working with, so you can see if applying the IIB lens can help you find a solution or expression of your data.
Timings & refreshments
Tea, coffee and water will be served as participants arrive from 2.15pm; the workshop will start at 2.30pm; there will be two breaks of approximately 15 minutes and the event will finish by 6.30pm. Lunch/ dinner is not provided nor included in the price.
Payment
Up to a maximum of six tickets may be purchased per transaction. For purchases above that number please contact us. You will be supplied with an automatic receipt. Payment can be made with all major credit cards through the Eventbrite system. If you need to pay via bank transfer or if you wish for us to raise an invoice please email us; we charge an additional EUR $25 to cover our time in setting up an invoice and checking that payment is received.
Refunds and transfers
If you need to cancel your place we can offer a 100% refund up to 28 days before the event start date. Between 28 days and 7 days before the event we can offer a 50% refund. Cancellation 7 days or less before the workshop results in 0% refund. Please allow up to 14 days for a refund to reach your account. If you wish to transfer your place to another name please contact us up to 24 hours before the event start date. Less than 24 hours before the event we cannot transfer your place to anyone else.
Cancellations
In the event that we have to cancel the event we will give you as much notice as possible and offer you the choice of either a full refund or an alternative event date in another city or the same city. Our liability is limited to the participant registration fee; we cannot reimburse you for any expenses incurred such as travel or accommodation.