World Climate Summit 2014 - COP20

Wednesday, 10 December 2014 from 08:00 to 20:00 (Arabian Standard Time Qatar Time)
Event Details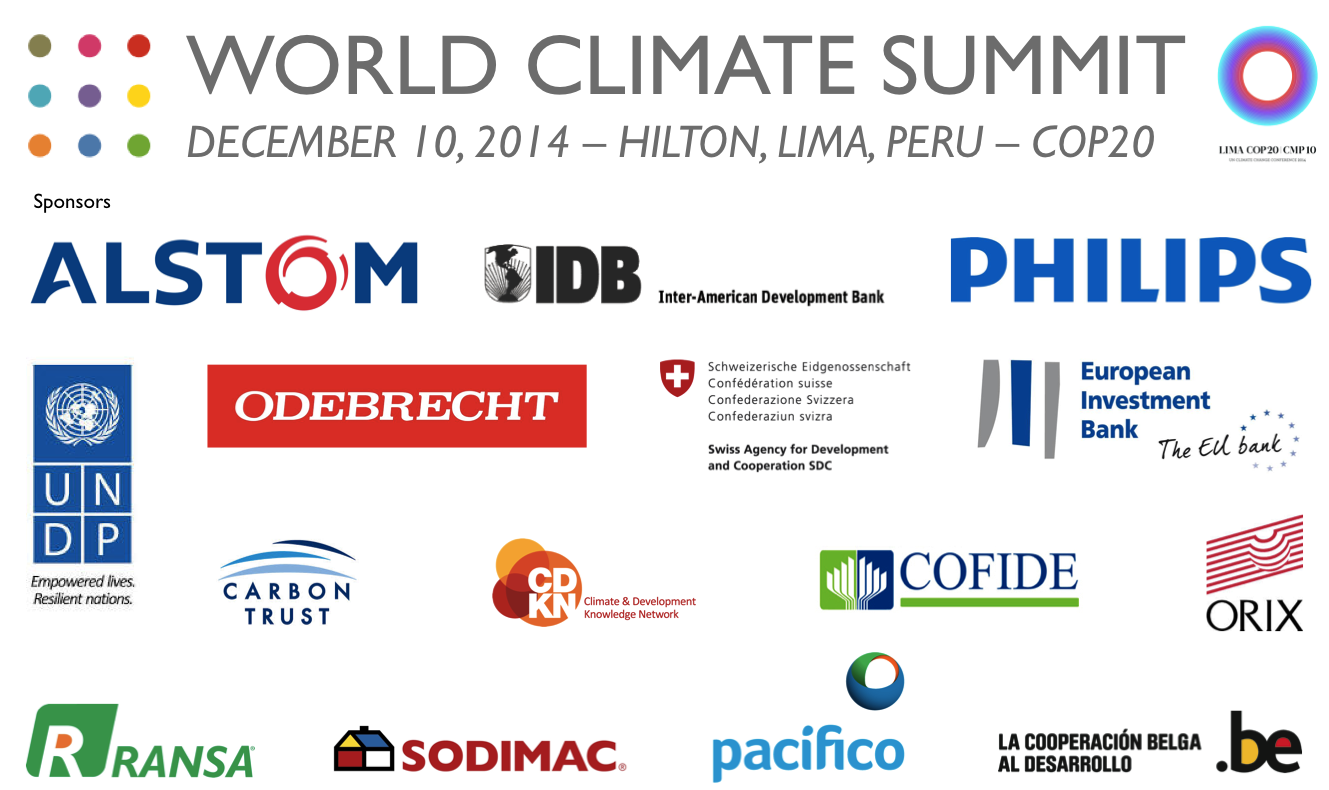 With already 700 registered participants, the World Climate Summit 2014, in Lima, Peru is the 5th edition of the premier business conference alongside the UNFCCC COP. This year's summit will be a strong stepping stone towards reaching a global deal in Paris in 2015. 
Sponsors: (15) Alstom, Philips, Inter-American Development Bank, Odebrecht, European Investment Bank, UNDP, Swiss Government, Carbon Trust, CDKN, Ransa, COFIDE, Sodimac, Pacifico Seguros, Co-operacion Belga, and Orix. 
Partners: (20+) European Union, Peru 2021, ICLEI, World Energy Council, WWF, CDP, Regions 20, OECD, the Prince of Wales's Corporate Leaders Group, Institutional Investors Group on Climate Change (IIGCC); Global Green Growth Institute, Avina, LEDSlac, and International Chamber of Commerce.
Audience: (700+) VIPs, CEOs, Ministers, Financiers, Executives and dignitaries from Shell, MunichRe, BMW, Maersk, Bosch, BHP Billiton, Arcelor Mittal, Unilever, IBM, Siemens, GDF Suez, Novozymes, Schneider Electric, BT, Suez Environnement, Abengoa, Danfoss, SASOL, CALPERS, Unesa, Braskem, Hydro Quebec, CPFL Energia, Abril Group, Banamex, Scotia Bank, Lima Airport, Intercorp, Pacifico, Proexpansion, BCP, Prima, AgroBanco, Calidda, LAN, Hunt Oil, WTO, Conservation International, IETA, Lagos Government, EU Embassy, German Embassy, Belgian Embassy, Danish Embassy, Global Water Fund, E3G, Globe International, PwC, UN Global Compact, UNEP, IPCC, World Resources Institute, UN Foundation, South Pole Carbon, Gold Standard Foundation, Ogilvy, European Climate Foundation, Governments of Ontario, Quebec, British Columbia, Global Environment Fund, Agence Française de Développement, NRDC, WBCSD, Earth Day Network, ICTSD, LEAD International, Blackbridge, World Watch Institute, International Council on Mining, World Steel Association, 350.org, World Bioenergy Association, REDD+, Biobased Industries Consortium, We Mean Business Coalition, Climate KIC, Columbia University, Dartmouth College, SustainUS, Climate Works, Avina, Global Commons Institute, Transparency International, Rainforest Alliance, UN Habitat, Stockholm Environment Institute, German Watch Institute, London School of Economics, New Climate Economy, Alicorp, Bloomberg, FT, Wall Street Journal, EENews, Swiss Television & Radio, IISD and the Chambers of Commerce of Australia, Colombia, Germany, Nordic, UK, Mexico, France, and Switzerland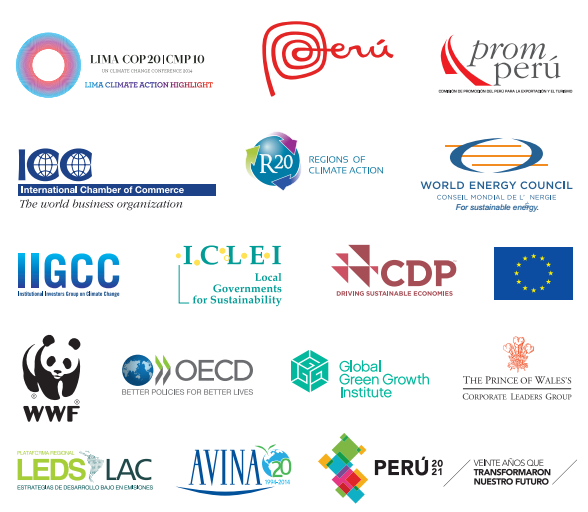 With Peru being one of the fastest growing economies in Latin America, this will be a unique occasion to promote business, finance and government solutions for sustainable green growth in one of the most exciting emerging markets.
During the one-day Summit, participants will be able to: 
1. Learn and listen to global global experts on carbon, climate, finance and green growth 
2. Network and develop new business, funds and projects across sectors 
3. Communicate and promote your solutions to reducing carbon and making profits
4. Be part of the Road to Paris 2015 and sign the Paris Declaration
PROGRAMME 
For the latest programme please visit http://www.wclimate.com/world-climate-summit-2014/
LOCAL PARTNERS

Libélula is a Peruvian sustainability consulting firm with extensive experience leading, designing and executing multi-stakeholder projects, such as PlanCC, the Peruvian government's climate change mitigation project, which took two years and involved more than 400 topic experts from the public sector, business and academia. The firm has also organized Peru's most important climate change event, InterCLIMA, on behalf of Peru's Ministry of Environment for the past two years, which has achieved annual attendance of 500 participants. Libélula also co-administrates the Latinamerican LEDS (Low Emission Development Strategy) platform in conjunction with INCAE business school.
When & Where

Hilton Lima Miraflores
1099 Av La Paz
Lima, Lima
Peru

Wednesday, 10 December 2014 from 08:00 to 20:00 (Arabian Standard Time Qatar Time)
Add to my calendar
Organiser
Since 2009, World Climate Ltd (www.wclimate.com) has established itself as the leading global stakeholder platform on climate change and the global green economy. It has organised more than 10 international high-level summits with more than 5,000 participants, and in partnership with many governments, financiers, large corporations and global institutions such as the World Bank, OECD, and the United Nations.