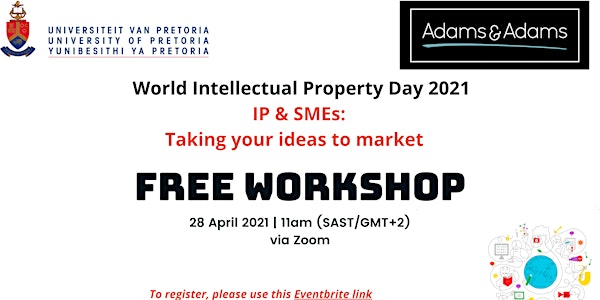 World IP Day 2021 Free Workshop - IP & SMEs: Taking your ideas to market
Free workshop - IP and SMEs:Taking your ideas to market organised by Centre for IP Law at University of Pretoria and Adams & Adams Attorneys
About this event
The Centre for Intellectual Property Law, Faculty of Law at the University of Pretoria is excited to announce its joint panel event with the leading African law firm, Adams & Adams Attorneys on 28 April 2021, which will celebrate World IP Day 2021.
The theme for World IP Day 2021 is IP & SMEs: Taking your ideas to market. To that end, our event will be a virtual workshop discussing how small- and medium-sized enterprises can benefit from using the IP system and other topics such as IP valuation, IP finance, IP infringement and IP licensing. There will be a free IP consultation in the form of a Q&A session for SMEs and individuals interested in learning about the best ways to take their ideas to market and protect their IP assets.
Confirmed speakers so far include:
Pieter Visagie, Partner at Adams & Adams, specialising in the drafting of patent specifications and the filing and prosecution of patent and designs applications both locally and abroad.
Dr Chijioke Okorie, Lecturer and Researcher at Centre for Intellectual Property Law, University of Pretoria. Chijioke is a copyright law expert and the author of the book, Multi-sided Music Platforms and the Law: Copyright, Law and Policy in Africa (Routledge, 2020).
Eugene Honey, Partner at Adams & Adams, specialising in Trade Marks and Copyright matters, as well as Commercial IP matters including Franchising and Licensing, IP valuations, IP Due Diligence and IP portfolio management since 1991. He acts for many local and international trade mark Proprietors, Licensors and Franchisors. He has been on the EXCO and has been the legal advisor to the Franchise Association of South Africa since 2002.
Lisa van Zuydam, Senior Associate at Adams & Adams, is a qualified attorney and trade mark practitioner specialising in litigation relating to trade marks, copyright, passing-off, unlawful competition, domain name disputes, company and business name objections and advertising and regulatory issues in South Africa and across Africa. She advises and represents organisations of all sizes from small South African businesses to large multi-national organisations with substantial portfolios.
The Centre for IP Law and Adams & Adams teams hope to see you there!