Event Information
Location
Beam – Art / Books / Coffee
33 Seely Road
Nottingham
NG7 1NU
United Kingdom
A workshop which explores how to write urban haiku - and how Zen meditation can make poetry out of anger, fear and hope.
About this event
Doors open at 3.30pm, workshop starts at 4pm.
Rich Goodson will lead a series of short meditations (don't worry if you've never meditated before!). These will be the starting points for a series of writing exercises, first exploring the richness of Japanese haiku and encouraging participants to write their own 'urban' versions of the form. Then, after another short meditation, he will help participants to make original poems which express anger and fear. And finally - and most importantly - a group poem which expresses HOPE. The 'Hope Poem' will be performed at a future World Jam event.
## IMPORTANT: THE NOTTINGHAM POETRY FESTIVAL BROCHURE INCORRECTLY LISTS THIS EVENT AS STARTING AT THE STARTING GATE PUB IN CANDLE MEADOW. DO NOT GO THERE BECAUSE THIS IS INCORRECT. THE EVENT STARTS AND FINISHES AT BEAM EDITIONS, WHICH IS THE LOCATION LISTED HERE. ##
Rich Goodson's début pamphlet 'Mr Universe' was chosen by The Poetry Book Society as one of the four best pamphlets of 2017. He's been teaching - and leading workshops with - Nottingham's refugee community for the last 25 years and founded Word Jam (now 'World Jam'!) with Mina Fatemi. As the local 'rep' for the Poetry Society he also founded Nottingham Stanza, a poetry reading group which (allegedly!) is the longest-running poetry reading group in the UK. He's also a practising Zen Buddhist, a trained therapist and has a PhD in Creative Writing from Nottingham Trent.
This event is supported by funding from The National Lottery and Arts Council England.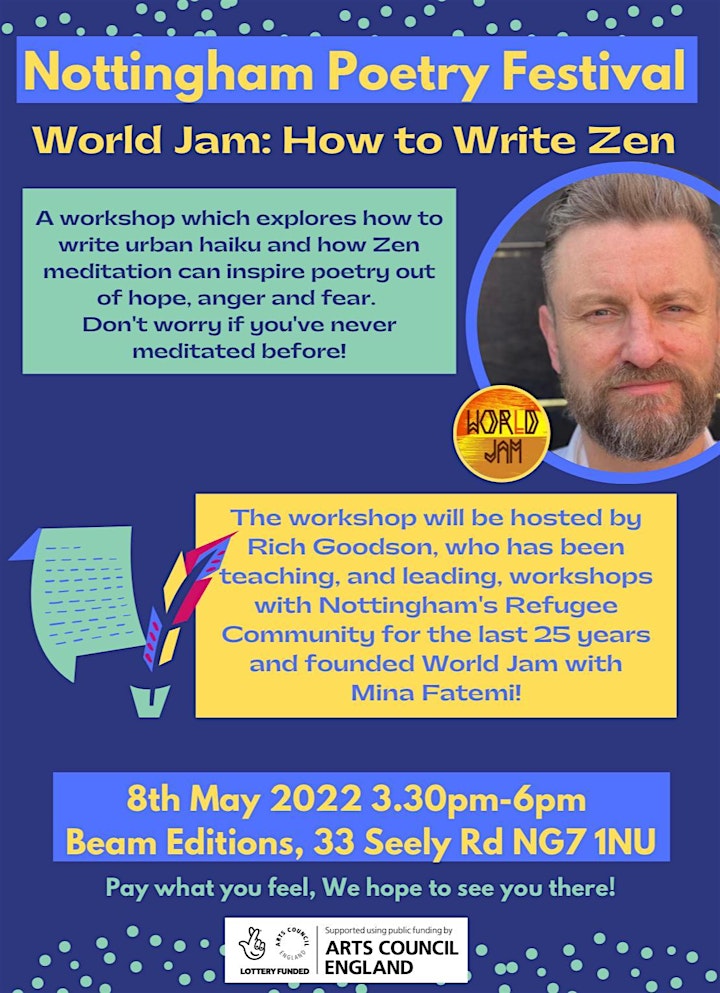 Date and time
Location
Beam – Art / Books / Coffee
33 Seely Road
Nottingham
NG7 1NU
United Kingdom