Join a virtual festival to mark World Mental Health Day 2020
About this event
📢 Saturday, 10 October 2020, 12pm - 6.30pm
Join our virtual World Mental Health Day Festival 2020. All of our activities are free, open to everyone and available via the Thrive LDN website.
Everything you need to know about the festival is outlined below. See you there!
What's on?
We've been working with City Hall's Peer Outreach Team to put together an exciting line-up of performances, panel discussions and workshops all about supporting you to build resilience and promote positive wellbeing.
Download a festival programme here.
The various performances, panel discussions and workshops will offer you a platform to discuss with other young people the challenges faced during COVID-19 and explore shared experiences of inequality and issues raised through the Black Lives Matter movement.
Workshops: As part of our virtual World Mental Health Day Festival we have three live workshops planned. Register for the workshops directly here.
Performances: The festival will feature a collection of spoken word, poetry and music, all recorded at London's Young Vic theatre from more than 15 young artists. The performances will be available to watch throughout the festival. The line-up includes artists such as Grime MC Laughta, who featured in BBC Three's, Galdem Sugar, Rakaya Fetuga, winner of the Roundhouse Poetry Slam in 2018, and Woodzy, a flo poet who has reached close to a million views of his 90's Baby poem. Plus many more!
Panel discussions: Several panel discussions will feature as part of the festival's programme, covering topics such as culture, sport, social inequalities and creating a fairer society.
Conversations: Alongside the panel discussions, several one on one conversations will be premiered too.
It is an opportunity for young people to come together, from across London and beyond, to collectively overcome barriers and support one another. The festival will also align and coincide with Black History Month.
You join the conversation from all panels and 'in conversations' by using the hashtags #ThriveLDN and #WMHD2020 on social media.
Where is it taking place?
We're going virtual for 2020! This year's festival will be online with a mixture of live and pre-recorded content, all available via the Thrive LDN website.
How can I get involved?
Simply register to receive updates about the festival's programme and line-up, alongside all the details for how you can participate. Please also share the details with your friends and networks.
Further information about Thrive LDN is available online here.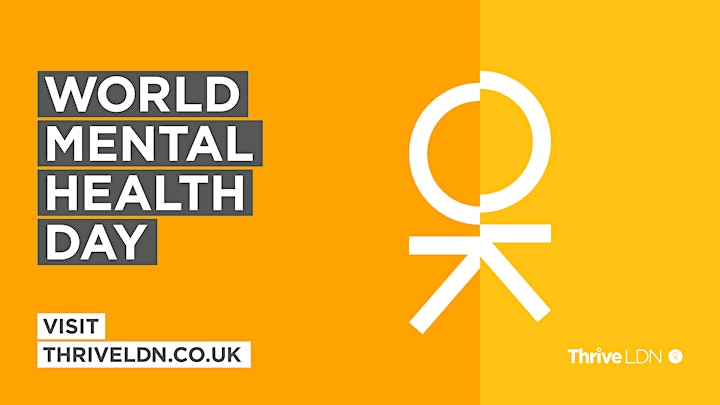 Organiser of World Mental Health Day Festival 2020