The British Carnatic Choir is delighted to announce the 5th Annual World Music Conference (Virtual)
About this event
The World Music Conference (WMC) organised by the British Carnatic Choir is the flagship event in the Midlands. It aims to bring together youth, artists, musicians, professionals of all age groups, faith, race and cultural backgrounds, in an attempt to share good values, practices, knowledge, common values and to promote peace, harmony and unity.
Date: Saturday, 11th December – Sunday, 12th December 2021 Time: 9.00 AM – 3.00 PM (Both Days)
Mission- Role of music in promoting prenatal health, development health in children and behavioural patterns in adolescents.
Vision: The conference is committed to provide a creative learning experience and provide a positive outcome for all age groups: womb to adults.
Conference Theme: 'Decoding wellness through music for young children and adolescents.'
Aim- The over-arching aim of this two-day conference is to bring together and provide a premier interdisciplinary platform for leading academicians, scientists, researchers and music scholars to share and exchange experiences/information. Sessions involve suggestions, practical techniques/ methods on 'Decoding wellness for young children and adolescents through music.
It further aims to maintain its trademark of featured keynote speakers and artists of a very high standard and repute.
We are excited to team up with various partners to further inspire, educate and re-establish the impact of music by keynote speeches, panels, discussions and music performances from around the world.
The Conference over the years continues to draw an ever-increasing representation from the global music community, with the WMC bringing attendees from all across the world.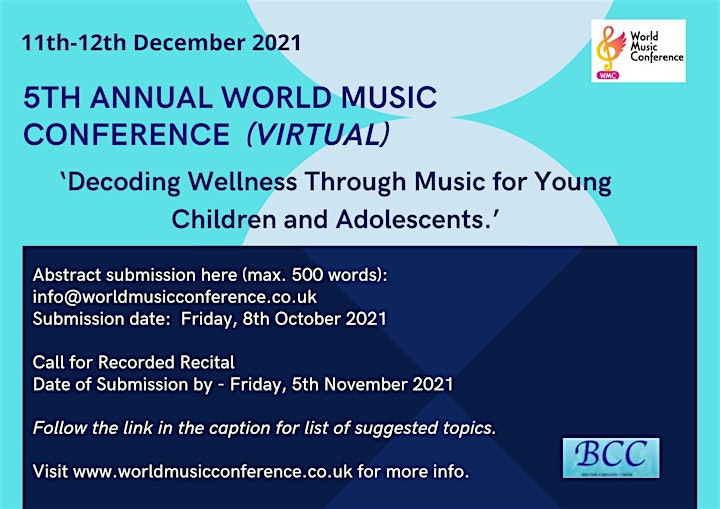 Do you want to know more or be a part of the World Music Conference ?
Please visit us on www.worldmusicconference.co.uk
Organiser of World Music Conference
British Carnatic Choir is the country's exclusive National Carnatic Choir ensemble of voices and orchestration of passionate children and young adults, from all over the U.K.
BCC is dedicated to the finest Carnatic Choral repertoire, focused with great perfection. We come from different backgrounds and share our passion for singing and performing together.
For more information, please visit www.britishcarnaticchoir.com