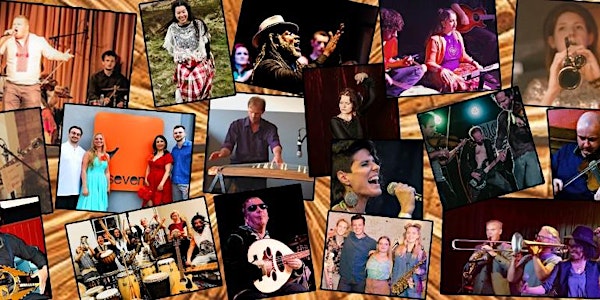 World On Our Doorstep 2019
Location
Chapel Allerton
Chapel Allerton
United Kingdom
Description
WORKSHOP BOOKINGS (Please read carefully)
Booking a slot at any of the World On Our Doorstep workshops is essential.
Your booking via Eventbrite does not involve a charge, you will notice that it is listed as £0.00.
If you have a festival ticket/wristband then you will not be charged to take part in the workshop, just turn up at the allotted time and place. If you do not have a festival ticket/wristband you can book in advance via Eventbrite, then pay on the door (cash only please) a price of £10 / £6 concs.
For further information or questions about bookings please call Maggie on 07915091290
---
World On Our Doorstep is a festival celebrating the diverse musical heritage in Leeds. It features a cross section of music happening in our area, including Caribbean, Asian, African, European, Irish, Yorkshire and more. The festival embraces the traditional and the contemporary; and various fusion styles of music, that continue to flourish in Leeds. It takes place from Friday 27th September to Sunday 29th September.
The festival is based around Chapel Allerton, bringing North Leeds communities together with a melting pot of music performances and interactive workshops.
Venues that are part of the festival are as follows: Seven Arts, Alley Cats Bar, Inkwell Arts, The Woods, Chefs Restraunt, The Regent (Pub) and The Polish Catholic Centre.
Over the three days, there will be four featured concerts at the Polish Catholic Centre and Seven Arts, which will showcase local talent; plus Sunday afternoon jazz concerts at Seven Arts and Inkwell. Alley Cats Bar hosts a weekend of 'pop-up' gigs, which offers opportunities for emerging performers to play, plus 'jam sessions' which will encourage disparate music styles to coexist. Dance, drum and singing workshops will take place at Seven Arts, for larger audiences; whilst Inkwell will see smaller intimate workshops. The public are invited try out new music/dance experiences such as Flamenco Dancing, Stringed Melody, Harmony Singing, Japanese Koto, Bollywood and Bhangra Dance, Blues Guitar, Klezmer and more.
We also offer volunteering opportunities in Event Management, Front of House Management, Promotion and Sound Engineering Assistance. The festival is run in partnership with these local organisations: South Asian Arts UK, Black Health Initiative, JazzLeeds, Muzikantes Festival, MUSIC:LEEDS, Chapel Allerton Blog, Irish Arts Foundation and MEWL Music.
This "festival of local music from around the world" is a chance to emerse yourself in a whole weekend of uplifting experiences and fantastic music. We hope to see you there!

Acts booked so far include:
Hassan Erraji and Oriental Craze (Moroccan Folk Funk)
Sueli Gil Band (Bossa Nova + more)
Naghma (Indian Fusion)
Mestisa (Latin American)
King&I (Jazz)
From East To East (Balkan)
Michael Graham (Japanese Koto)
Mazurka Heartbeat (Polish Folk and Roots)
Cleve Freckleton (Chunky Butt Funky - Gospel and Soul)
Tshok (Klezmer, Balkan, Acoustic Drum and Bass)
Music And Love Band (Zimbabwe inspired Dance)
Tempo Feliz (Brazilian Classics and Originals)
Kibitz (Klezmer)
Halemtina (African Inspired Rhythms and Songs)
Rory James Scammell (Traditional and Contemporary Hurdy Gurdy)
Anestis (Greek Duo)
Rising Ashes (British Folk and Indian Song Fusion Duo)
Grzegorz Dziewulski (Polish Folk)
Manuka (Punjabi, Bhangra, Bollywood fused with Western Pop)
Agua Dulce (Chilean Folk)
Debrovna (Ukranian male voice choir)