Description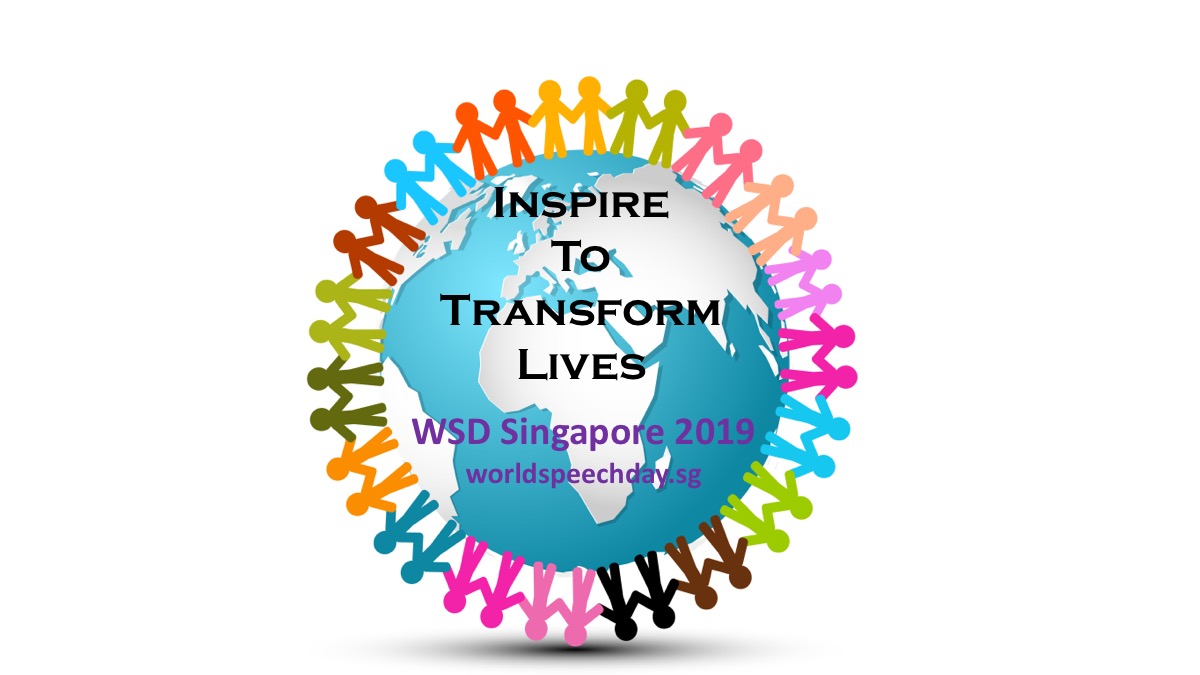 On 15 March 2019, the world comes together for a common purpose - to speak for a purpose, for causes that will make a difference to individuals and communities in need.
For the fourth time, the 12-hour World Speech Day Singapore is coming back.
World Speech Day Singapore is a Private event. Admission only accepted on registration for Eventbrite tickets. They are subject to the usual terms and conditions.
With the same conviction of hope to speak for unexpected voices - the silent voices in need. Along with the sub-theme - Inspire To Transform Lives.
We believe that every inspirational speech will transform an individual, a community, even a nation. Behind every speech, there is a call to action that spurs us to support a noble cause, Inspiration comes not from just our personal stories, but also from our words and our actions. Speeches include not only the possibilities of what can be done but also the means with which to fulfil these possibilities. This is what World Speech Day is all about.
We will have a few surprises for you this time:
A musical performance without the use of musical instruments
Inspirational sharing from entrepreneurs
Uprising new speaking talents from Youth Speakers Showcase
And more......
Sharing with you the full programme today:
WORLD SPEECH DAY SINGAPORE 2019 PROGRAMME FRIDAY 15 MARCH 2019
LEE KONG CHIAN AUDITORIUM @ YMCA ONE ORCHARD

First Session (9.30am – 12.30pm)
Opening Ceremony (9.30am to 10.30am)
9:30am: Introduction by Emcee Arun Sharma

9:35am: Joint Performance by I'm Soul Inc and World Speech
Day Committee Members
9:45am: Welcome Speech by Suzanne Loh, Organising Chair
'Finding Purpose As A World Citizen'

9:55am: Speech by Dr Ernest Chen, Singapore
Representative of World Speech Day Singapore,
'World Citizen'

10:05am: Keynote Speech by Ms Joan Pereira, Guest-of-
Honour for Tanjong Pagar GRC, 'Building Confidence
Through Public Speaking'
10:15am: Speech by Mrs Carmee Lim, Chairman of I'm Soul
Inc,'What If Everyone Has Access To Music'

10:30am: Presentation of Appreciation Plaques by
Dr Ernest Chen and Suzanne Loh
Photo-taking session with Guest of Honour and
Committee members.
Morning Speeches (10:30am to 12:30pm)

10.40am: David Hughes
'High Performance Life'
10.55am: Peter Ng
'Rich Son, Poor Son'
11.10am: Xavier Yap
'Waste Less, Give More'

11.25am: James Tan
'Use of Public Speaking to Help Myself
and The Community'

11.40am: Chew Ban Seng
'Youth Is Just A Number'

11.55am: Sara Mei Woo
'Radical Power'

12.15pm: First Round of Lucky Draw
12.25pm to 1.30pm: Lunch Break
Second Session (1.30pm to 6pm)
1.30pm to 2.00pm
Sharing by MINDS Students
Lucius Tan Jun Jie, 'What Success Means To Me'
2.00pm to 4.00pm
Inspire to Transform Lives Segment
2.00pm: Introduction by Emcees Arun Sharma and
Stephanie Song

2.05pm: Adelynn Lee 'Be The Chight'
2.15pm: Vivian Leong 'My Beloved Father'
2.25pm: Vicky Soo, 'Living A Purposeful Life'
2.35pm : Rajaletchumi Mahendran 'What Makes A Mind Tick
From A Photographer's Lens.'

2.45pm: Rafiya Sultana 'Purpose Matters More
Than Perfection'
2.55pm: Arokya Gupta 'It's In My Pocket'
3.05pm: Arishta Khanna 'Transformers: Back To
The Future'
3.15pm: Presentation of Participating Certificates by Suzanne
Loh, Organising Chair
3.20pm to 4pm: Audience Participation: Table Topics
4.00pm to 6.00pm
Youth Speakers Showcase (Speech Competition)
Dunman Secondary School
ITE College East
ITE College West
ITE College Central

6.05pm: Second Round of Lucky Draw

6.00pm to 7.15pm
Dinner Break


7.15pm to 9.00pm
7.15pm: Introduction by Emcees Vicky Soo and Chew Ban Seng
7.20pm: Sangeetha Pushphanathan 'Is He Crazy'
7.30pm: Anjali Grover 'When Love and Money Are Gone'
7.40pm: Stephanie Song Bing, 'Inspired By Small Little Things'
7.50pm: Arun Sharma, 'Monetise Your Talent'

8.00pm: Annie Chan, 'Embracing Ethnic Diversity'

8.10pm: Ching Kwock Wing, 'Wither Globalisation'
8.20pm: Ow Yong May Yan
'Staying Relevant in a VUCA World'
8.30pm: Ser Sim Ngarn, 'Nurturing The Power Within'
8.40pm: Shirin Ghadiali, 'EGO'
8.50pm: Presentation of Certificates by Suzanne Loh,
Organising Chair

8.55pm: Final Round of Lucky Draw
9pm to 9.35pm
Closing Ceremony
9.00pm: Thank you Speech by Suzanne Loh, Organising Chair
9.10pm: Closing Address by Dr Ernest Chen, Singapore
Representative of World Speech Day

9.20pm: Handover Ceremony of Organising Chair for World
Speech Day Singapore 2020

9.25pm: Sing-Along Together with the Songs 'When We
Believe', 'We Can Change The World'
9.35pm: Group Photo-taking and Finale
If you are attending the entire day's event, please select 'Full Day Session' when you book your free tickets.
If you only wish to attend one/two/three sessions, you can select the session/s you want to go to.
Do note that 1 ticket booking is limited to 1 person only. If you are booking for someone, you should indicate that person's name and not yours. This will help facilitate our registration process at this event on 15 March.
Catch this space for more updates of World Speech Day SIngapore 2019. Or checkout our Facebook and website today at worldspeechdaysingapore.sg and www.facebook.com/WorldSpeechDaySingapore
See you soon!
From World Speech Day Singapore Planning Committee 2019