Description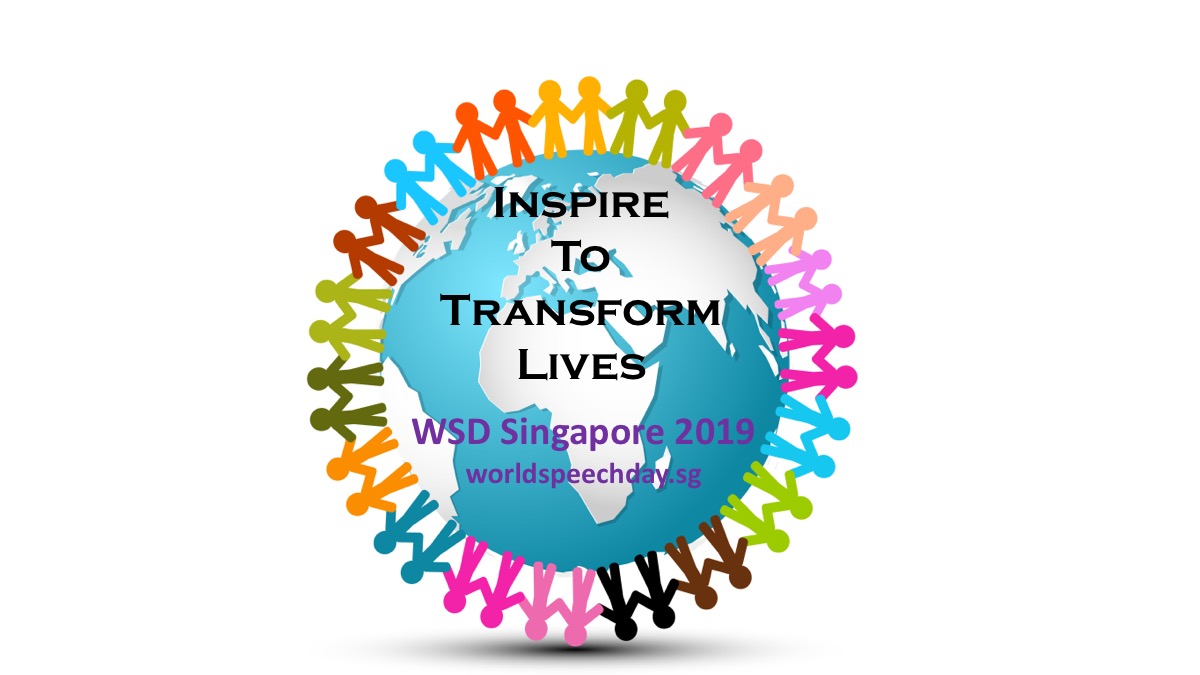 On 15 March 2019, the world comes together for a common purpose - to speak for a purpose, for causes that will make a difference to individuals and communities in need.
For the fourth time, the 12-hour World Speech Day Singapore is coming back.
With the same conviction of hope to speak for unexpected voices - the silent voices in need. Along with the sub-theme - Inspire To Transform Lives.
We believe that every inspirational speech will transform an individual, a community, even a nation. Behind every speech, there is a call to action that spurs us to support a noble cause, Inspiration comes not from just our personal stories, but also from our words and our actions. Speeches include not only the possibilities of what can be done but also the means with which to fulfil these possibilities. This is what World Speech Day is all about.
We will have a few surprises for you this time:
A musical performance without the use of musical instruments
Inspirational sharing from entrepreneurs
Uprising new speaking talents from Youth Speakers Showcase
And more......
Sharing with you the highlights of our event:
First Session: 0930hrs to 1200hrs
Opening Ceremony
Performance by I'm Soul Inc and World Speech Day Planning Committee.
Speech by Ms Joan Pereira, Member of Parliament for Tanjong Pagar GRC
Speech by Dr Ernest Chen, Founder of World Speech Day Singapore
Speech by Organising Chair, World Speech Day Singapore 2019
Keynote Address by Mrs Carmee Lim, Chairman of I'm Soul Inc
Special Guest Speakers
Speeches by World Speech Day Planning Commitee Members
1200hrs to 1300hrs: Lunch
Second Session: 1300hrs to 1800hrs
Chariots of Inspiration (Mandarin)
Chariots of Inspiration (English)
Youth Speakers Showcase

1800hrs to 1900hrs: Dinner

Third Session: 1900hrs to 2130hrs
Chinese Entrepreneurs Hour
Rotary Hour
Closing Ceremony
If you are attending the entire day's event, please select 'Full Day Session' when you book your free tickets.
If you only wish to attend one/two/three sessions, you can select the session/s you want to go to.
Do note that 1 ticket booking is limited to 1 person only. If you are booking for someone, you should indicate that person's name and not yours. This will help facilitate our registration process at this event on 15 March.
Catch this space for more updates of World Speech Day SIngapore 2019. Or checkout our Facebook and website today at worldspeechdaysingapore.sg and www.facebook.com/WorldSpeechDaySingapore
See you soon!
From World Speech Day Singapore Planning Committee 2018