Description
Zombies – they are always shuffling, ever onward. Where are they going, you ask? Well, we don't know about all of those ones on TV but at the end of World Zombie Day London 2016 they will no doubt be heading to shimmy their rotten rears and party like there is no tomorrow at World Zombie NIGHT!
World Zombie Day: London's official after party is sponsored by the marvelous folks at Jagermeister and will be held at the iconic Piccadilly Institute, right in the delicious beating heart of Central London! Well known for its creative cocktails and quirky décor, this is the perfect place for the zombie horde to gather. We have the creepy Clinic Room reserved for our undead buddies, it will be zombified to the max! Expect a custom decontamination photo booth, bespoke zombie cocktails, gut-filling food served and DJs till 3am.
World Zombie Night will take place on Saturday 8th October, from 6pm-3am at the Piccadilly Institute, 1 Piccadilly Circus, London W1V 9LA. The venue is strictly over 18's only and valid photo ID must be provided to gain entry (no photocopies).
Limited tickets available. Profits go to St. Mungo's.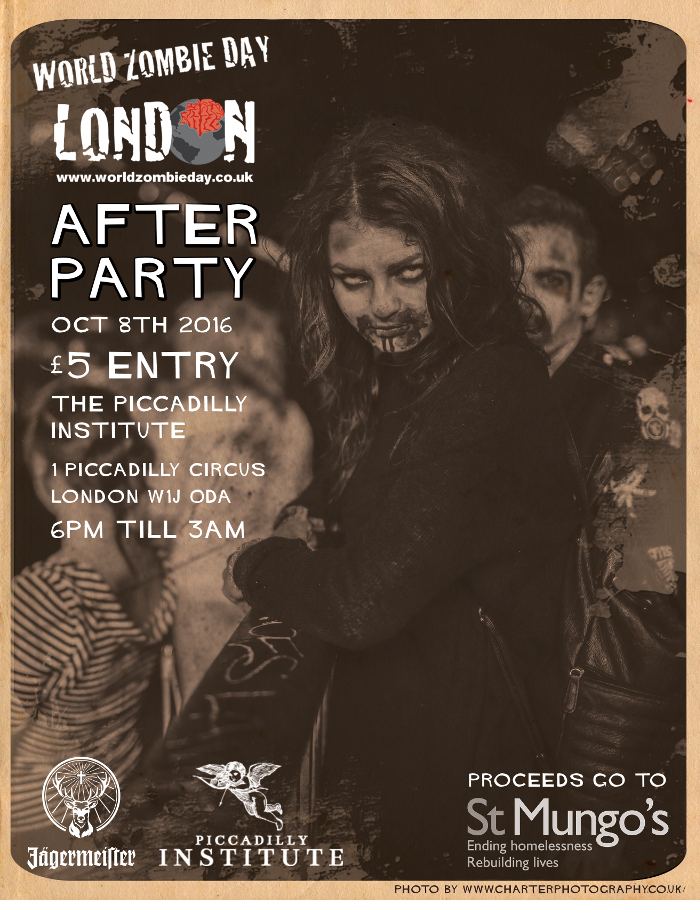 Photo by: www.charterphotography.co.uk