Multiple Dates
World's First Pop-Up Museum of Happiness in London | FREE tickets
Description
Why a Museum of Happiness?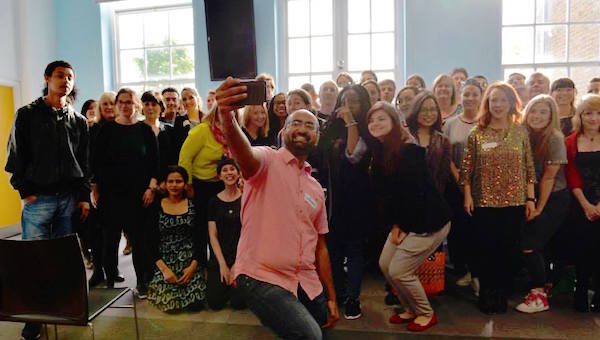 Is there a simple secret to a happier, more fulfilling life?
Do people agree on any key factors that lead to a happier way of being?
Imagine if there was a place where you could ask these questions, and explore some possible answers.
A place where you could just enjoy discovering ideas, or participate in a free workshop if you'd like to.
A space where you don't just think about happiness - but perhaps feel a bit happier too.
A place where you can have a bit of fun.
Well now there is. So make history, people. And flip the idea of museums on its head.
Visit the world's first ever Museum of Happiness as a pop-up - for three days only!
On a more serious side, depression is the number one cause of disability worldwide. Number one. We want to do our bit to help alleviate that suffering, if we can.
Got a video of any past events?
Yup. Check this Museum of Happiness video out.
What will happen at the Museum of Happiness?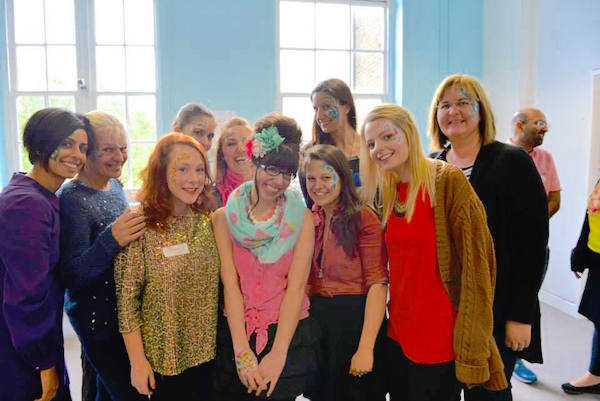 Picture tents and gazebos with displays about how creativity, kindness or mindful living can impact you.
People to chat about your bucket list. Gaze at Londoner's happiness pledges made by hundreds of Londoners.
Participate in a workshop. Make cards with words of kindness. Join in a guided mindfulness exercise. Try a bit of singing if you want. Or even laughter yoga!
The world's first Museum of Happiness will be creating the space for you to explore wellbeing in fun, interactive and engaging ways - with no hidden agenda.
Will you instantly feel happier?
Probably not. And that's not the point.
Will you find some food for thought and discover some new skills along the way? We hope so.
We welcome people of all ages and backgrounds to explore the essence of long-lasting happiness.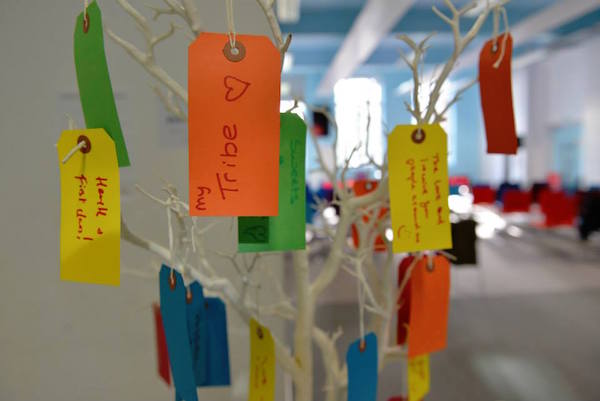 Here's some things you could do

Visit our Science of Happiness displays and find out what activities have been scientifically proven to make people feel happier in the long term - see if you agree.

Try your hand at doing something creative, and explore how happiness is related to trying something new in our Mindfulness and Creativity tent.
Explore kindness themed workshops in our Kindness and Connections tent.

Try some mindful colouring in, mindful eating or enjoy a relaxing guided mindfulness meditation in our Mindfulness and Creativity tent.

Explore something new in one of our 'playshops'. Try laughter yoga, singing, mindful movement, dance, guided relaxation, yoga and empowerment, making your own stress balls, blowing bubbles and much more (first come, first served basis for all playshops).
Create a bucket list of your dreams and aspirations, and possibly get funding for them too.
Get your face painted for about a fiver - children and adults very welcome.
Enjoy JumpIn! A ball pool filled with thousands of balls and engage in a playful activity to be more present (balls kindly donated by creative agency, Pearlfisher)
Spontaneous acts on kindness on Monday evening. Create positive messages or origami and give out as gifts to people walking by. What better way to lift someone's spirits, than to offer some words of encouragement? In association with our friends at Service Space. For more info, sign up here.
In the next week, we will be adding more details and ideas about the actiivtes.
Keep in touch with us via: Twitter | Facebook | Email
How do I attend?
You just grab a ticket now and we'll update you of our timetable of activities when we have it.
You may be thinking some of these activities may sound a bit weird...or scary...or too much effort.
We understand. But you don't need to do any activity if you don't want to. Just enjoy the displays, chat to us if you want, and be on your way.
You can come for free and leave anytime - we're just be happy that you came along.
How can I help? I hear volunteering and giving is good for happiness...
You're so right! If you'd like to support us - leave us a few pennies donation...or contact us for volunteer opportunities.
Is it really free?
Yes! Although we are having to dig into our pockets to cover the costs. So if you'd like to support us and see more of this in the future, PLEASEEEEE consider a donation ticket...£5 is fab. Even £1 really helps...or throw a few coins into the bucket in the corner of one of the tents to help cover our expenses. We've gone over budget. Thanks!
Got any nice pics from your last event?
Check out our Musuem of Happiness for more info.
Won any awards?
I'm so glad you asked. We were selected in the top 100 in the Happy List from thousands of entries, by the The Independent on Sunday.
Any pics from your last event for young people at Goldsmiths Uni?
Yup. We cater for adults and kids. Here's pics from an event we did a few weeks ago during a careers fair set up by NCS The Challenge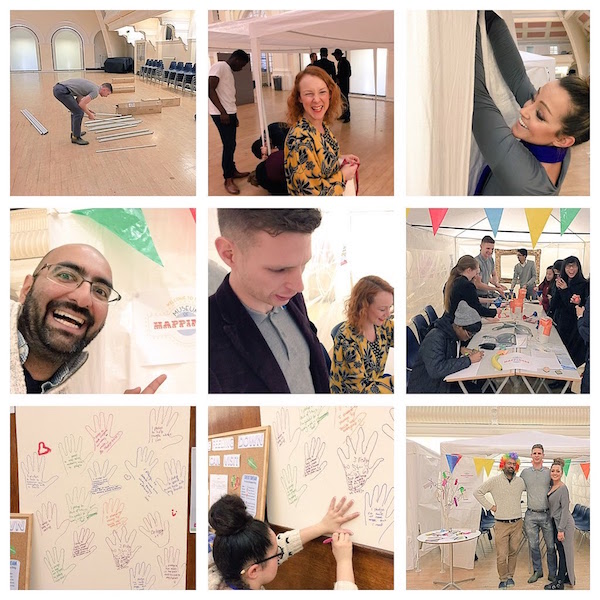 Is there a dress code?
It's goona be very cold so wrap up warm with lots of layers to enjoy the experience. Dress in whatever makes you happy too! Wigs, hats and fancy dress welcome if you wish! But 'normal' clothes is totally cool too.
Who has helped you out to get to where you are?
We're grateful that The Museum of Happiness has been helped, supported or featured by: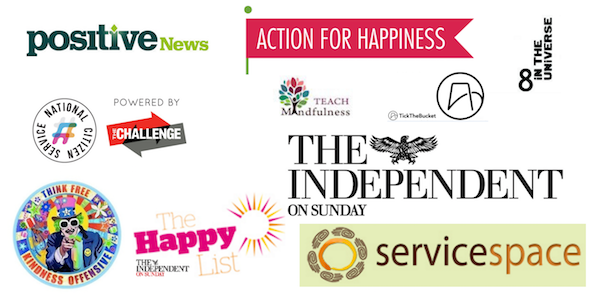 ---
FAQs
Will I get to participate in everything?
This event has been extremely popular. So arrive early if you want to attend a workshop or other activity. You're not guaranteed a place for anything due to high numbers, but you should be able to see some of the displays and enjoy the atmosphere and people - it'll be fun, we hope! We expect mornings and early evening slots to be more accessible if you're hoping to arrive at a quieter time...If you see it's too busy to enter, just browse around the lovely shops and market at Spitalfields, and try a bit later! But whatever happens, don't forget to pack your smile!
How long does it take to visit this Museum thing?
We recommend you set aside a couple of hours if you want to try some of the activities and workshops. Alternatively, you can drop by for 10 minutes and get a feel for the place. Stay for as long or as little as you want - do swing by and say hi!
Is it suitable for children?
Yes, because we believe happiness is a skill as well as a way of being, and the earlier you learn it, the better! But it'll probably be quite busy so please stay with them at all times. We don't take responsibility for your children so they have to be supervised. They should really enjoy it! If we do get permission for a ball pool, it won't be suitable for young children because they can get submerged and lost within the balls.
What's the nearest train or tube?
Nearest Underground: Liverpool Street Underground Station
Nearest Train Stations: Liverpool St Train Station, Shoreditch High Street Station
Which buses go there?
Buses: 8, 26, 47, 48, 78, 135,149, 242, 344, 388 - Get off at Primrose Street Stop or 67, 205 - Get off at Brushfield Street Stop.
Where abouts are you? I can't find you?
We are NOT in the Old Market. We're in the NEWER bit next door. It's called 'Arts Market'. Quite close to Leon Restaurant.