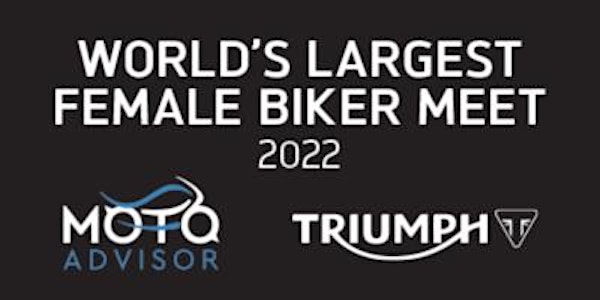 Worlds Largest Female Biker Meet - 24th July 2022 - Registration
Location
The Triumph Visitor Experience
Normandy Way
Hinckley
Leicestershire
LE10 3BZ
United Kingdom
A World Record attempt for the largest Female biker meet will be held at Triumph Factory Visitor Experience on Sunday 24th July 2022.
About this event
On 24th July 2022 Moto Advisor, a Facebook group based in UK, are set to attempt to beat the previous record for the world's largest female biker meet by gathering at the Triumph Factory Visitor Experience, the global headquarters for Triumph Motorcycles, in Hinckley, UK.
Keen motorcyclist Nimi Patel of Moto Advisor initially started a group called South East link Up which rapidly became exceptionally popular so Nimi was curious to see how many female bikers could connect on a larger scale. Nimi looked into it and discovered a group in Australia had created a world record of 221 ladies that got together for a rideout. She discussed the idea with motorcyclist friend and Moto Advisor colleague Sherrie Woolf and they decided to see if the UK could beat that, which it did in 2015 at The Ace Café in London with 618 ladies attending…..Since then the event has grown and despite attempts in Australia and the USA, the current record remains in the UK at 1,132.
This initiative aims to bring together women as a growing target for the motorcycle industry, with the aim of encouraging the development of a wider range of products suitable for women and to inspire others to live their passion without biases. Sherrie Woolf adds "We're keen to show the Motorcycle industry that the female market is financially worthwhile catering to. There are over 300.000 female licence holders in the UK alone and we all know buying kit is addictive!!
We also want to encourage and support more women to enjoy a fantastic hobby and get involved with all the different aspects of biking, from road riding, track days, off roading, rallies, stunting, touring and anything else! The social aspect and kinship of bikers is special whether male or female and we know from past events that ladies have turned up to an event alone and left with lots of new friends!"
With an average of 4,900 theory test passes and 3,100 mod 2 tests passes yearly in UK, the number of female motorcyclists is set to constantly increase. Interestingly, the average age of women passing their test has fallen, with the largest pass numbers falling into the 21 – 29 and 30 – 39 age groups which is introducing a new generation of women into the world of motorcycling (data shared by MCIA).
Aside from the world record attempt, the event will include live music, clothing stands, food & drink, and a raffle with proceeds going to support the local air ambulance and Blood Bikers.
Moto Advisor are looking forward to welcoming thousands of women riders at Triumph Motorcycles for the world record attempt.