Description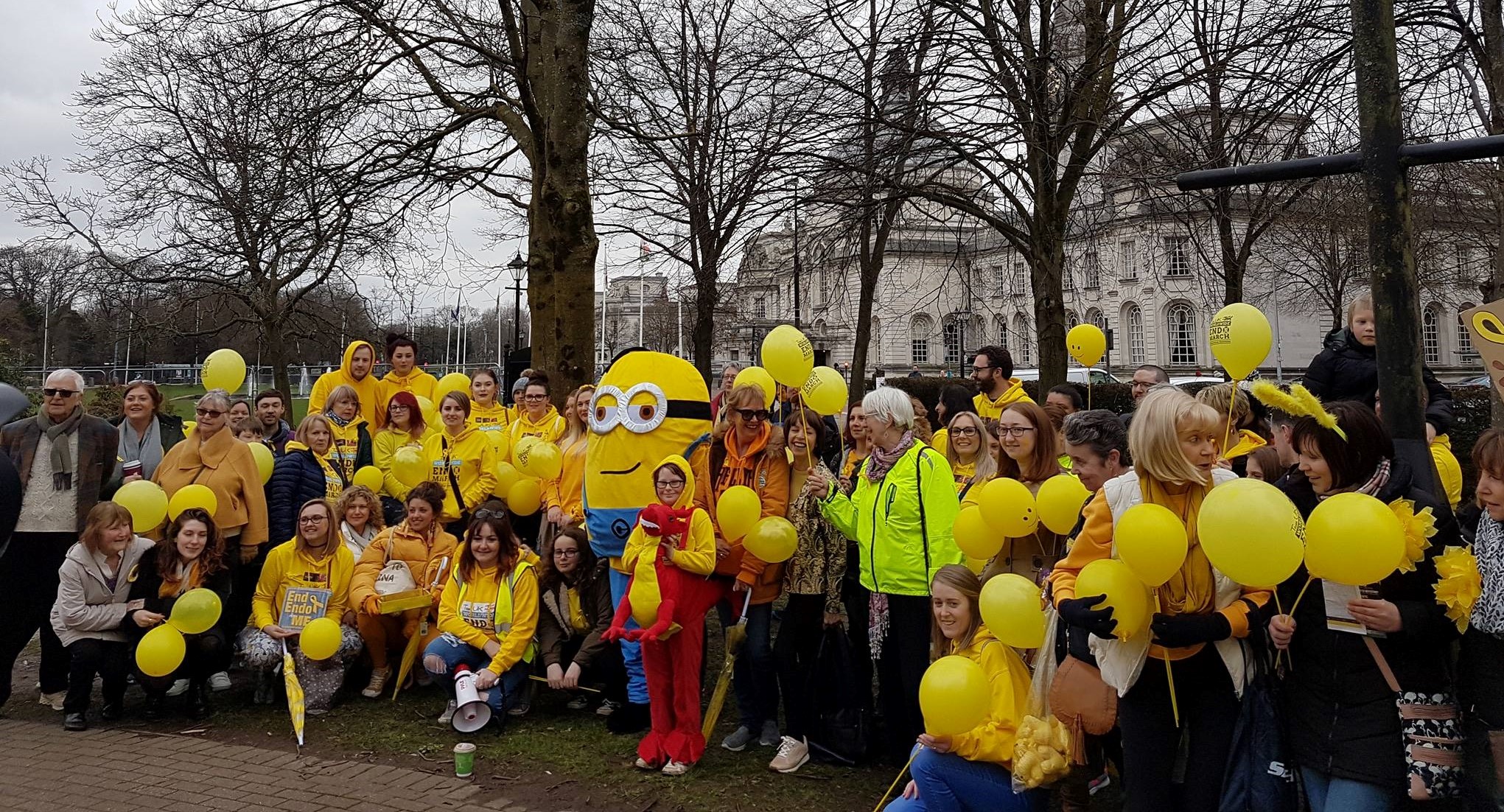 Worldwide EndoMarch is coming to Wales again. Cardiff will be the location for the fifth South Wales event on Saturday, March 28th.

We will be marching through the streets of Cardiff with the hope of promoting awareness for ENDOMETRIOSIS, and the need for faster diagnosis, greater education, and more funds for research into better treatments and an eventual cure.
This is the fifth march for Wales, and the sixth year for the Worldwide EndoMarch to take place globally.
We would love for you to join us, so please sign up today!
Itinerary
1pm onwards: Meet and sign-in at Gorsedd Gardens, outside City Hall and Museum, Cardiff.
2pm: March begins. We will be walking just under 3km around the city centre, then ending in a Hotel for refreshments at about 4pm.
5pm: Event end.
Refreshments, consisting of a free drink and slice of cake, available to all participants!
Follow EndoMarch Cardiff Facebook, Twitter, and Instagram for updates.
Please wear YELLOW the colour of endo awareness to show your support. Optional Team Wales hoodies and T-shirts will be available to purchase from www.mypersonalisedclothing.com shortly.

For the sixth year running, women and their supporters across the globe will be taking part in a peaceful march about the plight of those who suffer from endometriosis.
We will be walking approximately 3km through Cardiff. This is the chance for all of us living with endometriosis, or supporting someone who does, to come together and make our voices heard. It's a great way to get involved in high profile awareness raising, and just meet other people in the same situation.
Note - all participants are responsible for their own health and safety.
If you cannot manage to attend one of the Worldwide marches for financial, geographic or health reasons there are lots of other ways you can support this movement. There are also marches in England, Scotland, Northern Ireland, and globally.
We will be posting updates on our social media during the day, so please follow us, and get involved #EndoMarchWales #EndoMarchCymru!
The Cardiff march is supported and sponsored by FTWW - Fair Treatment for the Women of Wales. Their campaign at the moment is for better care, treatment and access to specialists in Wales, for all women. You can find them on Twitter, Facebook, Instagram and online at www.FTWW.co.uk.
EndoMarch Wales has sponsorship from Mr Hefin David AM, and the support of many more. We also have Silly Panda Co on board supporting us.
The Wales team is comprised of 3 dedicated endometriosis advocates who serve as volunteers for the Worldwide EndoMarch organistion, Fair Treatment for the Women of Wales, as well as other endometriosis support networks in the UK. If you have any questions, the best way to get in touch is through our Facebook page.
This is a free event, but we do ask you to PLEASE REGISTER so we have an idea of how many people will be joining us on the day, and to get the total number of people marching around the world.
Let make this year's even bigger and better than the last, and turn Cardiff yellow!
Looking forward to seeing you all, from
The EndoMarch Wales Cardiff Committee