About this Event

A CALL TO ACTION IN WOMEN'S HEALTH
Fair Treatment for the Women of Wales (FTWW) and EndoMarch Wales co-ordinators, Nicola Dally and Samantha Hickson, are excited to announce that this year there will be two Welsh legs of the Worldwide EndoMarch.
On Saturday 30th March, alongside our existing - and ever-growing - Cardiff march, we will be organising a second event in Llandudno, North Wales!
Itinerary
1pm onwards: Meet and sign-in at the Conwy Suite, St George's Hotel, The Promenade, Llandudno, LL30 2LG.
2pm: March begins. We will march / dawdle along the promenade and return to St George's Hotel (totalling approximately 1.5 miles) for refreshments at around 4pm.
Refreshments, consisting of a free drink and slice of cake, available to all participants!
Please note: Participants are responsible for their own health and safety. All times are approximate.
Worldwide EndoMarch is a huge global event bringing thousands of supporters across the world together, as we walk, hobble, or wheel our way to giving this misunderstood disease the international platform it deserves.
Our aim is to raise awareness of the painful, life-impacting condition ENDOMETRIOSIS, a disease that can potentially cause severe pain, infertility, chronic fatigue, and other debilitating symptoms. Affecting as many as one in ten girls and women worldwide, making it as prevalent as diabetes or asthma, endo continues to be shrouded in mystery and myth.
This is the fourth such event in Wales, following on from the huge success of the previous marches in Cardiff, and Swansea, and the sixth internationally.
If you plan on attending, PLEASE REGISTER your FREE place. It helps us to to know the numbers for our Wales marches, and to add to the Worldwide total.
We look forward to seeing you there - please WEAR YELLOW, the colour of endometriosis awareness, to show your support!
Official Team Wales hoodies and T-shirts are available from mypersonalisedclothing.com
See our website for more details, and follow EndoMarch Llandudno Facebook, Twitter, and Instagram for updates.
Look out for #EndoMarchWales #EndoMarchCymru, and please join in!
The Wales EndoMarches are being organised in partnership with, and sponsored by, FTWW.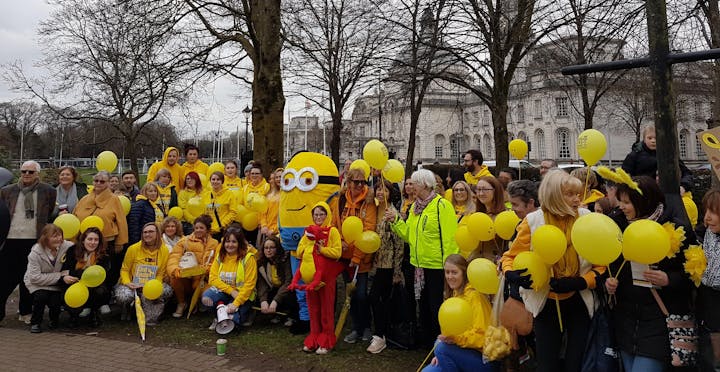 Team Wales EndoMarch Cardiff 2018!