Location
Campus London
4 Bonhill Street
London
EC2A 4BX
United Kingdom
Description
An elegant wine tasting for spirited amateurs
Wednesday 10th September 6.30 for 7pm at Campus London.

A SPECIAL Drinks Galore event in support of the 70 TechBikers, cycling 200miles Paris to London for Room to Read, you are invited to taste some fine wine, and hear an incredible story - all proceeds go to charity.
For 18 months Fearghal left everything he knew behind and cycled the globe - over 30,000km through some of the highest, driest, remotest, wettest, poorest and hottest places on earth. In doing so became one of the first Irishmen to circumnavigate the globe by bike.

Mile after mile what kept him going was a thirst for adventure, and a thirst for new wine. Using his years of wine tasting experience as a base, he experienced new countries and ever changing terroirs, but in each he found wine, and not just any wine ... great wine.

Ferg will introduce us to this wine, and take us on a journey in and around the regions he passed through while we taste. All you need is you, we'll provide the rest. And remember, each ticket helps Room to Read build more libraries and schools in the developing world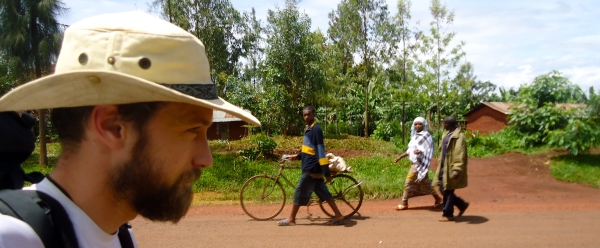 About Fearghal
Fearghal writes, explores, and teaches geography. He has a decade of experience traveling in adventurous ways through over 50 countries on 5 continents. Before answering the call of adventure Fearghal spent a decade training as a chef in hot kitchens selling wine & completing a Diploma with the Wine & Spirit Education Trust. Today he brings that adventurous spirit and expertise to exploring and sharing wine's liquid geography.
About Drinks Galore
Drinks Galore believe that there's nothing better than tasting unique drinks in the company of great people. We're talking about the kind of evening where you can learn as much from the person next to you as from the drink-swilling expert.

About Room to Read
Room to Read is a not for profit that strives for a world in which all children can pursue a quality education, reach their full potential and contribute to their community and the world.
"Over seven million children have benefited from Room to Read's programs over the past ten years."
To achieve this goal, they focus on two areas for the greatest impact: literacy and gender equality in education.