*ON HOLIDAY - BACK SOON!* An online writing group every Tuesday at 11.30
About this event
***Mae Awr yr Awduron yn cymryd saib a bydd yn ôl yn yr hydref! E-bostiwch ni yn digwyddiadaullyfrgell@caerdydd.gov.uk os hoffech i ni roi gwybod i chi pryd y byddwn ni'n ailddechrau.
Write About Everything is taking a break and will be back in the autumn! Please email us at libraryevents@cardiff.gov.uk if you'd like to be notified when we restart. ***
Awr yr Awduron
Ymunwch â'n grŵp ysgrifennu hwyliog a chyfeillgar, Awr yr Awduron, bob dydd Mawrth am 11.30am, gyda'n cyflwynwyr gwych sy'n gwirfoddoli o Brifysgol Fetropolitan Caerdydd.
Bydd yna awgrymiadau (os hoffech gael rhai) ac awyrgylch hamddenol a chefnogol i weithio'n dawel ynddo. Ar-lein drwy MS Teams, 11.30am-12.30pm.
Dim ond ar gyfer un sesiwn y bydd angen i chi gofrestru, gan y byddwn yn ymateb â dolen fydd yn gweithio ar gyfer sesiynau'r wythnosau dilynol, pryd bynnag y byddech chi'n dymuno galw heibio.
Hybiau a Llyfrgelloedd Caerdydd mewn partneriaeth â Met Caerdydd
Write About Everything
Join our friendly and relaxed online writing group Write About Everything every Tuesday at 11.30am, with our brilliant volunteer hosts from Cardiff Met University.
There'll be prompts (if you'd like some) and a relaxed, supportive atmosphere to work quietly in. 11.30am-12.30pm. Online via MS Teams.
You only need to register for one session, as we'll respond with a recurring link that will work for future weeks, whenever you wish to drop in to the sessions.
Cardiff Hubs & Libraries in partnership with Cardiff Met University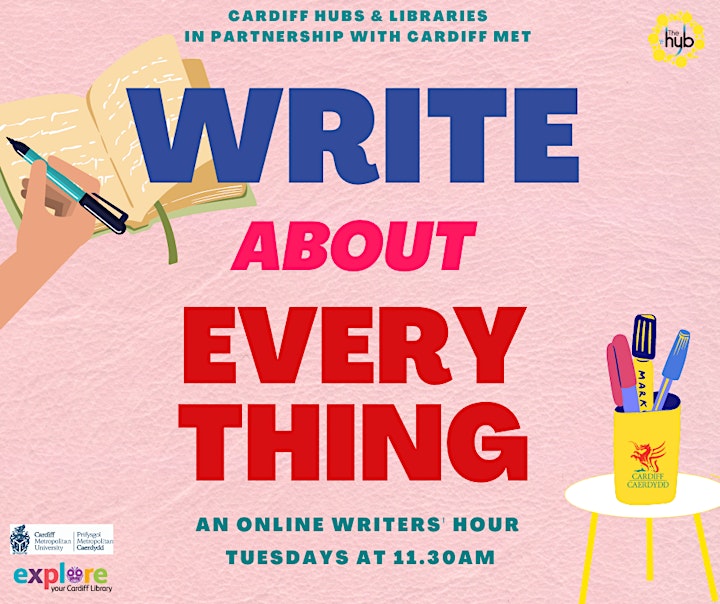 Organiser of Write About Everything (is currently having a break)