If you attended December 2019 authors of our generation event, you definitely don't want to miss out on this year!
About this event
It has been an honour to support our aspiring authors in their writing journey and how far they have come. Writing a book takes full concentration, resilience and strength. For this reason, we are teaming up with our clients who have published their book under the Authentic Worth brand, and want to give them an opportunity to showcase their books, allowing them to speak about what inspired them to write, what they learnt during the process, and in particular, promote their work.
Every author has a different writing style; how you write a book may not be the same as another person. As an author of four books, my desire is to stand with those who have worked with Authentic Worth and share the platform in sharing their story. When you write a book, it is for the purpose of others. I encourage those who have a desire to write a book to not procrastinate. Start with attending workshops, enrolling on online courses and being around existing authors that are willing to help in your writing journey.
If you have been to our previous events, workshops and online seminars, you would know how useful they have all been to many potential and existing attendees. Highlighted feedback from our attendees from previous events and workshops are shown below and can be found on the website: www.authenticworth.com
"I attended the Advanced Book Workshop and Advanced Professional Singers Workshop which I thoroughly enjoyed. It was interesting to experience how both these workshops were not incompatible because of the way Esther weaved them together seamlessly. It was further interesting how the content of the book workshop was planned to make sure that attendees' experiences were an integral part of the day, and I left feeling that my attendance was well worth it because I came away with tools that I could put to good use in my book journey. I was very impressed by the way in which Esther seek to engage with her audience and served us to a very highly personal standard. It was a very worthwhile experience for me. Thank you". Esther. (Veronica King, Sept 2019).
"I am glad to have taken the decision to attend Esther's book workshop. I thoroughly enjoyed, learned and met very nice people. I found the class to be informative, creative and gave me loads of ideas on how to put pen to paper and write a book. We had fun with the team building activities. I would recommend being present at the next workshop trust me you will never regret it. Thanks Esther, you are a Star. Well done!" (Kellee Taiwo, Sept 2019).
"Thoroughly enjoyed the workshop on Saturday 21st September 2019! Was a great pleasure to be a part of the warm up section on the day! I met some incredible people and learned so many practical skills. Despite not being an aspiring author (I'm a music artist) I noticed that many of the principals involved in book writing are the same, when it comes to releasing music. Even if you are not looking to write a book, I would STILL advise you to attend one of Esther's workshops! You'll certainly learn some transferrable skills that you can apply or implement in your own life or business" (Joash Scott, Sept 2019).
In particular, we will be giving the opportunity for aspiring authors that are interested in writing a book to ask questions, interact and network with our new authors of 2020.
The itinerary are as follows:
- Introduction
- Ice-breaker
- Group activity
- Presentation by Esther Jacob
- Short break
- Our newest authors
- Panel Session Including Q&A
- Prize give-a-way(s)
- Second session by Esther Jacob
- Q&A session
- Closing and Networking
We have five profound panellists that will be talking about their books:
Author Matilda Ese – Diets Don't Work
Author Paul Rowbotham – Rage
Author Sheryl Sebastiao – The Property Process
Author Syreene Murrain – A Cry Within
Author Hana Abreham – Princess Lwam of Habesha Kingdom
Early bird tickets are £20.00* (starts on Monday 02nd November to Sunday 22nd November 2020)
Standard tickets are £25.00* (starts on Monday 23rd November to Saturday 12th December 2020)
We look forward to seeing you online on Saturday 12th December at 14.00pm prompt.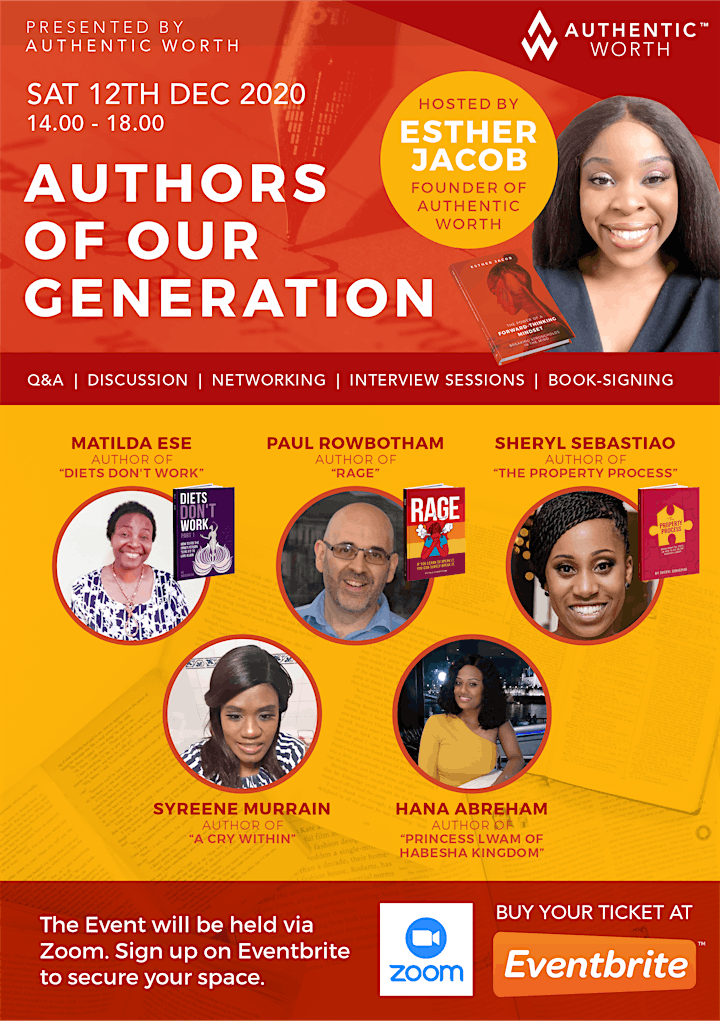 Date and time
Location
Refund policy
Organiser of Writers and Authors of our Generation 2020
Esther Jacob is the Founder of Authentic Worth Publishing, Multi-Published Author, Influential Speaker, Blogger and Online Course/YouTube Content Creator. She uses her skills and expertise to support and coach aspiring authors in writing books through storytelling. Esther believes in being transparent and selfless as she writes gracefully in her books, delivers workshops on book-writing and speaks at several events. Esther is an advocate for building self-confidence and personal development and has been offered numerous opportunities on several TV programmes, podcasts and radio stations including BEN TV, Yanga! TV, United Christian Broadcast (UCB) Radio, Elim Radio Girl Talk, Premier Gospel Radio and Christian Devotion Speak Up Podcast in the United States.
Keep in touch with our social handles below:
Authentic Worth Publishing Socials:
Facebook: Authentic Worth
Instagram: authenticworth
LinkedIn: Authentic Worth
Twitter: authenticworth
YouTube: Authentic Worth
Esther's Socials:
Facebook: Esther Jacob
Instagram: esthernjacob
LinkedIn: Esther Jacob
Twitter: esthernjacob
YouTube: Esther N J