About this Event
Writers/Writers - Marc Vallée and Philip Grey - The Knapp Gallery, Regent's University London.
Writers/Writers is a joint exhibition of images of 'writers' from photographers Marc Vallée and Philip Grey. The juxtaposition of Vallée's graffiti writers with Grey's writer's desks is both a play on words and an insightful discourse between two distinct bodies of work.
Opening night: 17.30 – 20.00, Thursday 21 November 2019.
RSVP is essential.
https://marcvallee.co.uk/Writers-Writers-The-Knapp-Gallery-London
Vallée is a London-based documentary photographer and visiting lecturer in photography at Regent's University London. His work is focused on contemporary youth culture within the context of the neoliberal city. His zines, photobooks and prints are held in public and private collections including Tate Britain, the Museum of Modern Art (MoMA), the Museum of London and the Martin Parr Foundation.
Vallée will present prints of London and Paris graffiti writers from his series Down and Up in Paris, Vandals and the City and Writers.
Grey is a London-based photographer and senior lecturer in photography at Regent's University London. Grey's work has been published in many publications over a long career including New Musical Express, The Face and Time Out. Grey has worked with the Adam and the Ants, the 2-Tone label plus many more. A Kobal Portrait Photography Awards finalist, his work has been shown at the National Portrait Gallery, London and The Royal Photographic Society, Bath.
Grey will present prints from his series Untitled: The Writer's Desk. These images provide an intriguing glimpse into the unfamiliar spaces where familiar writers write.
The exhibition will continue until January 2020, view by appointment.
Down and up in Paris #1 by Marc Vallée.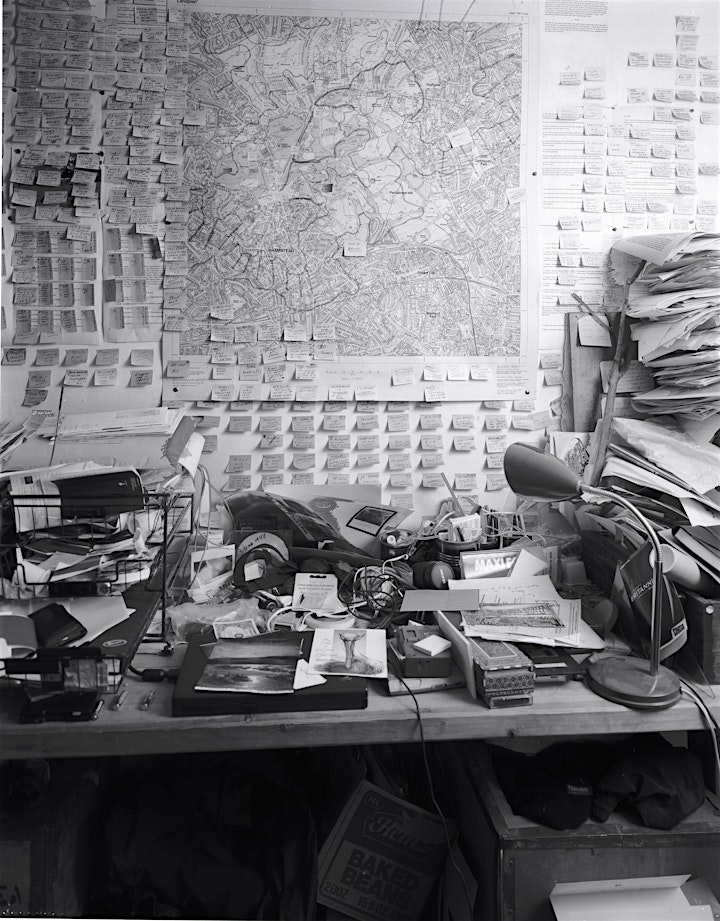 Untitled: The Writer's Desk by Philip Grey.