Location
Bloomsbury Publishing
50 Bedford Square
London
WC1B 3DP
United Kingdom
Description
Step inside Bloomsbury Publishing as we present an evening of how talking about theatre has changed online
On February 6th, we're delighted to present Megan Vaughan, Alice Saville and Vinay Patel for a candid discussion on the past, present and future of writing about theatre online.
Suitable for writers, performers and theatre-makers of all types, this unique event will focus on how the theatre blogosphere of writers, reviewers and pundits has moved from the dawn of the carefully crafted longform post to today's digital newsletters and social media threads.

Megan Vaughan, author of Theatre Blogging published by Methuen Drama, will be joined by Alice Saville, editor of Exeunt Magazine and second-in-command at TimeOut's Theatre section, and Vinay Patel, acclaimed playwright and BAFTA-award nominee for Murdered by My Father.
We hope you're free to join us.
Date: Thursday, February 6th
Timing: Doors open and complimentary drinks from 6:00 to 6:30pm. Our guests in conversation from 6:30pm - 7:30pm, followed by Q&A and book signing. Event concludes at 8:00pm
Venue: Bloomsbury Publishing, 50 Bedford Square, WC1B 3DP
Nearest station: Tottenham Court Road
Tickets: £10 - £15
This event is hosted by Bloomsbury Institute, a division of Bloomsbury Publishing. Please read our Event Terms and Conditions carefully as by buying a ticket to this event, you confirm that you accept these terms and condition and that you agree to comply with them, alongside the Eventbrite terms and conditions.
***
MEGAN VAUGHAN is a writer and researcher currently based in Colchester, Essex. Widely regarded as one of the most innovative and influential bloggers to have covered London theatre, her blog, Synonyms For Churlish, was active from 2008 until 2016. Now a PhD researcher at Royal Holloway, University of London, she is completing a thesis on amateur theatre criticism and the internet. Her first book, Theatre Blogging: the Emergence of a Critical Culture, is published by Methuen Drama.
ALICE SAVILLE is editor of Exeunt, as well as working as a freelance arts journalist for publications including Time Out, Fest and Auditorium magazine. Follow her on Twitter @Raddington_B
VINAL PATEL'S debut play, True Brits, opened at the Edinburgh Fringe 2014, before transferring to the Bush Theatre and Vault Festival. His latest play, An Adventure, ran at the Bush in late 2018. His first piece for television, Murdered By My Father, won the Royal Television Society award for Best Single Drama and was nominated for three BAFTAs, winning for Best Actor. Vinay was named a BAFTA Breakthrough Brit for his work. He has since written for Paines Plough, ITV, Channel 4 and the BFI, as well as contributing to the bestselling collection of essays, The Good Immigrant. Most recently, Vinay wrote on the latest season of Doctor Who and is working on further projects for TV, theatre, radio and film.
***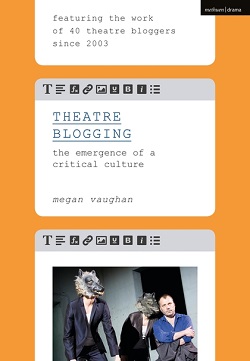 In this epic history-cum-anthology, Megan Vaughan tells the story of the theatre blogosphere from the dawn of the carefully crafted longform post to today's digital newsletters and social media threads. Contextualising the key debates of fifteen years of theatre history, and featuring the writings of over 40 theatre bloggers, Theatre Bloggingbrings past and present practitioners into conversation with one another.

Starting with Encore Theatre Magazine and Chris Goode in London, George Hunka and Laura Axelrod in New York, Jill Dolan at Princeton University, and Alison Croggon in Melbourne, the work of these influential early adopters is considered alongside those who followed them.

Vaughan explores issues that have affected both arts journalism and the theatre industry, profiling the activist bloggers arguing for broader representation and better working conditions, highlighting the innovative dramaturgical practices that have been developed and piloted by bloggers, and offering powerful insights into the precarious systems of labour and economics in which these writers exist. She concludes by considering current threats to the theatre blogosphere, and how the form continues to evolve in response to them.