Description
Claybody Theatre lead the second FREE creative writing session of the festival to explore the personal stories of industry, pollution, disease and Stoke-on-Trent. Set in the atmospheric partially renovated Bethesda Chapel, itself a culturally significant building in the history of the city, this is an opportunity to work with local dramatist Deborah McAndrew and director Conrad Nelson to bring to life your own memories of the impact of the industries, pots, pits and steel, that Stoke-on-Trent was built on.

Deborah McAndrew says "This is an opportunity for us to explore a dark chapter in the city's story with those who remember the impact of industry on the environment and people's health."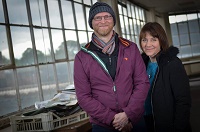 It is also a rare opportunity to explore the historic Bethesda Chapel mid-restoration. Live Age Festival and Claybody Theatre are grateful to Friends of Bethesda for allowing their building to be used for this event.