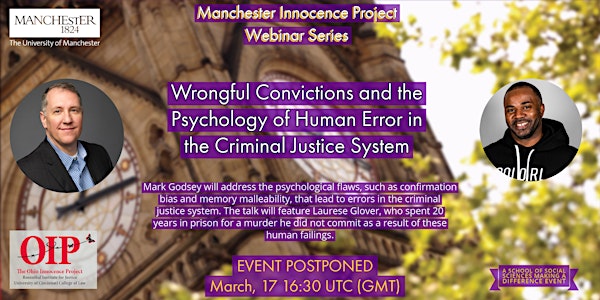 Wrongful Convictions: the Psychology of Human Error in Criminal Justice
Mark Godsey, Ohio Innocence Project, will be joined by Exoneree Laurese Glover to address psychological flaws in the Criminal Justice System
About this event
Professor Mark Godsey is a leading scholar, attorney and activist in the Innocence Movement
In addition to teaching Criminal Law, Evidence and other courses at UC Law, Professor Godsey co-founded and directs the Ohio Innocence Project. The OIP is recognized as one of the most active and successful Innocence Projects in the country, and to date secured the release of 30 individuals on grounds of innocence who together served nearly 600 years in prison for crimes they did not commit.
Professor Godsey is also a regular commentator on issues relating to wrongful conviction in both the local and national press, and has appeared nationally on Larry King Live, Dateline NBC, CNN, ESPN, BBC, Forensic Files, and NPR among others. He is frequently quoted in papers and magazines across the country, including The New York Times, Newsweek, People and the Wall Street Journal. In 2017, Time Magazine profiled his career. His best-selling 2017 book Blind Injustice: A Former Prosecutor Exposes the Psychology and Politics of Wrongful Convictions is considered a foundational work in the field of wrongful convictions. In 2019, The Cincinnati Opera premiered an original opera, Blind Injustice, inspired by the book and the stories of six of OIP's exonerees.
Professor Godsey and the OIP have also proposed several significant legislative reforms in Ohio, and worked tirelessly to get them passed into law. In 2010, for example, Governor Strickland signed Senate Bill 77, a law proposed and championed by the OIP that has been called "one of the most important pieces of criminal justice legislation in this state in a century," and a law that makes Ohio a "national model" on reforms to reduce and prevent the wrongful conviction of the innocent. In 2018, Governor Kasich signed the OIP's exoneree compensation bill into law. The OIP currently has a bill pending that would require police to record interrogations, and plan for a full legislative agenda in future years.
Laurese Glover. When he was 16, Laurese and his two best friends were convicted of a murder they did not commit. After spending twenty years in prison, the three men, knowns as the "East Cleveland 3," were exonerated by the Ohio Innocence Project. In 2019 they were declared innocent by the state of Ohio and compensated for their wrongful convictions.