WTF is Impact Investing? Solving the world's big problems through investing
About this Event
Impact Investing
"Investments made into companies, organisations, and funds with the intention to generate social and environmental impact alongside a financial return." - The Global Impact Investing Network 2019
Impact investing is a new trend in the investing industry, aiming to solve big problems by investing in the companies changing the world. We're hosting this event to explain not only the concept of impact investing to first-time investors, but also showcasing some of our portfolio companies positive impacts - the positive impacts your investments can help make.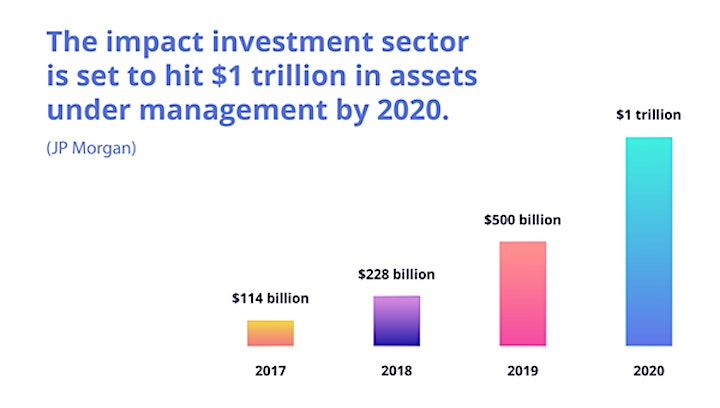 Impact investing - investing for positive financial return alongside positive social and environmental outcomes - is one of the fastest growing areas of the investment management industry. Assets invested in impact are doubling every year, and are expected to hit $1 trillion globally by 2020.
Millennials want to invest, and they want to invest in good. Learn more about the trend taking over the investment industry and getting millennials investing for the first-time!

Event Timetable
6:30pm - 7:00pm - Meet & Greet / Food & Drinks
7:00pm - 8:00pm - Tom McGillycuddy, Co-Founder of tickr: WTF is Impact Investing?
8:00pm - 8:30pm - Ask Me Anything AMA / FAQs from the audience
8:30pm - 9:30pm - Food, Drinks & Chatting with the community!
tickr
The investment industry is flawed. It was built for the wealthy and for large institutions. Placing profit above all else. Investing needs to change.
tickr has been built to be the future of investing. We're showing people that you can have a positive impact and achieve financial returns, at the same time. Investing isn't complicated, people have just been told it is.
Why We Run Events
We're building a community. We believe investing should be something people get involved with and take an active interest in how their money is used. This event is a chance for people to learn more, and to meet other people that feel the same way.
We're inviting everyone to our 'WTF is Impact Investing' event at our office on Kingsland Road in the heart of Shoreditch!
Come visit the office, meet the team and find out how to invest (there's pizza and beer too!).
Misc & FAQs
Who's welcome? Everyone! We encourage anyone who's interested in investing to come to our events!
How many people can come? We're planning on having 50 people at every event, so hurry whilst we have space!
I already invest, is this right for me? Yes. If you want to save more money and invest in good companies, this event can help show even experienced investors how to!
Why do tickr run these events? The investing industry wasn't built for millennials. We want more people our age to realise that they can invest for their future!
We're Wheelchair accessible - we have an elevator entrance so just email into our team beforehand so we can assist :-)
P.S. Invite as many friends as you like - just get them to register on this page!
We're looking forward to seeing you at the event!
- The tickr team