About this Event
What the Fork is a webinar series that will explore some of the key movements in the rapidly changing food systems landscape. This first series is running in the lead up to the Build Back Better Hackathon organized by Impact Hub Kings Cross London in the UK. What The Fork webinar series is an initiative of FeedingCities
COVID-19 has laid bare the pre-existing inequalities and fragilities in our food systems. The food impact of the pandemic has disproportionately affected the already marginalised, particularly along the lines of gender, race and class. Many jobs have been lost, food prices seem set to increase and industrial agriculture is being questioned amid accusations that it helps create conditions for zoonotic diseases to spread. Beyond the pandemic, we face worsening climate and biodiversity emergencies and an obesity crisis. Yet there are reasons to be hopeful. Responses to COVID-19 have reinforced the power of building community resilience and the critical value of 'key workers' producing, preparing and delivering our food. There is a growing appetite to transform and reimagine our food systems.
Hear from Marc Noyce of Biofilta as he talks us through his FoodCube systems that is delivering incredible results such as over 500kg of fresh food from 21m2. Part of the team behind Melbourne Sky Farm, Marc is also an experienced environmental consultant.
Listen to Wouter Vos from KuiperCompagnons and Urban Farming Partners as he shares his experiences in developing plans for hi-tech urban farms in Singapore, integrated urban food systems clusters in China and landscape design and  urban planning with local food networks in the Netherlands.
Hear from leading global experts and ask your questions in this incredible session exploring FOOD Communities.
It is an absolute pleasure to have these amazing guests join us for this session exploring the power of food COMMUNITIES.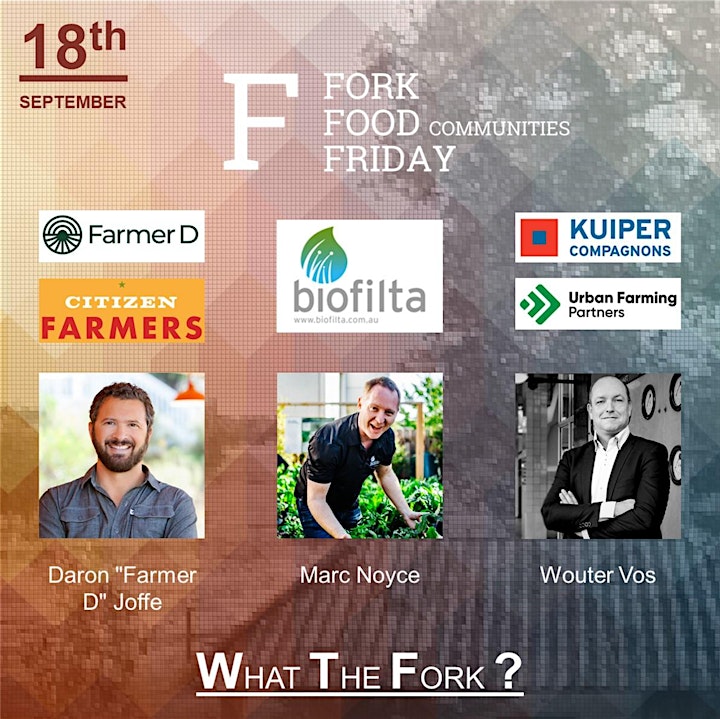 Webinar login details:
Topic: WTF?! FOOD Communities session
Time: Sep 18, 2020 12:00 PM Zurich
Join Zoom Meeting
https://zoom.us/j/4096673409?pwd=Tlh6TjVaL3YrVWR5TmE5T1Y1bmtMZz09
Meeting ID: 409 667 3409
Passcode: WTF?!FOODC