Wurth Electronics UK and Eurofins E&E come together to present a FREE technical seminar.
About this event
Wurth Electronics and Eurofins E&E are joining together to bring a FREE day of technical seminars at The Ageas Bowl , Southampton.
Wurth Electronics UK's Field Application Engineers, combined with the engineers of Eurofins E&E, will present on an array of topics, including UKCA & CE Marking, EMI Shielding, Power Integrity and The Technical File.
Wurth Electronics are one of the leading manufacturers of electronic and electromechanical components in Europe. With sales organisations in 43 countries and 16 production facilities across the globe, they guarantee complete design-in support, samples free of charge and delivery of their components anywhere in the world. Their team of local Regional Business Managers are always on-hand to provide both technical and commercial support, with Field Application Engineers also available to support your design.
Eurofins E&E UK is part of the global Eurofins group and provides testing, certification and compliance services for manufacturers of electrical and electronic products from 7 locations across the UK. Their key services include EMC, Wireless and Safety testing as well as test equipment calibration, ATEX, Hazloc and IP testing. They also provide guidance and expert services to enable manufacturers, retailers and product designers to deliver compliant products to global markets.
This event will be subject to the any COVID-19 regulations and procedures in place on the date of the event, which we will make all attendees aware of in due course.
Coffees and lunch will be provided at the venue.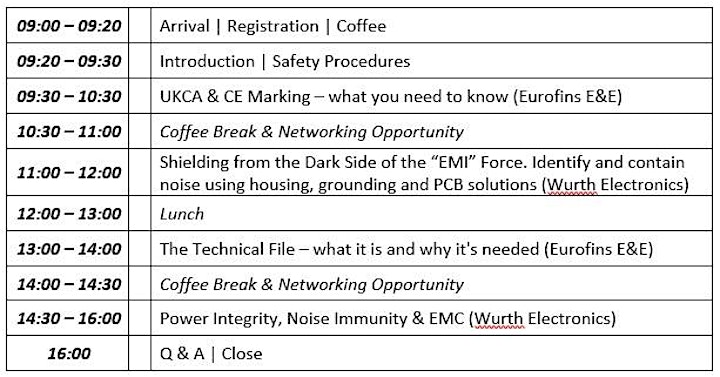 TOPICS TO BE PRESENTED
1. UKCA & CE Marking – what you need to know (Eurofins E&E)
For most products that previously required CE marking, the new regulatory regime that implements the UKCA mark for the GB market is in force. Understanding what must be done and by when is key to ensuring that products can continue to be placed on to the GB market, including the changes to the role of distributors, importers and authorised representatives. It's also essential that manufacturers are clear about the changes to placing CE marked products onto the EU market, especially with the implementation of the Market Surveillance Regulation (EU) 2019/1020 on the 14th July 2021.
2. Shielding from the Dark Side of the "EMI" Force. Identify and contain noise using housing, grounding and PCB solutions (Wurth Electronics)
The use of conductive or magnetic shielding material can have a significant impact on EMI performance. This coupled with the potential for late stage introduction into the design makes these an attractive solution. The aim is to discuss the available components and their characteristics as well as the quick solutions that can be used. How to select and implement shielding solutions for both electric and magnetic fields will also be covered.
3. The Technical File – what it is and why it's needed (Eurofins E&E)
The Technical File a critical part of product compliance, but its purpose is regularly misunderstood, with incorrect or missing information. It is key to explaining the rationale behind the product's design and the method to demonstrate what you have done to mitigate EMC in the design. In this presentation, we'll discuss the essential components of the technical file and provide examples of how you can demonstrate that you have considered EMC throughout the design process.
4. Power integrity, noise immunity and EMC (Wurth Electronics)
Using practical examples of good and bad design practice and how it influences power integrity, signal/noise and EMC. This involves investigating the parasitic elements in a DC/DC converter equivalent circuit model and the layout and tracking guidelines. It also includes identifying alternative component solutions and filtering in order to improve signal integrity and EMC.
Organiser of Wurth Electronics UK and Eurofins E&E @ The Ageas Bowl, Southampton