Location
IWM Duxford
Duxford
Cambridge
CB22 4QR
United Kingdom
Wurth Electronics UK & dB Technology collaborate to bring a day of technical presentations and demonstrations in Duxford, Cambridgeshire.
About this event
Wurth Electronics Field Application Engineers, combined with the engineers of dB Technology, will present on an array of topics, including UKCA & CE Marking, EMI Shielding, Power Integrity, Pre-Certified Radio Modules and EMC Design from the outset.
Wurth Electronics are one of the leading manufacturers of electronic and electromechanical components in Europe. With sales organisations in 43 countries and 16 production facilities across the globe, they guarantee complete design-in support, samples free of charge and delivery of their components anywhere in the world. Their team of local Regional Business Managers are always on-hand to provide both technical and commercial support, with Field Application Engineers also available to support your design.
Based just a few miles north of Cambridge, dB Technology provide specialist EMC testing and consultancy services for Electromagnetic Compatibility (EMC) and Radio Approvals. Their experienced and knowledgeable team are on hand throughout the testing process to provide assistance with problem solving and technical fixes. They will help you to understand, evaluate and interpret test results and this valuable feedback will help you to refine your design to achieve compliance in a timely and cost-effective manner. Their on-site facilities are available for clients to undertake remedial work to products, so that you might achieve compliance on the spot whenever possible.
Each attendee will also be entered into a FREE raffle to win flying lessons - so be sure to grab your place at this event for a chance to win!
Coffees and lunch will be provided at the venue.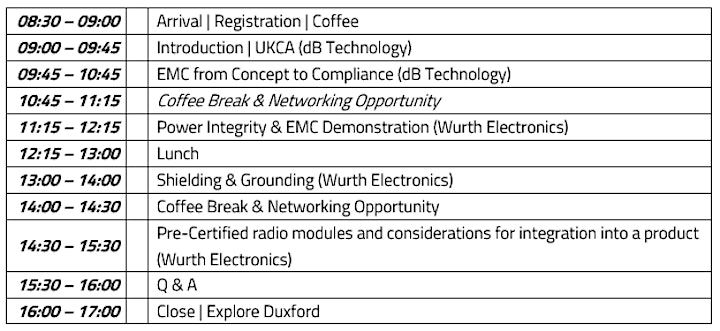 1. UKCA (dB Technology)
This session is designed to compare and contrast existing routes to compliance under EU regulations with the UK's new regulatory framework (UKCA) in order that businesses can confidently place goods on the market in Great Britain using the UKCA mark. The talk will consist of an overview of business responsibilities but will have a strong focus on the regulations in relation to electrical and electronic equipment.
2. EMC from Concept to Compliance (dB Technology)
This session will start with a top-level look at how we define the boundary between the "inside" and the "outside" of our system, we look at how the topology and interconnect options can be of prime importance in the EMC performance of our products. We shall look at the mechanisms by which interference can enter or exit a product , how interference can be suppressed suppressed at this boundary and also how it can be suppressed or eliminated within a product at component level.
3. Power integrity, noise immunity and EMC (Wurth Electronics)
Using practical examples of good and bad design practice and how it influences power integrity, signal/noise and EMC. This involves investigating the parasitic elements in a DC/DC converter equivalent circuit model and the layout and tracking guidelines. It also includes identifying alternative component solutions and filtering in order to improve signal integrity and EMC.