Location
Top Withens
Haworth
SD981353
United Kingdom
Description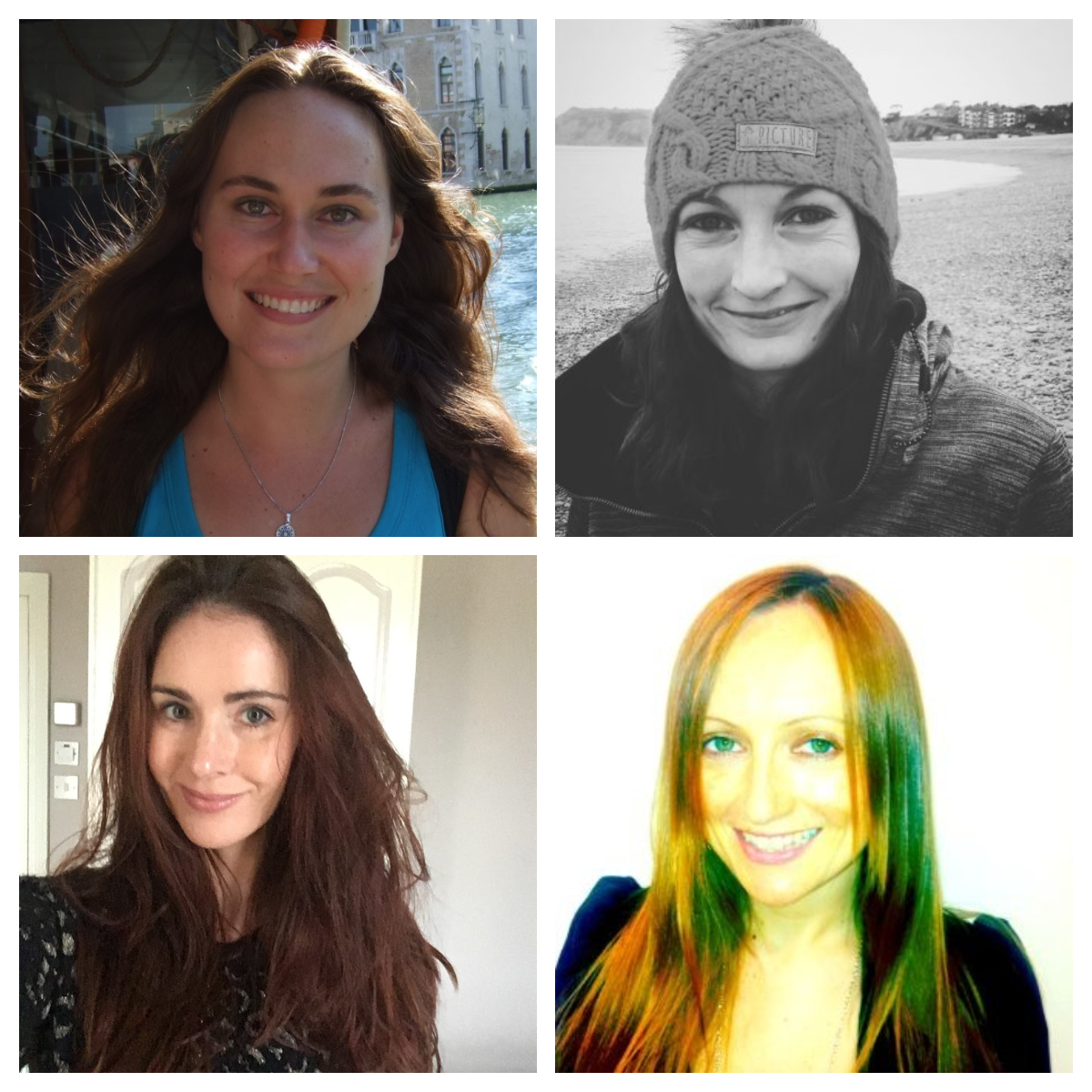 Top left to bottom right: Dr Alexandra Lewis, Ruby Robinson, Bernadette McBride, Karen Podesta.
*WOMEN'S WUTHERING HEIGHTS WRITING & WELLBEING RETREAT 14-16 SEPTEMBER 2018
Channel your inner 'Cathy' and join us in celebrating the 200th anniversary of the birth of Emily Brontë this year. Hedge Arts, in association with More Love Yoga, will be hosting a unique writing and wellbeing retreat in Emily Brontë's homeland, amidst the setting for her acclaimed novel Wuthering Heights. Emily Brontë's contribution to literature firmly marked female writers on the literary landscape. For this retreat, women will be walking together, writing together, and being well together.
Featuring special guest workshops with Dr Alexandra Lewis, editor of the forthcoming Norton Critical edition of Wuthering Heights, and Associate Director of the Centre for the Novel, and Yorkshire poet Ruby Robinson, her debut poetry collection, Every Little Sound, was published by Pavilion Poetry, an imprint of Liverpool University Press, in 2016 and was shortlisted for the Felix Dennis Forward Prize for Best First Collection and the T. S. Eliot Prize for Best Collection, 2016.
Participants will be based at a Victorian gothic mansion overlooking the wild Pennine moors, and will be welcomed with a guided Wuthering Heights book club dinner on the first night. All participants will make the famous pilgrimage to Top Withens the next day. Creative writing activities will be held along the way there and back. Participants will be treated to a grounding yoga workshop at the summit amidst the ruins of Top Withens; connecting them to the landscape, imagination and soul of Emily Brontë.
All of the creative writing workshops throughout the weekend will have a focus on women and landscape, nature, and place; internal as well as external. We will draw on extracts from Emily Brontë's Wuthering Heights, for guidance and inspiration - a very early example of women's writing that completely captures the 'power of place'. Emily devoted her short life to writing under the pseudonym of Ellis Bell, and both her walks in the moors and her writing were fundamental to her wellbeing and existence as a female in Victorian Britain. To reflect this, both walking and wellbeing activities will feature in the programme. Wellbeing workshops will include expressive arts therapy/writing as therapy, emotional freedom technique (EFT) for writer's block, and yoga for creativity. The programme also includes a trip to the famous Brontë parsonage where participants will write creative responses to the exhibits on display there, including original manuscripts and art. The programme is suited to all levels of writing and yoga, and the walk to Top Withens from the Brontë Parsonage is described as a moderate walk.
Accommodation, the programme with guest speakers, a guided walk to Top Withens, meals and entry to the Brontë Parsonage will all be included in the overall price. Guests just need to purchase their own drinks. Though YHA Haworth is the sleeping base, most events will take place outside to immerse ourselves fully in nature, landscape, and place, and the wellbeing benefits associated with being outdoors.
Please bring a rucksack, yoga mat, and clothing in accordance with the weather. Accommodation will be shared in small groups.
Places will be limited and early booking is advisable.
We hope you can join us in what is set to be an exciting, fun, and empowering retreat.
The cost of the retreat is £275pp with 10% off for early birds or students with valid ID.
Tickets available on Eventbrite here.
For details of a fully funded bursary place via our short story competition please see our competitions page.
For details of our subsidised place sponsored by our guest poet Ruby Robinson, with a mentoring opportunity for poets, please refer to Ruby's website.
To attend a free workshop on 21 July 2018 for help and advice on entering the short story competition, and for a grounding yoga taster session book here.
*For those who identify as women. NB: Participants must be over 18, travel not included, see YHA Haworth – Access Statement for full travel and access information. The nearest train station, Keighley, is 3.3 miles away, a taxi is c. £8-10 from the station, and there are local buses too. There is also ample parking on site for those driving. A mail out nearer the time can offer those travelling in the same direction further shared travel options.
Dr Alexandra Lewis
Dr Alexandra Lewis is Lecturer in English Literature and Creative Writing, and Associate Director of the Centre for the Novel, at the University of Aberdeen, UK. She holds a PhD from Trinity College, Cambridge, where she was Cambridge Commonwealth Trust Scholar, and has taught at the Universities of Cambridge, Warwick, and Goldsmiths, London. Her publications on the Brontës include chapters in Acts of Memory (2010), The Brontës in Context (2012), Picturing Women's Health (2014), Feminist Moments (2016) and Charlotte Brontë: Legacies and Afterlives (2017). Alexandra is editor of The Brontës and the Idea of the Human: Science, Ethics, and the Victorian Imagination (Cambridge University Press, forthcoming 2018) and the Norton Critical Edition of Wuthering Heights (5th edition, forthcoming 2018). She is currently completing a monograph on trauma in nineteenth-century literature and psychology. She serves on the executive committee of both the British and the Australasian Associations for Victorian Studies. Alexandra's poetry and fiction appear in Causeway/Cabhsair, The Interpreter's Houseand Southerly.
Ruby Robinson
Ruby Robinson is a poet from Sheffield, UK. Her debut poetry collection, Every Little Sound, was published by Pavilion Poetry, an imprint of Liverpool University Press, in 2016 and was shortlisted for the Felix Dennis Forward Prize for Best First Collection and the T. S. Eliot Prize for Best Collection, 2016. Ruby's work is interested in psychic and bodily experience of interpersonal relationship. She is currently undertaking practice-based research into poetry and developmental trauma.
Bernadette McBride
Bernadette McBride is a writer and social advocate from Liverpool, UK. She is the founder of The Hedge Arts Project, and was awarded funding for her social enterprise idea after entering the University of Liverpool's Green Guild Social Enterprise Challenge in 2017. Her vision for combining creative writing workshops with green projects won over the judges, and since then she has taught creative writing workshops everywhere from NHS Forest sites to Tate Liverpool.
She is also the John Lennon Memorial Scholarship holder for a Creative Writing PhD at the University of Liverpool, UK. As part fulfilment of her doctoral studies, she will complete her debut novel Bunkers. Her research focuses on our connection and disconnection with the natural environment.
Karen Podesta
Karen Podesta is a yoga teacher, meditation and EFT practitioner and founder of More Love Yoga.
Having produced, programmed and managed events for the London Film Festival, British Library, Wellcome Collection and Twentieth Century Fox (amongst others), Karen returned to her native Liverpool where she was co-Director of Little Atom Productions, a creative events production company.
Her background in events and growing interest in spirituality and wellbeing also led Karen to co-found the Make Space community, working with inspirational guest speakers and leading workshops and retreats for like-minded soul students.
After qualifying as a Yoga teacher, Karen founded More Love Yoga and now provides regular yoga classes and private yoga and healing sessions in Liverpool. The More Love philosophy comes from A Course in Miracles: "Teach only love, for that is what you are."