Sales Have Ended
Ticket sales have ended
If you wanted to book a promotional stand but were too late please contact zara@bw3.org.uk in case of a cancelation.
Event Information
Location
Old Trafford
Sir Matt Busby Way
Stretford
M16 0RA
United Kingdom
Sales Have Ended
Ticket sales have ended
If you wanted to book a promotional stand but were too late please contact zara@bw3.org.uk in case of a cancelation.
We are very pleased to announce Councillor Bev Craig, the new Leader of Manchester City Council will be joining us as our keynote speaker.
About this event
Business Working With Wythenshawe is pleased to host our regular networking event, Wythenshawe Business Gateway, at great venues in and around South Manchester. This is a fantastic opportunity for businesses to network and get to know each other from Wythenshawe and the wider Manchester area.
At each event we welcome inspirational, high-profile speakers to provide relevant updates and insight in to a range of different businesses.
___________________________________________________________________________________________
BW3 are delighted to be joined by Councillor Bev Craig as our keynote guest speaker for the evening.
Bev became Leader of Manchester City Council on 1st December 2021. First elected in 2011 as a Burnage Councillor, she held a range of responsibilities on Manchester City Council, including serving for 4 years as Executive Member for Adult Social Care, Health and Wellbeing, then as Deputy Leader overseeing resources, capital programmes, social value and digital.
Born and raised on a council estate just outside of Belfast, she was the first in her family to go to university, moving to Manchester in 2003 to study and made it her home. After graduating from the University of Manchester she began her career in Local Government, before working in higher education and then a national trade union leading on social care. Alongside working full time Bev completed postgraduate degrees at Warwick Business School and the University of Manchester.
As Executive Member for Adults, Health and Wellbeing she oversaw the integration of Manchester's health and care services, led the city's COVID health and community response, manging the crisis and focusing on a more equal recovery, and has championed the City's work to become a Living Wage City.
Since becoming Leader her focus has been on Manchester's ambitious COVID recovery, the importance of building a more inclusive and sustainable economy, children and young people, equalities, housing and zero carbon. She holds a range of responsibilities on behalf of the city including the GM Work and Skills Portfolio for the Combined Authority and the GM Local Enterprise Partnership.
Guest Speakers
Q&A with Matt Edgley, Teledata
Matt has been involved in the hosting and cloud technology industry in Manchester for the last 20 years and now runs Teledata who operate a leading data centre facility in Wythenshawe.
Teledata provide a range of hosting services to businesses who want to protect their business critical technology from downtime – such as cloud hosting, web hosting and outsourcing their equipment.
They are leading the industry in terms of sustainability, becoming the first data centre in Europe to install energy storage on site and very recently the first in Europe to install a hydrogen ready fuel cell for clean power generation.
Anne-Marie Wynne & Alistair Laing, St Ann's Hospice
St Ann's Hospice is a charity and support patients from right across Greater Manchester from three sites in Heald Green, Little Hulton and the Neil Cliffe Centre in Wythenshawe Hospital, and also have dedicated teams of community and Hospice@Home professionals caring for people in their homes.
Their support means different things to different people. For some it is for care at the end of their life, others for help managing their symptoms.
Only a third of their funding comes from the NHS so, as a charity, they need to raise £20,000 every day to keep the doors open. They've been caring for people in Greater Manchester and Cheshire for more than half a century, and have big plans for the future - a purpose-built, new hospice that will serve the needs of the community now and in the future. If not they're at real risk of closing services in the near future.
Anne-Marie Wynne is the Head of Fundraising and interim Head of Communications at St Ann's Hospice and has been fundraising for end of life care in the North and North West of England for over 15 year before joining St Ann's Hospice almost 4 years ago. "I am driven by the desire for people to live until the end of their life with expert care and support. Friends of mine have been cared for by St Ann's Hospice and I knew that I wanted to help make a difference to those in the Greater Manchester area, that I too call home."
Alistair Laing is the Capital Partnerships Fundraiser at St Ann's Hospice. "I joined St Ann's Hospice early in 2021 after a long period fundraising for CAFT. My preconception of a Hospice was that it was a place that people come to die. However my perceptions have now changed hugely and I am overwhelmed by the scope and scale of the care and support St Ann's Hospice offers. I'm working to ensure the future of the hospice through the building of a new facility"
Manchester United Football Club have very kindly offered a FREE tour for 20 guests, on a first come first serve basis. Details will be provided when you book to attend the networking event.
Event Itinerary
Stadium tour (for those people who have book this add on)
Networking (book a stall to promote your business)
Welcome & BW3 Update - Tyler Lappage, Nabarro Poole Accountancy
Host spot - John Shiels, CEO Manchester United Foundation
Councillor Bev Craig, Leader of Manchester City Council
Q&A with Matt Edgley, Teledata
Anne-Marie Wynne & Alistair Laing, St Ann's Hospice
Close and Pledges
________________________________________________________________________
Wythenshawe Business Gateway provides an opportunity to:
Network and form new business relationships
Interact and share good practice in an informal and relaxed environment
Take advantage of business support opportunities
Inspirational, high-profile speakers
Sponsor events and hear about BW3 initiatives
Would you like to sponsor our next event?
Please get in touch for details
How can I contact the organiser with any questions?
Please contact zara@bw3.org.uk with any queries regarding the event.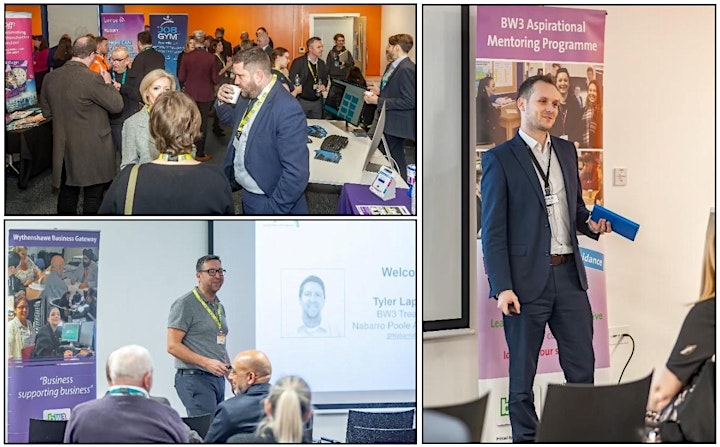 Date and time
Location
Old Trafford
Sir Matt Busby Way
Stretford
M16 0RA
United Kingdom
Refund policy