Description
THIS IS FOR INFORMATION PURPOSES ONLY! TO BOOK, PLEASE GO TO:
www.HarrowBHM.eventbrite.com
The Xtra History & Reasoning Sessions are presented by Akoben Awards in association with BTWSC/African Histories Revisted and Harrow Mencap, and facilitated/curated by music industry and history consultant Kwaku.
For more details: harrowBHM@hotmail.com
For full details of our 2016/17 Xtra History & Reasoniung Sessions @ Harrow Mencap programme, please scroll down, and also revisit for programme updates. Now booking up to Feb. 2017 events.

Sessions generally take place on Mondays, 6.30-8.30pm (please check on this page). They are free - though pre-booking is advised, as space is limited. The Sessions are also family-friendly, so you're welcome to bring the youths, if you want to see them in the house!
Follow us: Facebook /HarrowBHM and Twitter: @HarrowBHM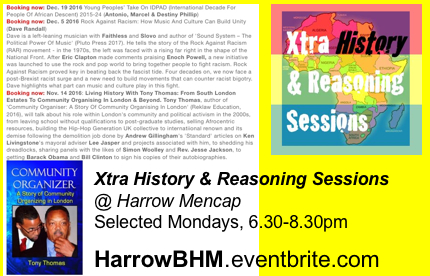 Harrow Mencap is less than a 5 minute walk from Harrow On The Hill tube or bus station (see map below)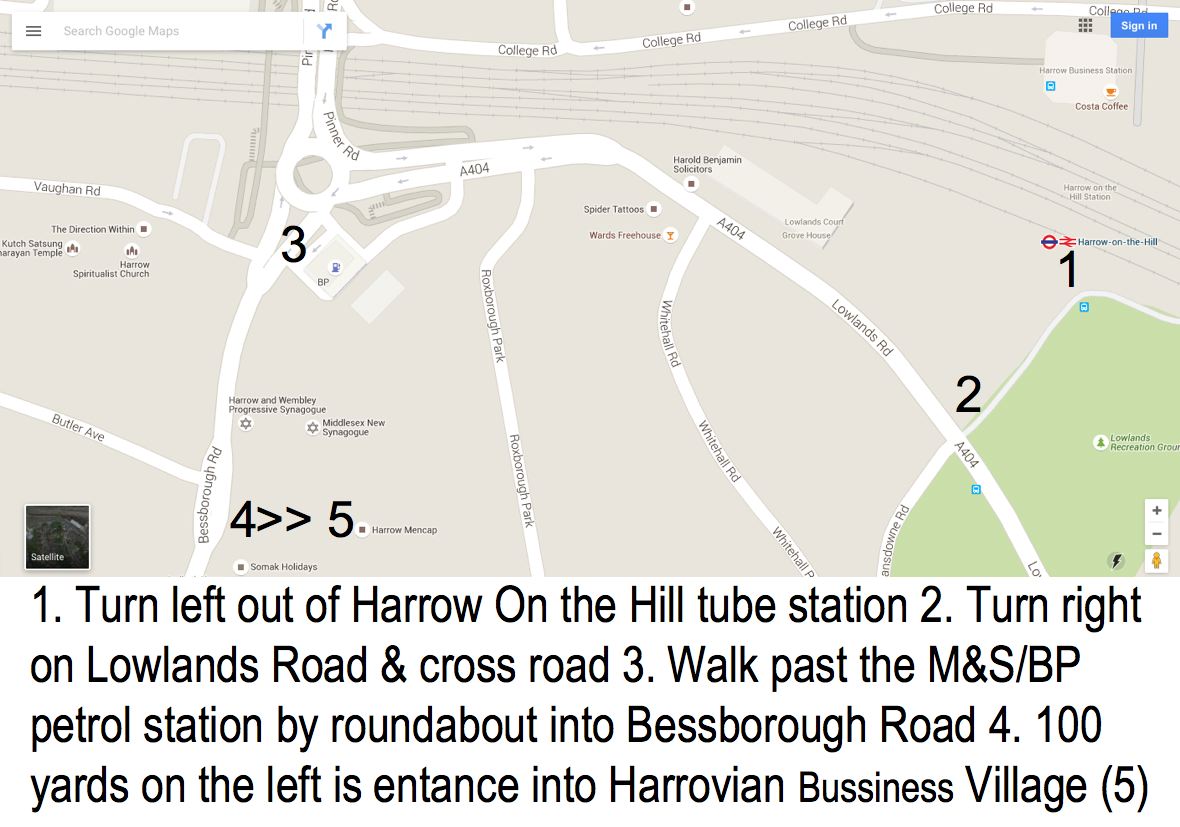 .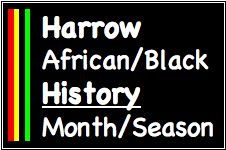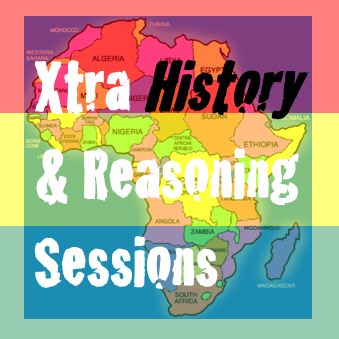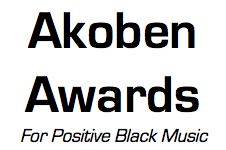 Aug. 21 2017 Remembering Aug. 23: International Day Of African Resistance Against Enslavement (Kwaku)
Booking now: June 5 2017 (postponed from Dec. 5 2016) Rock Against Racism: How Music And Culture Can Build Unity (Dave Randall)
Dave is a left-leaning musician with Faithless and Slovo and author of 'Sound System – The Political Power Of Music' (Pluto Press 2017). He tells the story of the Rock Against Racism (RAR) movement - in the 1970s, the left was faced with a rising far right in the shape of the National Front. After Eric Clapton made comments praising Enoch Powell, a new initiative was launched to use the rock and pop world to bring together people to fight racism. Rock Against Racism proved key in beating back the fascist tide. Four decades on, we now face a post-Brexist racist surge and a new need to build movements that can counter racist bigotry. Dave highlights what part can music and culture play in this fight.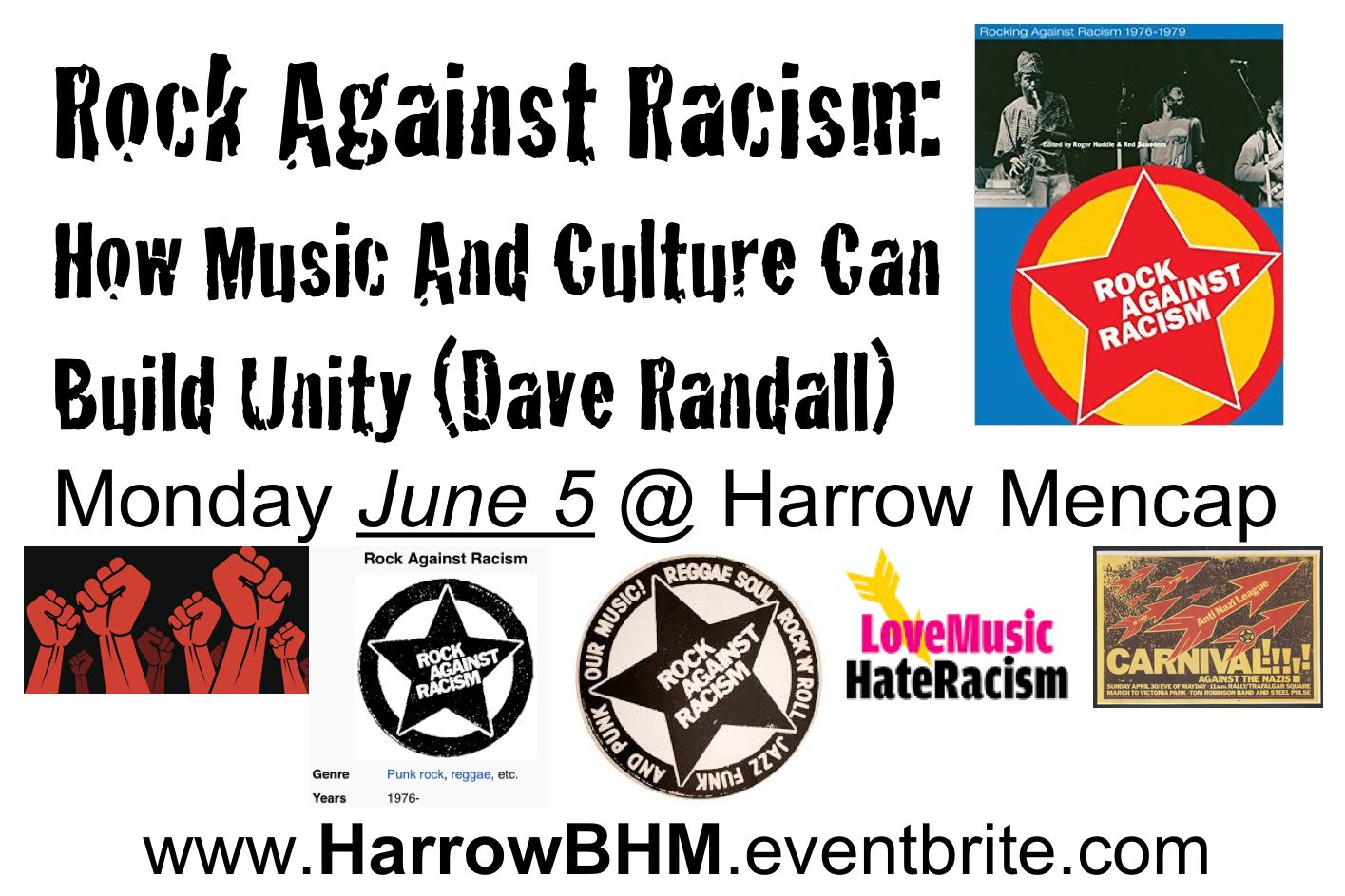 May 22 2017 Reframing Marcus Garvey In History (Everol Wilson)
May. 8 2017 African British Civil Rights (Tony Warner)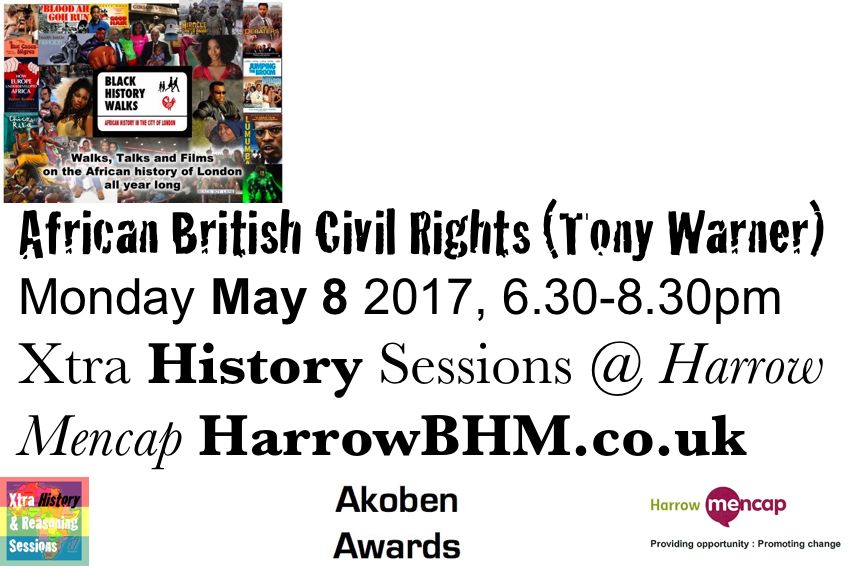 April 17 2017 Highlighting African History Across London (Avril Nanton)
April 3 2017 Highlighting The Liberation Works Of Ras Seymour McLean (Shango Baku)
Mar. 27 2017 Sound System – The Political Power of Music (Dave Randall)
Dave is a left-leaning musician with Faithless and Slovo and author of 'Sound System – The Political Power Of Music' (Pluto Press 2017). He will be delving into his book, published in March 2017, to highlight a number of stories on the engagement of music within politics and anti-racism activism. Signed copies of the hot off the press book will be on sale.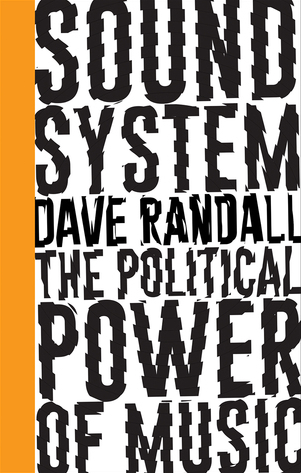 Mar. 20 2017 Changing the Narrative – African Identity Through The Media Lens (Ade Banjoko)
A presentation and discussion exploring the representation of African identity in the media today and its impact on African youth. A look at the issue and some concrete ways in which to change the narrative. Presented by the London Parents Action and Resource Centre (PARC).
Mar. 13 2017 Highlighting African Herstory (Nana Asante)
Mar. 6 2017 Look For Me In London: A Work In Progress About Marcus Garvey In London (Khesumaba Michael Jess)
The fascinating story of Hon Marcus Garvey's life in the capital and the impact his radical philosophy has on African people in 21st century Britain.
Booking now: Feb. 20 2017 Now is the Time – Why We Can't Wait (Dr Angela Herbert MBE)
The author of 'Martin Luther King, Now Is The Time – His Dream To Influence Education Today' (2016) will present a range of statistics that show the obstructions African people in the UK appear to constantly trip over. The presentation will encourage us to use obstacles as stepping stones through practical support, academic and economic cohesion to bring change.
Booking now: Feb. 13 2017 Living History With Winston Trew: Down With The Cause Of Youth Activism & Beyond
Activist, one of the Oval 4 and author of 'Black for a Cause... Not Just Because...: The case of the 'Oval 4' and the story it tells of Black Power in 1970s Britain' (Black For A Cause 2015)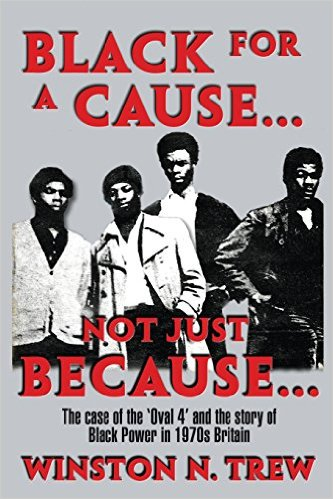 Booking now: Feb. 6 2017 Living History With Cecil Gutzmore: From Student To Community Campaigns & Beyond. From his student days in the 1960s, right up to now, Bro Cecil, a former lecturer at the University of the West Indies, has been involved in one community or poltical campaign or another. A member of the 1981 Uprisings @ 35 Organising Group, he regular delivers PASCF community lectures at 365, a community hub in Brixton that's facing an evacuation order from Lambeth Council.
Booking now: Jan. 23 2017 Living History With Dr Leroy Logan: The Feds, 5-0, Been There & Done More Besides. Dr Logan is a 30 year veteran of the Metropolitan Police Service, who was one of the senior African officers in the Met. He has also been involved in numerous community initiatives (he's chairman of REALLITY) and mentorship programmes, and given evidence to many enquiries, from Parliamentary to the Stephen Lawrence Inquiry.
Booking now: Dec. 19 2016 Young Peoples' Take On IDPAD (International Decade For People Of African Descent) 2015-24 (Antonio, Marcel & Destiny Phillip). The Phillip siblings once again end the year with a presentation - this time the focus is on IDPAD (International Decade For People Of African Descent) and what it means to the younger generation.

Extra. Booking now: Nov. 28 2016 Hear The Backstory Of IDPAD 2015-24 & The Contemporary African Reparations Movement (Dr Michael McEachrane of IDPAD Coalition UK/Abu Akil (tbc) of GACuk). Michael provides the history that's led to the UN declaring 2015-24 the International Decade For People Of African Descent and what civil society organisations including IDPAD Coalition UK are doing, whilst Abu provides the history of the reparations movement that led to the recent moves by Caricom nations to sue European nations, and activities such as the now annual August 1 "emancipation" and reparations march in London and elsewhere.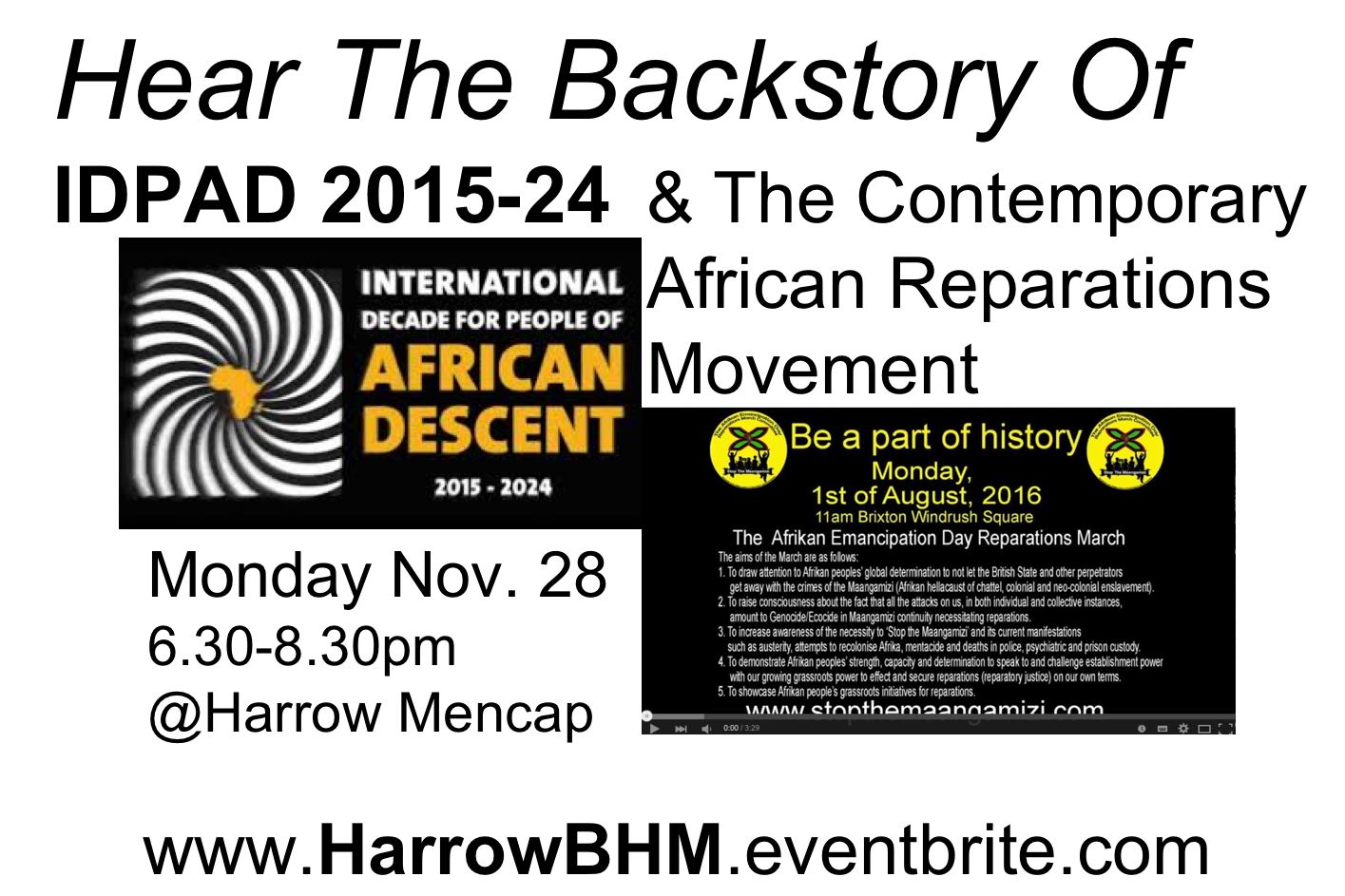 Nov. 14 2016: Living History With Tony Thomas: From South London Estates To Community Organising In London & Beyond. Tony Thomas, author of 'Community Organiser: A Story Of Community Organising In London' (Reklaw Education, 2016), will talk about his role within London's community and political activism in the 2000s, from leaving school without qualifications to post-graduate studies, selling Afrocentric resources, building the Hip-Hop Generation UK collective to internatiional renown and its demise following the demolition job done by Andrew Gillingham's 'Standard' articles on Ken Livingstone's mayoral adviser Lee Jasper and projects associated with him, to shedding his dreadlocks, sharing panels with the likes of Simon Woolley and Rev. Jesse Jackson, to getting Barack Obama and Bill Clinton to sign his copies of their autobiographies.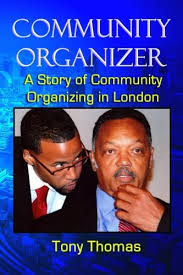 SEP. 24 2016 UPATE:
Mon. Oct. 24, 6.30-8.30pm. Talking African History Season In The Midst Of IDPAD 2015-24. History Consultant Kwaku officially launches Harrow African History Season 2016/17 with this prresentation, which breaks down the history of African History Season 30 years on since its introduction in Britain, whilst making reference to, and highlighting the relevance of, the start of IDPAD (International Decade for People of African Descent), which started last year and runs until 2024. Come and find out what we can take from the Season and Decade.


Thurs. Oct. 20, 7.30-10pm @ The Studio, Harrow Arts Centre, 171 Uxbridge Road, Hatch End, Harrow HA5 4EA

Harrow Arts presents in association with Harrow BHM and Harrow Mencap 'Selma (12) Screening & Post-Screening Q&A, a Harrow African History Season event.

History consultant Kwaku will facilitate a Q&A drawing upon links and refrence to Britain after the screening of the biopic in which Dr. Martin Luther King Jr. (David Oyelowo) and his followers pressed forward on an epic march from Selma to Montgomery, an effort which culminated in President Lyndon Johnson signing the Voting Rights Act of 1965.
Priced £4 (or free, if you want to attend just the post-screening Q&A) at Harrow Arts Centre. Click here to book or for more details.