Description
*CYMRAEG ISOD*

Description :
Gwenllian and I met in a pub at the end of July, and after quickly bonding over food obsessions, by September we'd started 'Y Bwrdd' (Welsh for The Table)

... And we love it. We love planning the menu. We love getting an email saying 'someone's booked!'. We love digging out the long tables from St Catherine's frustrating cupboard, putting candles everywhere and hanging fairy lights from every hook. We love polishing the glasses and laying the table, we love cooking, and we love seeing new and returning faces. But it's Christmas, and there's nowhere with more warmth, atmosphere, and decorations, than at home. So this time, we'll be swapping Pontcanna for Penarth, and hosting a supper club in the place supper clubs started : At home.
As the dining room isn't the size of a banquet hall, we're limited to 14 each evening, so we advise booking quickly! We'll be running over two evenings, Thursday and Friday.
Menu :
*subject to slight alterations* - please contact if you'd like the vegetarian or vegan options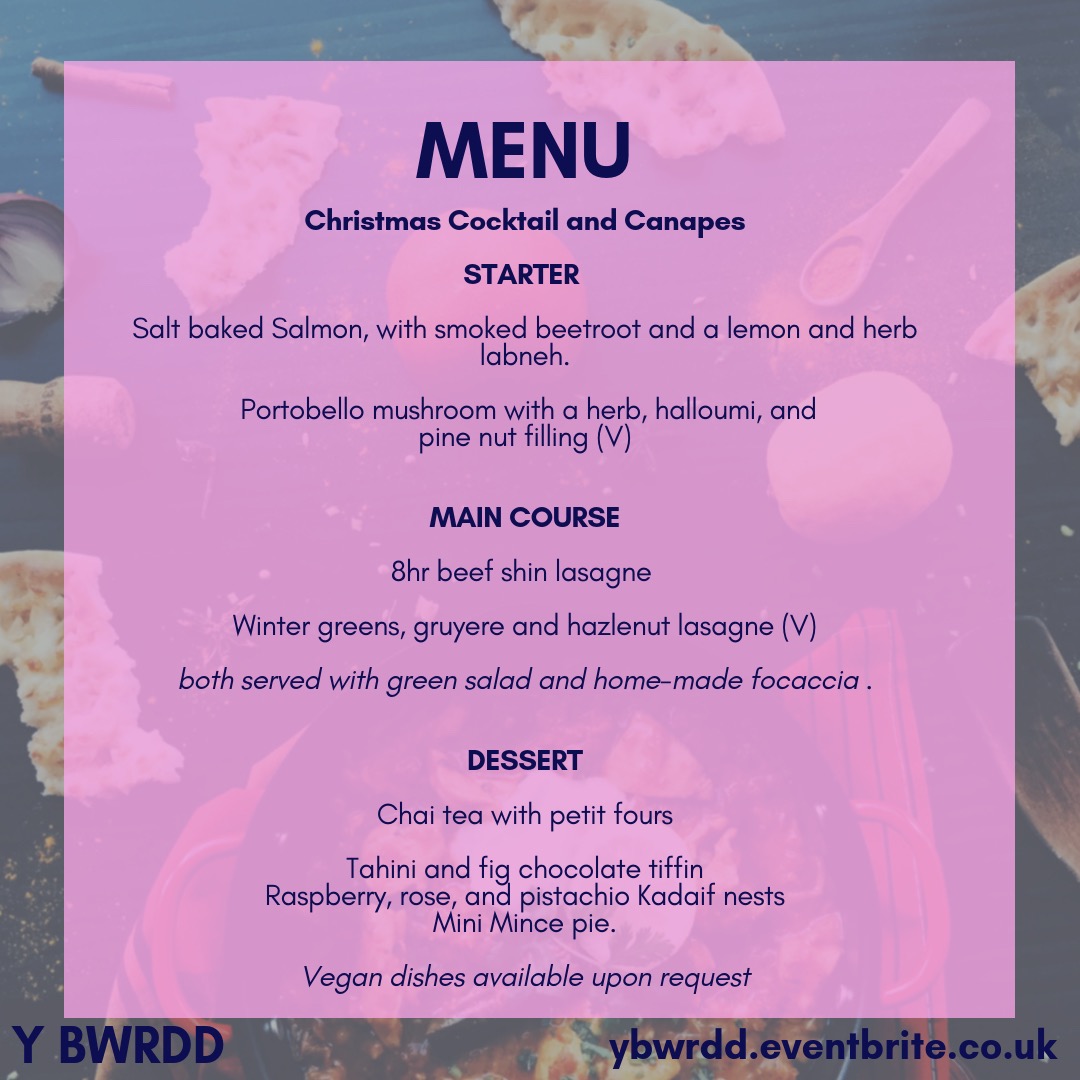 The menu, as always, is fully adaptable upon request - Vegetarian/Vegan/Allergies, welcome all! Please let me know when booking if you have any specific requirements : BwrddAnnes@gmail.com
Unfortunately, as nuts and sesame (excluding Peanuts) appear throughout, I'm unable to cater to a nut allergy.

Where possible, the produce will be Welsh, and sourced from local independents.

**Bring Your Own Bottle - Filtered water supplied **

Disgrifiad :

Wedi i ni gwrdd yn Sesiwn Fawr eleni, a sylweddoli o fewn cwpl funudau bo ni'n dwy'n obsessed efo bwyd a bo ni'n dwy wedi bod chwarae efo'r syniad o ddechrau clwb swper, o fewn deufis roedd 'Y Bwrdd' wedi ei osod am y tro cynta.

... A dyn ni'n dwli arno fo. Dyn ni'n dwli ar gynllunio'r fwydlen, dwli ar gael ebost yn deud 'Mae rhywun wedi bwcio!' Dyn ni'n dwli ar dynnu'r byrddiau hirion o stordy St Catherine's a gosod canhwyllau ym mhobman a chwilio am unrhyw fachyn posib i hongian goleuadau. Dyn ni'n dwli ar osod y bwrdd, dwli ar goginio - yn amlwg, dwli ar glywed eich bwrlwm chi o'r gegin. Dyn ni'n dwli ar weld wynebau newydd ac yn dwli ar weld wynebau eraill yn ail ymddangos dro ar ol tro. Ond mae hi'n ddolig, a does gan nunlle fwy o awyrgylch, cynhesrwydd, ac addurniadau, nag adre. Felly tro yma, mi fyddwn ni'n symud o Bontcanna i Benarth, ac yn cynnal ein clwb swper yn y man lle dechreuwyd clybiau swper - adre!
Gan bod y stafell fwyta ddim cweit mor fawr a neuadd St Catherines, mae'r niferoedd yn gyfyngedig i 14, felly bwciwch yn fuan i osgoi cael eich siomi! Mi fyddwn ni'n cynnal y noson ar Nos Iau a Nos Wener.

Bwydlen :
* Bosib fydd man newidiadau * - cofiwch gysylltu os hoffech chi'r opsiwn llysieuol neu figan.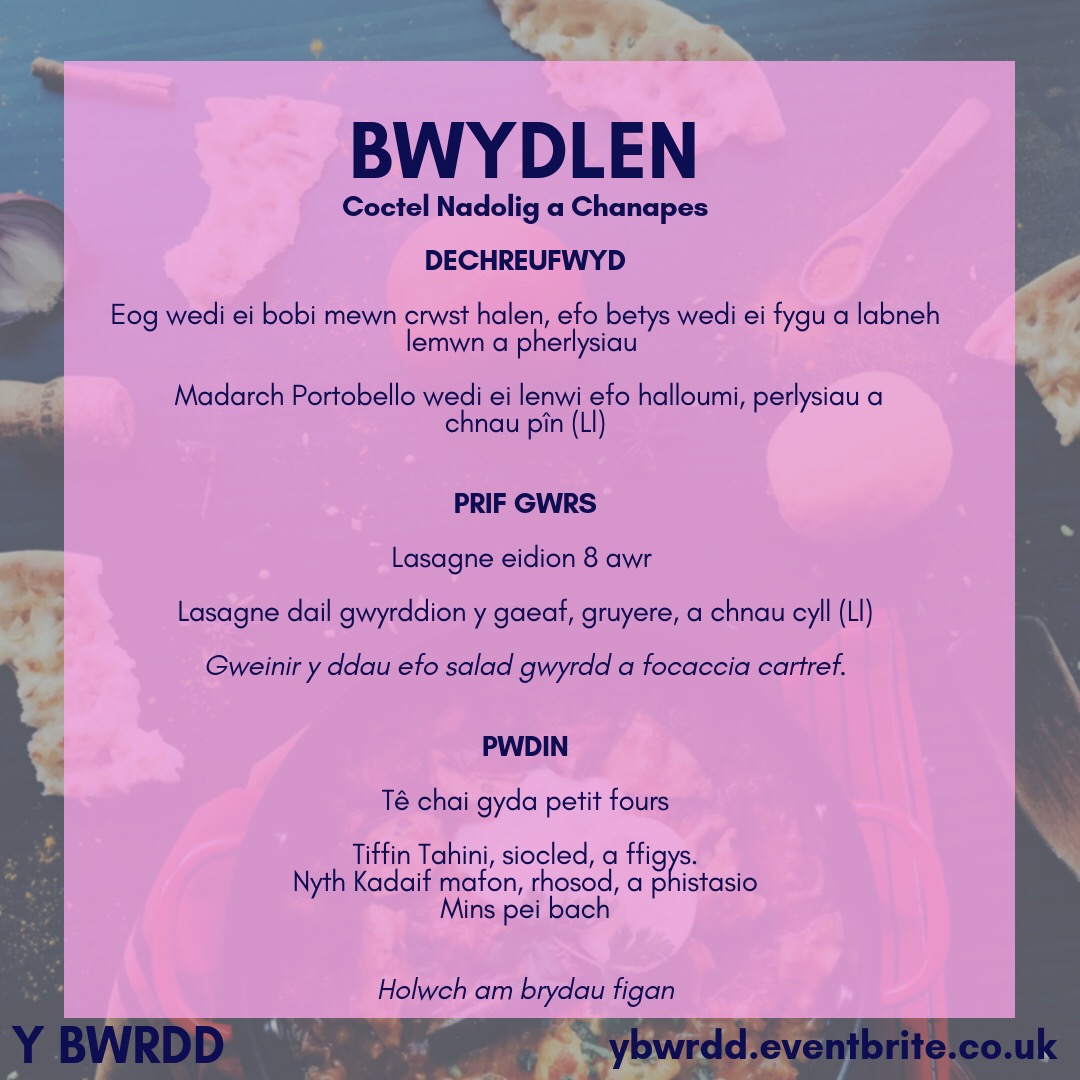 Mi fyddwn yn hapus i addasu'r fwydlen i groesawi pobl ar ddeiet Figan/rheini sydd a alergeddau, a plis gadewch i mi wybod wrth i chi fwcio os fyddwch chi angen yr opsiwn Llysieuol : BwrddAnnes@gmail.com

Lle'n bosib, mi fydd y cynnyrch yn dod o Gymru, a thrwy fasnachwyr annibynnol.